I've been filing my own taxes for the last several years. Believe it or not, I'm one of those nerds who actually enjoys doing so. First, it is just another responsibility of mine as a financial steward of God's resources. And second, I enjoy the opportunity to learn about income tax filing, eligible deductions, etc. But, don't a risk missing a deduction or worse yet, making a mistake? Perhaps, but I feel I've mitigated that risk by using TurboTax which guides me along the way. I'm also not afraid to research the question or ask from help and I definitely don't guess!
As you self – filers out there begin working on your taxes this year, keep the below tips in mind to help you through the tax filing process.
Organization Is Key
Figure out your tax organization system and make sure you stay organized throughout the year and definitely during the tax season. It's easier if you file tax related reciepts and documents throughout the year, but you can start now by creating a file folder for all the forms you'll receive in the mail for income, eligible deductions (such as gifts) and taxes you've already paid (real estate, etc.). Also grab last year's tax return and make sure it's handy to refer to it as a reference point when you file. Consider using a software like Outright.com in conjunction with Shoeboxed.com to keep track of income, expenses and all of your receipts in one place.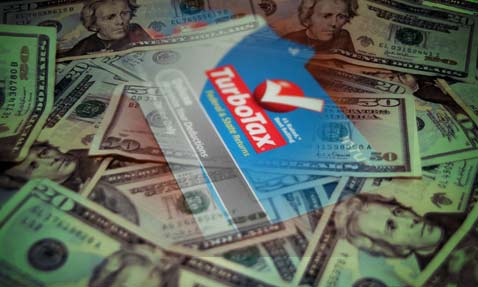 Estimate Your Refund
Use a tax refund estimator 2 -3 times per year to estimate how much in taxes you'll pay and if you will get a refund or owe the IRS. You can then adjust your withholding allowances to make sure you're having enough taxes withheld.
Schedule Time To File
Allow yourself at least 2 hours to file your taxes if you're going to be doing it yourself. Better yet, carve out a couple evenings or a quiet weekend morning to work on your taxes. Get mom to take the kids to the park or somewhere outside of the house if you have a young family! Just find a quiet place where you can lay out all your forms by type and can spend some uninterrupted time working in a program like TurboTax. Obviously, I'm a fan of TurboTax because it gets the job done and offers you explanations around what are eligible deductions and credits in language you can understand.
Have The Right Information Handy
Determine what information you need to file your taxes. One mistake I used to make was going to H&R Block and forgetting important forms. I'd have to leave drive home and go back which took up most of my day by the time I had to wait in line. Unfortunately, I did this a couple of times before I started taking some steps to prepare. I recommend reviewing a tax preparation checklist and collect all the relevant information for your situation prior to beginning your tax return at home.
Also, don't forget to get your direct deposit information for depositing any refunds directly into your checking account. Write down your bank account number and routing number (number on the lower left side of your checks) for your financial institution. Most people forget this and have to go hunting for it at the end of the process.
If You Don't Know, Ask!
Finally, research your questions and ask for assistance if you need it. If you're not sure about a tax law, or whether or not something is eligible as a deduction, spend some time on the Internet researching it versus taking a guess on your tax return. I also mention this with caution. You can't trust everything you read online, so follow these steps to fill in your tax knowledge gaps:
See if TurboTax can answer the question for you. I would say in 99% of all cases for simple returns you'll find your question answered.
See what other people are doing by Googling blogs.
Still not sure, or if you think you made a mistake, visit someone in person at H&R Block or find a local CPA. It might be worth paying a little extra for the peace of mind if you're still not sure.
Hopefully, your tax season for 2010 will be off to a good start with these tips. Using the organization and refund estimator tips you should also be off to a good start for 2011 tax filing. Don't forget, filing your taxes is an important responsibility of a financial steward.
What tips do you have to self prepare your income taxes this year?