A while back I wrote about the importance to bloggers and other small business people of keeping track of their online income and expenses. Come tax time they're going to need to know how much they've made and how much they've spent on deductible expenses. If you don't keep careful track, you'll have an awful time when tax time rolls around.
One way that I organize all of my income and expense data is in a blog income and expenses spreadsheet, which I've made available for download at the linked page. While the spreadsheet works great for keeping track of the income and expenses on a higher level, I still have a lot of data to keep track of, just in case I was to be audited. I don't really have a good system for filing all of the receipts and other tax data other than shoving them in a folder in a filing cabinet. Until now.
This past year I've been using Outright.com as a way to keep track of my small businesses income and expense data – in addition to my spreadsheets (Outright.com Review). It works great, and I'll probably be using it even more this year. It's a free product, and it works great for an overall picture of your small business finances. This past week, however, I saw something on the Outright.com homepage talking about a product that they can sync with to keep track of your business data called Shoeboxed.com. Interested, I talked with the Shoeboxed.com team and they sent me a free trial pack to give their site a try. So today I want to do a quick review of Shoeboxed.com, talk about what they do, and how you can use it as a small business owner.
Shoeboxed.com Overview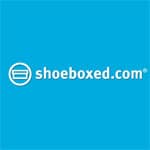 Shoeboxed.com is a site that looks to make your life simpler by taking all of your paper clutter you have lying around the office (receipts, business cards, etc), digitizing it and organizing it in a way that you can easily find everything you need later on.
For anyone who has ever had to take hours to find their receipts, and then go through them to enter them into a spreadsheet or other program for tax purposes, this can be extremely helpful. Shoeboxed allows you to archive your receipts, business card and other data for you, categorized and charted for later use. This comes in especially handy at tax time when you're trying to figure out hard numbers for income, expenses, tax credits and so on.
Other instances that Shoeboxed may come in handy? They can help with bookkeeping, tax returns, warranty claims, insurance claims, and keeping your contacts in order. I know I personally wish I had used it for a GPS I bought recently – which when it broke I couldn't find a receipt anywhere to make a warranty claim. Next time I'll have it saved!
How Does Shoeboxed.com Work?
So how does it work, and how does Shoeboxed get all of your data entered? There are a variety of ways you can do it.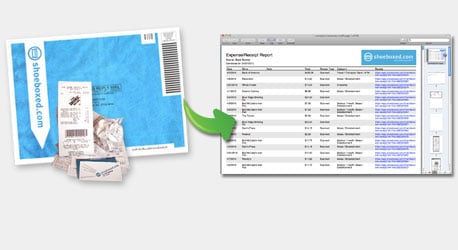 Send your clutter in a postage paid envelope: When you sign up for certain packages Shoeboxed will send you a pre-paid envelope for you to send your receipts and other business clutter in with. They sent me one, and I saw that each envelope is unique to your account with it's own barcode signature. That means that your information will be correctly categorized to your account. There's no worrying about your data being lost or added to the wrong account. This option works especially well for folks who are extremely busy, or that have large amounts of clutter to categorize.
Scan or take pictures of your own receipts and business cards: If you prefer, you can scan in or take photos of your own receipts and business cards, and then upload them through the Shoeboxed site. I think this is probably the option I would use just because it's the most convenient. I did a few receipts using this method for this review. Basically you just upload the graphic of your receipt, categorize it, and it's saved!
Use Shoeboxed mobile and Iphone apps to save your receipts: You can download the Iphone apps for saving receipts or business cards, and categorize and save your receipts while you're on the go. When you get back from a business trip you can even generate an expense report to send out for reimbursement. Or use Shoeboxed mobile with your other mobile phone.
So as you can see there are a variety of ways to get your data into Shoeboxed, either by sending it in, scanning it yourself at home, or by using their mobile site or Iphone apps.
Shoeboxed Data Integration, Exports, More

Having Shoeboxed save your data is all well and good, but what good is it if you can't use it in conjunction with other software that you use? Thankfully they have a variety of export options, and work well with a variety of products.
Receipts Integrate easily with Evernote, Freshbooks, Quickbooks, Quicken, Outright: You can transfer your receipts to PDF (with receipt images), Excel, Quickbooks, Freshbooks, Evernote, Quicken, Outright and CSV formats. Very flexible.
Business card exports: download your business card contacts to CSV, which you can import to many places, including Outlook, Salesforce, Gmail, Hotmail, Yahoo, Apple Address Book, Act!, LinkedIn, and many other programs and websites that organize contact information.
So getting your data out of the system shouldn't be a problem.
Shoeboxed Plans
What does it cost to use Shoeboxed? It can be anything from free if your a DIY kind of person, all the way up to $50/month if you're a heavy business user. What's the difference bewteen the plans? Basically it boils down to the number of scans Shoeboxed will do for you (500/150/50), the turnaround time you can expect on your receipts being entered, and whether or not you have access to mobile apps and dedicated support.
The free plan doesn't allow you to send in receipts ( you have to scan all your own), and you only have 5 free credits for the mobile app. So it is limited. The highest plan adds a few more perks besides a higher number of scans including quarterly backup CDs and a dedicated account manager. All paid plans have a free 1 month trial, so it doesn't hurt to give it a try, you can cancel at any time.
Business: $49.95/month – or 2 months free with annual plan.
Classic: $29.95/month – or 2 months free with annual plan.
Lite: $9.95/month – or 2 months free with annual plan. Receipts and cards not returned when mailed in.
DIY: Free – Scan all your own receipts, only 5 free iphone credits
I'm currently on my free trial of the premium plan, and so far I'm finding it pretty easy to use. I think it will be helpful. Will I continue on a premium plan after my trial? Probably not at this point as my scanning needs aren't as big as some business users, but I think I may end up using the Lite or DIY plan.
Start your no obligation free trial: Shoeboxed.com