Guess what? The tax season is right around the corner. For many people, thinking about taxes can cause some anxiety. Will I or will I not have a refund? What's a W-2 and when do I get it? What do I do with all those papers I receive in the mail?
Tax season really doesn't need to be that troubling. Really, it doesn't! Getting ready to prepare your taxes just involves a few simple steps. Preparing and organizing typically remove anxiety out of the picture and definitely will help you avoid that last minute rush to the post office on April 15th!
So, what is involved? I tend to simplify the tax season into 4 easy to understand areas. First, determine how you're going to file your taxes. There are a number of options you can consider. Second, know the important dates. Keeping dates in mind will help you know when you can expect to receive information required for filing. Finally, get organized. Filing your taxes is always much easier when you have what you need at your finger tips.
Determine How You Will File Your Taxes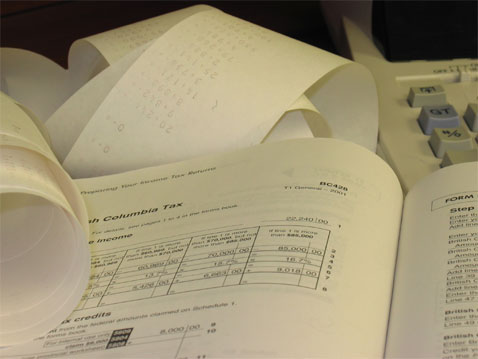 There are certainly a number of options to consider based on your personal situation. I think the majority of people who choose to file themselves now use a software program such as Turbo Tax.
I personally used to take my taxes to HR & Block, but realized after a few years there was nothing unique or complicated about my situation, so I decided to start using the online version of Turbo Tax. I've had great success with this program since I began using it.
You may wish to seek the advice of a Certified Public Account (CPA) if you have a business, or have other situations which may be more involved. I recommend checking out Dave Ramsey's Endorsed Local Tax Providers if you don't have a CPA and choose to investigate using one,
Either way, the key is to assess your situation and/or comfort zone and make the decision now! If you do decide to use a CPA for your personal return, you may want to have an initial meeting to get to know them and also determine how they would like you to organize your paper work for the return.
Know Important Dates
Keeping in mind important tax dates is critical, but easy. For one, you don't want to miss the deadline. But that's not going to happen because you're reading this post and ready to get prepared! Keep in mind issuers are required to send out the W-2, 1098 and 1099 forms by January 31st. If for some reason you don't get them promptly contact the issuer responsible for sending the form. These are pretty much the important dates to remember unless you're filing quarterly, or need to file an extension.
Get Your Documents Organized
Finally, it's time for the fun part! This step will help make the entire tax season easier for you. I think it's probably easiest to get some file folders or an accordion style file system to start managing your documents. Hint: The accordion style folder is great to use throughout the year when you collect receipts that can be used for deductions or are required to show proof of spending such as with a health care FSA.
Consider setting up different folders for organizing your tax documents. First, create an income folder. You should put W2's and any interest or dividend income from investments (1099-DIV or 1099-INT) in this folder. Remember, these forms are to be mailed by January 31st, so be looking for them shortly after this date.
Next, create a deductions folder. This folder is going to include all of your deductions for property taxes, charitable giving and mortgage interest. There can certainly be more, but you get the idea. J
Finally, create a receipts folder. I think it's a good idea to keep all receipts that are eligible for deductions in this folder that aren't in the form of a statement. Of course, the deductions and receipts folders could just be combined into one if that's easier for you. But the idea is to start separating this information now.
Last Step: File Early
The best way to tackle the tax season is to be organized and to file early! Yes, don't wait to the last minute! If you're filing yourself or even if you're using the services of a professional, set an official date (and put it on your calendar) in which you will file your taxes. Then (assuming your doing this yourself), sit down with a nice cup of coffee in a quite place and spend a few hours taking care of this important business.
Personally, I like to have my taxes filed in February. Once I've received all of my documents, I'm quick to put this process behind me.
What other ideas do you have in getting ready for this upcoming tax season?