For many Americans, money is tight. Any way to cut corners and keep a little of your hard earned dollars in your pocket is likely welcomed. After all, even if you have a comfortable budget, why pay more than you have to when buying items like shampoo or deodorant?
The more money you can save on those things, the more money you can funnel to other priorities that are important to you such as saving for retirement, for your children's college fund, or even for a fun family vacation.
One way some like to save money is to play the drugstore games and try to get toiletries and other items for as little out of pocket as possible.
A few years ago, I got pretty good at playing the CVS drugstore game, but I could never get a handle on the Walgreens drugstore game. Now that I've been out of the drugstore game for awhile, I'd like to get started again because I hate to pay full price for something like deodorant or toilet paper. Those items can really add up!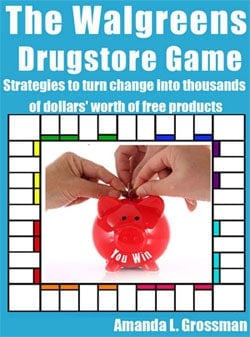 I was happy to read Amanda Grossman's new ebook, The Walgreens Drugstore Game: Strategies to Turn Pocket Change Into Thousands of Dollars Worth of Free Products.
About The Author
Amanda Grossman blogs at Frugal Confessions about her quest to live a frugal life. She is also the author of The CVS Drugstore Game: Strategies to Turn Pocket Change Into Thousands of Dollars Worth of Free Products.
The Basics
Grossman opens the book with a full run down of the many different kinds of coupons that are available, which is helpful for someone like me who hasn't used coupons in several years.
In addition, Grossman explains all of the ins and outs of Walgreens' coupon policies. True, Walgreens' drugstore game does seem a bit more complicated than other stores like CVS, but once you have the policies down, you shouldn't have difficulty.
Grossman helps readers understand these policies by not only explaining them, but by showing real life examples from her own shopping trips and showing what you should and should not do to maximize your savings.
She explains the value of "fillers" (low cost items that you buy to maximize your shopping trip and the discounts you can use) and how to maximize your savings by rolling your deals. (When you roll a deal, you take the free money you got from one deal and apply that to the next deal you buy. By doing so, you save even more than you did with the initial transaction.)
Advanced Strategies
Grossman also mentions advanced strategies you can use such as saving your Balance Rewards points to purchase items that rarely go on sale. Effectively you're creating your own sale by using your free money to lower your cost.
In addition, she gives advanced strategies to increase your savings after you've mastered the basics such as using rebates to increase your savings, pursuing deals that actually make you money, and planning your shopping trips 3 to 4 weeks in advanced based on advanced advertisements that you can find on blogs.
If you're short on money each month, playing the drugstore game can be an easy way to keep some more money in your budget for more important items. If you're still flush at the end of the month, playing the drugstore game can give you more money at your disposal to reach other financial goals you may have set.
Grossman estimates for her family of 2 alone she saves $60 a month by playing the drugstore game; imagine how much you could save if you have a bigger family!