This week is quickly turning into babies and family week. I'm sorry but I just can't help myself, I've got nothing else on my mind lately, understandably. By this time next week I'll be changing diapers and staying up nights with our new son.
One topic that has been close to our hearts these past couple of months is the topic of being a stay at home parent, versus being a working parent that uses daycare. We've been thinking long and hard about which situation was best for us, and which was the best for our son.
We prayed about the situation, ran all the numbers, considered the pros and cons, and in the end it made the most sense to us for my wife to stay home with our baby boy. She ended up handing in her resignation at her job (she loved her job), and had her last full work day a couple of weeks ago. She was sad about leaving her work, but she is glad that she made the decision.
Today I thought I would do a quick discussion of what some of the factors are that may go into a decision on whether or not to stay home with a child (or children).
(Before I start, I realize that there are both mothers and fathers who stay home with their children, but I believe the majority of parents that stay home are still mothers. Because of that, and because our family is making the decision from this viewpoint – I'll be writing this article from the point of view of a mother staying home with the children.)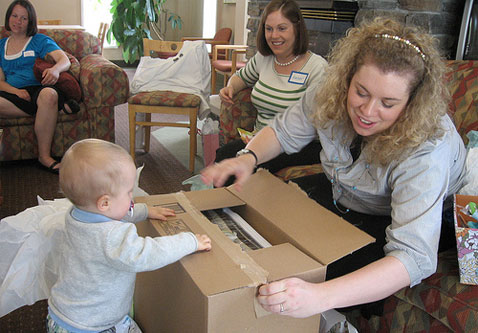 Is It Financially Possible To Stay Home?
Probably one of the biggest factors helping to decide if a parent should stay home with the children is whether it is economically feasible. If you go from a dual income family to a single income family – will you be able to make your monthly payments, and keep up with any debt obligations? For many people the answer is no because they've leveraged themselves to the hilt, and are living in a home they can't afford, and driving a car beyond their means. They won't be able to get by on one income. With two they can usually squeak by.
This is one reason why I believe it's so important for a family to do their best to be in a financially sound position, because it allows you the freedom to make decisions like these, without having to consider the monetary costs as heavily. Since we're debt free except our mortgage, it makes it a lot easier to be able to move to a one income household.
So if a parent were to stay home, what are some of the things with monetary value that they would lose?
Income from job
Benefits (Health insurance, dental insurance, disability insurance, life insurance)
Retirement income matching
That could add up to quite a bit of money!
You also have to consider the expenses you'll be incurring if you work:
Childcare (unless you have a family member or friend watching your child)
Eating out more often because you're working.
Work clothing
Transportation costs
Higher taxes due to higher family income.
of course this may not be an exhaustive list, but I think some of the big ones are here – especially day care costs.
What expenses might you incur if you stay home?
Kids activities
More social activities for mom due to lost social aspect of working
In the end you need to figure out the two sides of the equation – financial situation with one income, and one with two incomes. What income and expenses do we have on each side of the scale, and would it even make sense to continue working if the scales balance out – or even if you make a bit more money if continuing to work?
At our house we found that once we considered all the monetary factors, we would actually be equal whether my wife stayed home or went to work, mainly because of the cost of child care. It didn't make any financial sense for her to continue working.
Other Resources
Does Mom Want To Stay Home?
Another important factor is whether or not mom actually wants to stay home with the children. Some women may not want to stay home with their children, and may prefer having a career to being at home with the child 24 hours a day. It doesn't make you a bad mom to not want to be a stay at home mom, and you can still be a wonderful, loving parent. Not everyone is perfectly suited to being a stay at home mom.
It is a huge sacrifice to stay at home with your children, especially when the mother is losing much of the social aspect of being in the work force, and sometimes feeling like they are not using their expensive college degree by leaving their job. It can be a very under-appreciated job to be a mother! (Mothers – you are my hero!)
On the other hand, I believe many women are perfectly suited and created by God to be wonderfully nurturing parents, often much more so, or in a different way than the fathers. So while it is a sacrifice, it is also for many a privilege and an honor to stay and home, nurture and raise their child. Plus, there are many wonderful ways to get involved with local mothers groups, church groups, etc that will help you to stay social and active.
Maria felt led by God to be a stay at home mom for her child, but she struggled with enjoying her work and losing her career as well. It was a tough choice, but the kiddo won out.
How Would The Child Benefit From Having A Parent At Home?
One thing that really weighed heavily on us when we were making the decision as to whether my wife would stay home or not was what was best for our unborn son. Would he bet better served by having his mother at home to help nurture him, care for him and teach him, or would he be able to thrive as well by being care for by others?
For us we felt that we wanted to be taking a more active role in our child's care, raising him up in the things we believe, teaching him and loving him for those precious early years.
Some of the benefits for the child of having a parent at home:
A more stable home life and routine
Better able to teach and educate your child
More consistent discipline and care
More time to love on them!
When we considered all of these benefits to our son, it just enforced our opinion that my wife should stay home. We really believed it would be best for him.
Consider The Costs And Benefits – Make The Best Decision For Your Family
Once you've considered all the positives and negatives of both sides of the debate, it's time to make a decision that best fits the needs of your family. For some people it might not be feasible for a parent to stay home – debt obligations and other things just don't make it possible. For others the decision to have a parent at home with the kids is important enough to make big sacrifices in other areas of their lives.
At our house we felt so strongly about having a parent at home, we most likely would have made the decision for Maria to stay home, even if it hadn't been a wise decision financially. Thankfully we're in a good position financially (no debt except the house), and we're able to make the transition relatively smoothly. Now we'll just need to make sure that my wife is still able to interact with other moms and others socially so she doesn't lose touch with that aspect of her life – which is extremely important to her.
It's a balancing act for sure, and I hope you're able to make the right decision for your family as well.
What do you think about having the mom stay at home? What are some pros and negatives on both sides of the equation? Which decision has your family made and why? What things are we missing in this discussion of the topic? Tell us your thoughts in the comments!