Tax time is here. By now you should have received your W2 forms, 1099 interest income forms and other miscellaneous income reporting forms. Now that you've got your stack of tax information ready to go, it's time to start filing your taxes! But before you do,wait! I've got some news to share with you!
We're Giving Away 2 Free Copies Of TurboTax Deluxe Online
This year I'm fortunate to be partnering with TurboTax, one of the premier tax filing software available. Intuit TurboTax is allowing me to give two lucky winners a free copy of Intuit's TurboTax Deluxe Online tax filing software. The gift card that they've sent me (see above) will allow the winners to receive free federal and state tax filing using the online version of TurboTax Deluxe – which is a step up from their free version.
Some of the benefits of the TurboTax software we'll be giving away:
Guiding taxpayers step-by-step: Built in guidance for more than 350 possible deductions and credits, including the 2009 economic stimulus. Helps taxpayers get the biggest refund possible.
Real time error checking: flags errors and missed information as you go. Fix mistakes right then, or later on.
Double Checking for commonly overlooked deductions and credits: You won't miss important credits that many people fail to claim every year.
Audit support with every return: The TurboTax Audit Risk Meter helps customers avoid common errors and reduce their risk of an audit before they file. A downloadable Audit Support Center assists customers in the unlikely event they are audited.
Instantly transferring investment and wage information: TurboTax customers can easily, accurately and securely import 1099 investment and W-2 wage information from more than 140 financial institutions and payroll providers directly into their tax return.
Try TurboTax Out For Free
This year since I'll be getting my own free copy of TurboTax Premier so I'm going to give it a try. I've used other tax software in the past, Tax Cut, TaxSlayer and others – but I'm ready to give TurboTax a try.
From talking with others, most of them seem to really like TurboTax – so I'm looking forward to taking it around the block for a test drive. We'll see how it stacks up to the rest.
You too can give TurboTax a try for free to see how it works for you. That's one of the cool features of the software is that you can basically do your entire return, and find out what your results are. You don't even have to pay until you get to the point of actually filing and sending in your return. If you're not happy with it, don't go through with filing – it won't cost you a thing.
Win Your Copy Of TurboTax Deluxe
To win your copy of TurboTax Deluxe Online, just leave a comment below and:
Tell us if you've used TurboTax before.
Tell us if you expect to get a refund this year.
Or if you prefer, you can tweet the following on Twitter, and leave us a comment linking to your status:
Tweet "Win a copy of @turbotax Deluxe online. Win one of 2 free copies here: http://tinyurl.com/turbotaxforfree (via @moneymatters)".
Be sure to use a name and email that we can contact you at when commenting as it will be used to notify you if you win. 2 lucky winners will be chosen at random using Random.org on Friday at 12pm central.
NOTE: No need to wait to start your return to see if you've won. Start your TurboTax Deluxe tax return today by clicking on the button below. When I announce the winner on Friday the winner can simply enter the gift code on the final screen titled "review your TurboTax fees". There will be a button that says "Enter Pre-Paid Code". Remember, the contest is for TurboTax Deluxe, so you would need to start your return on that version. Otherwise, if you prefer to use the free version – you can do that too, and switch later on if you win.

Update: We have our 2 winners! Our winners of the free tax filing using TurboTax Deluxe are: Comment #12 Chatak and comment #55 Josh. I will be in touch with your promo codes guys!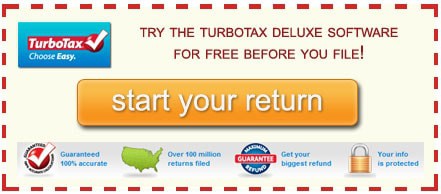 Be sure to check out these other TurboTax giveaways as well!