I've been writing this site now for almost 5 years, and in that time I've been with 2 hosting companies, 3 if you count Blogger as a site host.
I launched Bible Money Matters back in January of 2008, and at the time the site was merely a Blogspot.com sub-domain. I started the site to get my feet wet and see if I could give this personal finance blogging thing a go. Things went pretty well, and after a short time I decided to spring for the $10 to buy my own domain.
Big spender, right?
Moving To Lunarpages
Within a couple of months I realized that what blogspot.com had to offer wasn't going to be enough for what I wanted to do with this site. I wanted to customize the site more, monetize it in new and different ways, and not have to worry about blogger ever removing my site or taking down my content (it has happened to quite a few folks, so always backup!).
In July of 2008 I moved my site from blogspot.com to a self hosted WordPress installation.
I signed up for a shared hosting account with the folks at Lunarpages.com, installed WordPress, and imported my 5 or so months of content from Blogspot. It wasn't easy but I had it up and running in a day or two.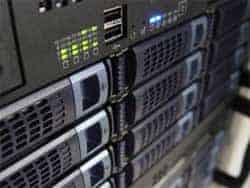 The shared hosting at Lunarpages worked OK for a while until the end of 2008 when my site started getting more traffic. In September of 2008 my site traffic skyrocketed after the markets crashed, and once my site passed the 1000 page view a day threshold, my hosting with Lunarpages had constant issues with too much CPU usage, site crashes and other things.
The final straw was when I was in the middle of the Free Money Finance March Madness blogging competition when during the voting for the championship round my site again went down. Support wasn't responding to my pleas to get my site back up, it took them over 15 hours to even respond to me. It was time to move.
A Dedicated Virtual Server At Media Temple
After Lunarpages stopped responding to my support emails, I quickly jumped into action and began the process of moving my site from my $5/month shared hosting with Lunarpages, to a new dedicated virtual server with Media Temple, which was closer to $40/month or so.
When I first switched to Media Temple, the support I received was pretty good. There was a honeymoon period where I received decent support while they got me up and running. I didn't have many problems until a year or so later when I started to have some slowdown and server crashing issues.
I turned to support to help, but they basically told me that I was on a self managed server, and that they weren't going to give me any support beyond pointing me to the knowledgebase.
While I understand that to a degree, you would think if a customer's problems were as bad as mine were, they would at least try to help.
That first time I ended up figuring out what the problem was and fixing it on my own.
After a total of 3.5 years with Media Temple, my site started having issues earlier this year again. The site started to slow down, and randomly started crashing. I was able to put a band-aid on many of the issues, but once the problems started getting severe earlier this month, I again turned to their support for help in tracking down the issue. Once again, they pushed me to the knowledgebase and gave no real help.
At the end of my rope, I knew it was time to switch again to something that had a bit more support.
Moving To Storm On Demand

This past week my site was once again having major issues where I was having to reboot the server multiple times every day in order to keep the site up and running. I was having some unknown issue (and un-fixable by me alone), and Media Temple was only able to point me to a couple of generic articles in their support area detailing how to optimize your server. Most of it was in technical language I have no understanding of, but after giving some of it a shot I gave up.
It was time to move on.
I talked with quite a few of my blogging colleagues about who they were hosting with, and how happy they were with them. Time and again I heard that bloggers including freefrombroke.com, maplemoney.com, cashmoneylife.com, genxfinance.com and others were all hosting with Storm On Demand, a webhost powered by Liquid Web.
Why were they using Storm on Demand? They have options for fully managed VPS solutions, their performance is top notch, and their servers are rock solid.

Storm On Demand has a variety of hosting options available, however, one option that knew I needed this time around was fully managed hosting – with support in case problems did arise, which they inevitably do.
So on Friday I signed up for Storm On Demand.
I started the process of moving my 11 sites that I host, and quickly realized it was going to be a huge pain. I contacted their support and asked them if they could migrate the sites for me. They opened a job in support, and they started the job of migrating my 11 websites and 11 sets of configurations. The process of migrating the sites took a bit longer than I had hoped, but it was completely taken care of by them and I never had to sweat bullets trying to figure out what settings to configure, why certain sites weren't coming up, etc.
As of late Saturday the sites were all moved over to Storm On Demand, and the nameservers had been switched at my registrar to point to their servers.
While we're still working out a few of the bugs in the new setup (there are bound to be bugs when moving 11 sites!), and diagnosing a couple of smaller issues causing some bumps in the road, I'm more confident that I now have a host that will actually try to help me when problems do arise.
So far they've been pretty helpful, and I'm much happier having that level of support to back me up in case I need it.
So thanks everyone for sticking with us through the bumps in the road these past couple weeks, and we appreciate your help in alerting us to any issues you may notice in the coming days now that we're on the new servers at Storm On Demand.
UPDATE: I've been bugging the folks at Storm On Demand all week to fix a variety of issues that were either legacy issues from my past host, or new issues that have arisen since the move. They've been extremely accommodating and to date have fixed basically every issue that I've had.
They've been tweaking server settings, fixing permissions issues and so forth. As of today the site is running strong and stable, and I think we should be good to go! What a difference from my past host! The customer service and support I've received thus far are second to none! The longer I'm with them, the more I recommend them.
UPDATE 2: I've been with Storm On Demand for 6 and a half years now, and in that time they've been amazing. My site has been stable, and the few times I've had issues often they've fixed the issue before I even was aware it was happening. I've gone from around 100k page views/month to a high of 825k page views/month, and it has never had any issue. I highly recommend Storm on Demand.
Check out the hosting solutions at Storm On Demand.
Have you had your own experience with Storm On Demand, or have your own hosting horror stories? Tell us in the comments!