The last few months have been a whirlwind of activity at our house. I feel like I haven't had a chance to take it easy and just relax because of all the family gatherings, church functions and other miscellaneous events like our all day gun training class that we took last weekend. As with most summers here in Minnesota the calendar has been full to the brim.
While it's fun to be constantly on the go, and socializing with family and friends, it can also be a bit stressful at times when you're someone like me who likes to get things done. I'm the kind of person who likes to make a list, and then check things off my list as I accomplish them. These last few months, however, it seems like my list has just been getting longer and the check-marks on the completed column have been few and far between.
So what's a person supposed to do when life gets hectic, and they have so much to do? How can you refocus your energies and get back to checking off those tasks on your to-do list instead of just letting them slide or pushing them off until tomorrow?
Refocus Your Priorities
For me one of the hardest things to do once I've gotten into a rut is to actually get back on track, and stop avoiding my to-do list and the associated tasks.
The problem for me often is when I've pushed something off for so long, it starts to seem like less of a priority, and I can rationalize in my head that I've pushed it off for so long, it wouldn't hurt to push it off for another few weeks. At times like these it pays to stop, organize your thoughts in your head, and refocus your priorities before the list becomes unmanageable.
Take a few moments to think about where you're spending your time (on less important things probably?), and think about where you can carve out a couple of hours here and there to focus on your important financial and personal finance tasks. You may even want to take a personal finance day off to organize your money situation!
Organize Your To-Do List
Once you've taken the time to refocus your energies and figure out where you can carve out some time to focus on your tasks, it's time to actually sit down and figure out what's going to be on your to-do list. For me it's a hodge podge of financial and blog tasks, most of which I've been putting off for months.
To actually make my list I use the Evernote app for Kindle Fire. It allows you to create and save notes, within which you can create check-marked to-do lists – which you can then access from your computer, tablet or smartphone. I love it, and use it on all my devices!
So go ahead and figure out what things are most important, and what things need to be done first. Put together an actual to-do list in Evernote or your application of choice, and rank them items on your list in the order you need to get them done.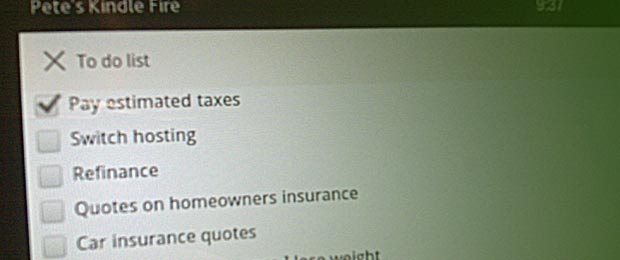 Here's my current to-do list seen in the screen capture above:
Those are the main things on my current to-do list, and now that I sat down and wrote it out earlier this week, it's time to start strategizing when I'll get these things done.
Strategize A Course Of Action
Once your list is created and prioritized, it's time to sit down and decide when things are going to get done. For me I just looked at my ranked list and decided that I'm going to first do the things that HAVE to get done like paying my taxes and switching my site hosting. Paying my estimated taxes was probably most important since the deadline to pay them is next Monday, 9/17. Now that I have that done it's on to the next thing on the list, moving my websites to a new host. My sites help to create income for my family, so every day that I can't keep the site stable, I lose money. I'll be signing up for a new host and starting to move my web properties over later tonight.
For the rest of the tasks I'll be starting on them next week. I'll start getting quotes on a refinance on our home first, then work my way down the list.
Execute Your Plan: Take Action
Once you've made a to-do list, and strategized how to get it done, the last thing to do is just to execute the plan and take action. I've already started to do that on my list, I've checked off the first couple of high priority items. Next I'll be moving on down the list and working on those things, re-prioritizing as needed. Of course, as new tasks emerge, I'll be adding them to the list and re-organizing as I go.
Do you have your own way about creating and executing a to-do list? Tell us your hints, tips and tricks in the comments!