At one time or another we all compare ourselves to others around us.
The problem is, comparing yourself to others can be unhealthy and can create discontent with your situation.
As the saying goes, "comparison is the thief of joy", and trying to keep up with the Joneses is a losing proposition.
But what if you could take that unhealthy comparison and turn it on it's head. What if you could compare your finances to others anonymously, just to see where you stack up – with the intentions of improving your situation?
That's the idea behind the new site called Status Money. It's an app and website that allows you to track your income, spending, net worth and debt levels, and then compare your numbers to the national average, your peer group, or your local region.
If you found out that you carry more debt than your peers, would that motivate you to get more intense with your debt payoff?
If you found that your income was higher than the average in your area, would that motivate you to work even harder and become part of the top 5%?
Would knowing where you stand in comparison to others in general help you to become more motivated to improve your situation?
I think it's an idea worth exploring.
Let's take a look at Status Money, and what you need to know before signing up.
Quick Summary
App is free to use.
Earn cash rewards.
Spending, income, debt trackers.
Compare finances to your peers.
What Is Status Money?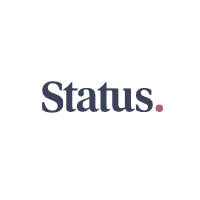 Status Money is a financial app that allows you track your finances, find opportunities for improvement, and gives you insight into how your finances compare to those of your peers, and to national averages. The hope is that by giving you all the relevant data you'll have a realistic idea of how you're actually doing, and you'll be encouraged to find areas to improve.
Status is a new company, founded in 2016. From their FAQ:
Status Money was founded in 2016 by Majd Maksad and Korash Hernandez – two data scientists living in New York City. During more than a decade working at financial institutions, they studied how people make financial decisions and saw that most managed their finances alone – unable to see if they were overpaying for financial products or overspending. They had a radical solution – create the world's first platform that enables everyone to anonymously compare their finances with people like them.Through simple comparisons, Status shows every member if they're overspending, not saving enough, or getting unfair interest rates.It uses machine learning algorithms to proactively find opportunities for members to save and earn smarter – helping them live more prosperous lives. We're creating a smarter and more transparent future – Join us!
With Status you're able to connect the app to all of your relevant financial accounts. Link your checking, savings, investment, credit card, mortgage accounts and more.
Once your accounts are linked and your data downloaded, you'll be given a series of dashboards where you can compare how you're doing in different areas of your finances. You'll get net worth tracking, easy budgeting tools, income and debt dashboards, cash flow projections, credit monitoring and more.
Not only that, but you'll be able to compare how you're doing in comparison to your peers, the national average, people in your area, people in your age group.
Before we get too deep into what you can do with Status, let's look at the process to sign up for an account.
Signing Up For An Account With Status Money
What do you need to sign up for an account with with Status Money? You'll just need some basic information.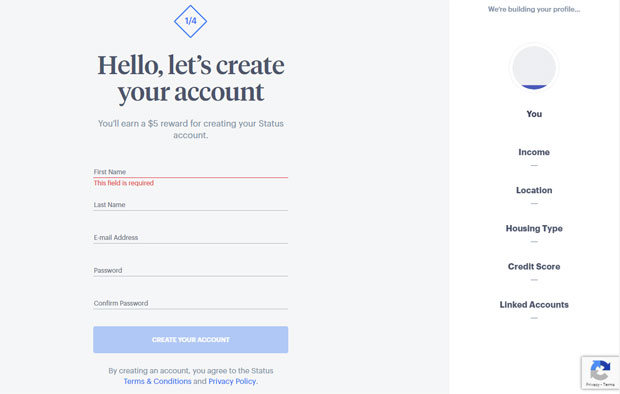 Full name
Email address
Password
Your date of birth
Annual gross income
What type of housing, own or rent.
Cars you own
Last four digits of your Social Security number to verify who you are.
Address (to be used to verify you via your Transunion credit profile).
Once you provide all of that information and are confirmed, you can start adding and linking your financial accounts.
In testing out the site I was able to add bank accounts from 3 separate banks, a mortgage company, a 401(k) account, and a robo-advisor. I had no issues linking accounts, it was a seamless process.
Once your accounts are linked it will start pulling your data and analyzing it for you.
Status Money Features and Functionality
So what tools, features and functionality are available to you in the app?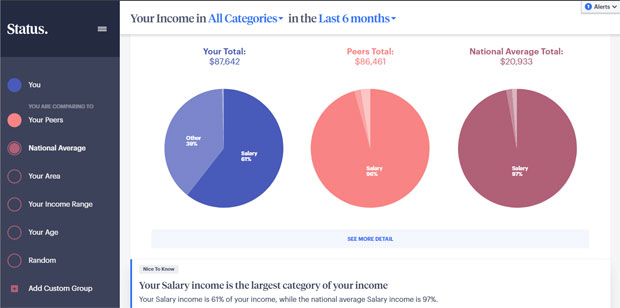 Some of the things you'll find in Status Money:
Net Worth Tracking
Easy Budgeting
Cash Flow Projections
Free Credit Monitoring
Interest Rates Analysis
Account Alerts
To find these things in your app you just have to navigate from your home dashboard, or click on the navigation column to the left. In there you'll find links to the following pages:
Spending
Income
Debts
Assets
Net Worth
Credit Profile
Opportunities
Rewards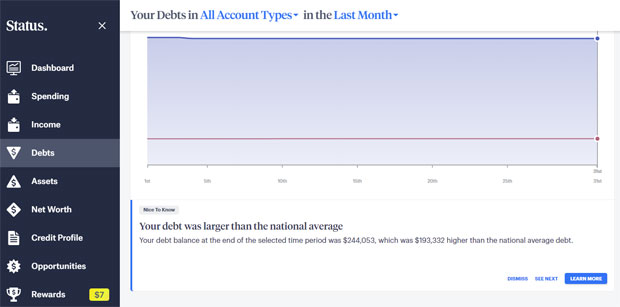 Spending
In the spending page you'll find a breakdown of your overall spending for whatever time frame you'd like – the current month, past 6 months, a year. It has some beautiful graphs showing just how much you're spending, how it relates to your income, and then it will compare it against your peers, national averages and so on.
It will also break down your spending by category and give you the opportunity to re-categorize transactions if you think they didn't get it quite right. You can also set spending "trackers" which will keep tabs on your monthly spending, based on a spending goal you set.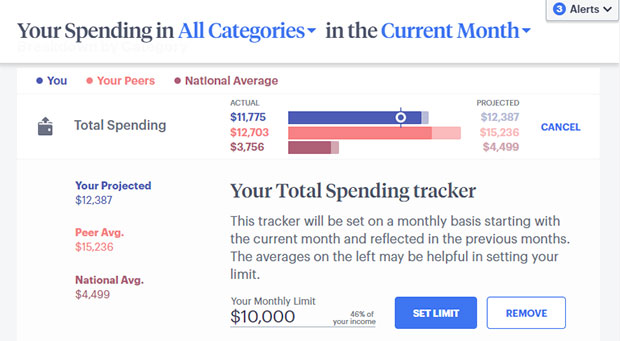 Finally they'll give you quick "nice to know" facts about your spending. Things like "Groceries was the largest category of your spending" or "Your average spending ranked lower than that of your peers". There are also "alerts" that pop up with information that needs to be brought to your attention.
Income
The income page is similar to the spending page, but it gives you in depth information about your income. It will give you a graph showing the trend of your income over whatever time period you want. By default it shows the last 6 months.
The next section on the income page will give you a breakdown of your income categories, showing what percentage of your income comes from a salary, how much from investments and savings, and how much from other sources.
You can set income trackers as well for the different categories of income, or for total income. If your income is variable and you're aiming to improve your income, this can be a nice tool to stay on top of how you're doing.
Debts
The Debts page will give you a "debts trend" graph at the top of the page, showing how your debt balances are trending over time, and how your balances compare to those of your peers or the national average.
For example, our only debt is our mortgage. We can see that while our debt balance is $80,000 lower than our peers in general, in our area our debt balance is actually quite a bit higher than average.
Lower on the debts page there is an interest rates tracking tool. The tool will look at the rates on all of your debt accounts and tell you how they compare to the rates that other people have. Our mortgage rate is pretty low, and the tool confirms that "The interest rate you're paying on your debt account is competitive compared with your peers. "
If your rates aren't that great, the tool will direct you to their "opportunities" page where you can find offers for loans with a lower rate than your current ones.
Assets
The assets tab will give you a 10,000 foot view of all of your assets, whether it's cash and savings, investments, homes, cars or other assets.
Again, you can compare your assets and holdings versus your peers, or other demographics.
The "Interest Rates" section will once again take a look at the rates on your savings and CD accounts to see if you could be earning more in interest. It will look at your investments and see if you're paying too many fees. If you are missing out, it will link you to the opportunities page where you can find some alternatives.
Net Worth
The "Net Worth" page will take a look at your overall net worth, your assets minus your debts.
It will show you a trend line for how it has been trending recently, and will give you some "nice to know" tidbits telling you how you stack up.
Credit Profile
The "Credit Profile" page will give you a quick look at your credit score from TransUnion, tell you where your credit score falls in relation to your peers, and then gives you an overall view of what your overall credit situation is.
What types of debt do you hold? How many open accounts do you have? What is your total debt balance?
Opportunities To Save
On many of the pages from income to debts to assets, Status will give you a link to a page where you can view "opportunities to save".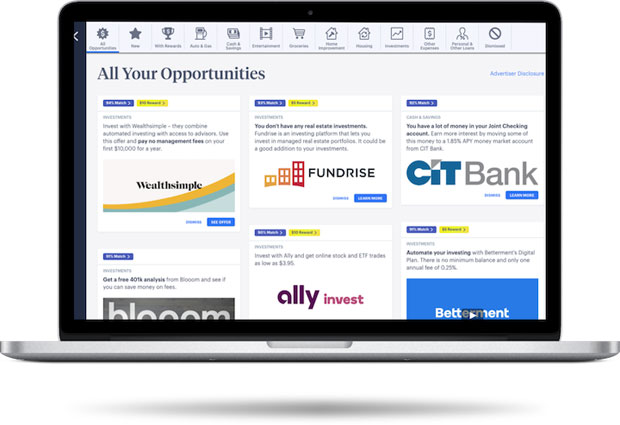 The "Opportunities" page will have all kinds of savings opportunities. It will have listings for auto insurance, credit cards, home equity loans, investment websites or even lower cost mobile phone providers.
The opportunities are all ways that you can save money versus your current choices. It should also be noted that many of these opportunities – while they may be good choices – are also paid listings that will earn money for Status. For example, if someone signs up for a Fundrise investment account, while it may be a great option for you, Status will likely be earning a referral fee of some sort. It's one way they make money for their free to use site.
So buyer be aware – that while there may be some very good opportunities to save in Status, it may pay to search around a bit more outside of the tool to find if it's the absolute best option.
The opportunities page also has a ton of offers that carry a "reward" with them. For example, if you open a new Discover credit card via their page, you'll get a $50 reward. Let's look a bit closer at rewards in the next section.
Earn Cash Rewards

You can earn cash rewards in your Status account. How do you earn rewards?
Refer your friends to Status: If you refer a friend to Status with your unique URL and they sign up and link their credit file to the site, you'll get a $1 credit.
Find golden reward badges and complete their requirements: On the opportunities page and elsewhere on the site you'll find rewards badges that will earn you credit for signing up for third party services, getting quotes or providing an email address. Each offer is different and has differing requirements. Make sure to view each offer to find out what you need to do to complete the offer and earn the rewards.
One example of an offer on the site currently is for Mint Mobile, a service we recommend here at Bible Money Matters. They will give you a $10 reward if you click on Status "Learn More" button, and then complete a purchase within that same session. If you do that, within 30-60 days the reward will be added to your account.
Status will confirm that you have fulfilled the requirements of each reward and you can track your reward's progress on the "Rewards" page in your menu. Once you earn $10 in rewards you can cash out with a free ACH transfer.
When you join the site through our link you'll get a free $5 credit to start you off, and when you link your first account you'll get another dollar. Link your credit file and you'll get another dollar – for a total of $7. That means you'll only need another $3 in rewards to cash out when you join through our link.
Status Money Chrome Extension
If you add the Status Money chrome extension to your browser you'll have access to more than 100 new rewards.
Use the extension when you shop online to earn cash rewards on relevant websites.
You'll get notifications when there are relevant offers or rewards for a given website, and you can view and browse all available offers through the extension as well. It's just an easy way to earn more cash rewards without having to do any extra legwork.
Status Money Mobile Apps
The mobile app for Status is a beautiful app, with a look and feel very similar to the website. It is available on both iOS and Android.
When you login to your app dashboard you'll first see a "Your Highlights" section at the top, giving you some insights into your money situation. Mine tells me that some of our savings accounts could have better rates if we switched banks, that we're holding too much money in checking (we're about to buy a car with cash right now), and that we spent a bit more than normal this month.
After the highlights you'll get a summary of your net worth and how you rank nationally.
After that you'll get a complete summary of all your trackers that you've setup, and then a brief look at each spending, income, debt, asset category. It will also give an overview of your credit profile.
Everything you can see on the main desktop website is also available in the app.
Status Money Pricing
So how much does Status cost to use?
It's FREE.
You'll never have to pay anything to use the product, it is free of charge.
How Does Status Make Money If The Account Is Free?
So how does Status make money if they don't charge a subscription fee? Here's what they say in their FAQ:
Status makes money by providing members with ads for relevant products. For example, if Status determines that the interest rate on your savings account is lower than the interest rates your peers are earning, it may show you an offer from a bank offering a more competitive rate. These ads enable us to keep Status completely free for all members.
Their ads on the site and offers in the "Opportunities" page are what pay the bills. So if you like the service, and want to sign up with an alternative bank or mobile provider, they'd appreciate it if you did so through their link.
Is Status Money Safe And Secure? Is It A Scam?
How do you know if your data is safe with Status Money, and how do you know it's not a scam?
From their FAQ:
Status safeguards your information using state-of-the-art technology and has been independently rated by a leading security agency to be more secure than most US bank websites. It encrypts your information using 256-bit encryption and all its servers are monitored 24/7.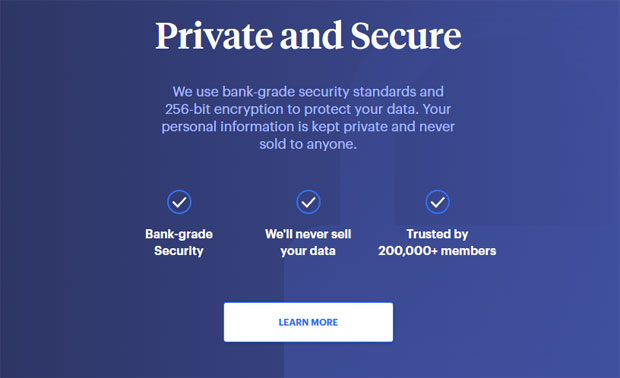 Status uses 256-bit encryption to protect your data, and your personal information is kept private. They'll never sell your data.
Status only has read access to your linked financial accounts. So the money in your accounts will be safe even if your Status account is ever compromised. Plus, no one at Status has access to your account and bank credentials, and their servers are protected 24/7.
Summary
I've used a lot of personal finance apps, and net worth trackers in the past few years. But none of them that I can recall do what Status does, allowing me to compare my financial picture to my peers, to national averages and to those in my area.
Status money has given me a more complete picture of just where I am in relation to my peers when it comes to my mortgage debt, my savings and investments and my net worth.
It also helps me to monitor my credit file, and see how I'm doing there with a free credit score.
Having more information is always better than the alternative, and I can see how using Status Money could be extremely useful, especially since the tool is offered to users free of charge. I definitely recommend giving it a try.