The sun is shining (at least somewhere), flowers are primed for blooming, and the topic of spring cleaning is starting to take a top slot in everyday conversation.
Beyond clearing out all the winter cobwebs and tidying up your home, the spring is an excellent time to give your finances a quarterly glance. Since we're just about 4 months out in the New Year it's only natural that financial goals may have lost momentum or strayed from their course.
Take the opportunity to spring clean your finances for the benefit of the coming months (and years) ahead.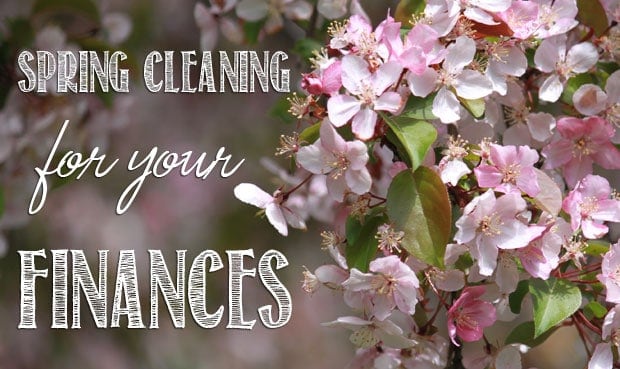 Touch Base With Your Financial Goals
First up on the spring cleaning routine? A quick scan of your current financial situation. It's always a good idea to take a general survey of the landscape before forging ahead. Touching base with your financial picture will help you to create a foundation to check your numbers against as you move forward. It also gives you an honest idea of where you stand with all your financial accounts.
So haul out your financial documents, pull up your spreadsheets, and rally up your receipts.
Organize Your Financial Papers
When you've compiled all your paperwork and done a quick look-over, you're now primed to to physically tidy up your financial documents and papers too. We often let our documents pile up but spring presents just another opportunity to keep yourself organized so you're not faced with a mountain of papers when you're in need of a single document. Using a filing system, throwing away any old documents, or opting for digital alerts from your bank are all great ways to clear out some of the clutter.
Work On One Financial Area At A Time
Tackling your finances can be an intimidating task. That's why it's important to take it one element at a time to break down the magnitude.
Go ahead and separate each piece of your overall financial puzzle so you can focus on it one bit at a time. When you break it down into smaller steps you're more likely to see the important details and you can focus on.
Similar to how you might start cleaning one room at a time when you take on the task of cleaning the entire house, it's helpful to divide your finances into financial zones. This way you won't be overwhelmed by the vast number of numbers. You can target your debt, your savings, your bills, your food budget. etc. without being distracted by other areas.
List Out What's Working… And What Needs To Be Worked On
Take notes while you're sorting through each of your financial areas in order to pinpoint what exactly is going well and what could use improvement. It's a way to keep you honest about your finances since it's so easy to toss aside documents that are overwhelming or confusing. It doesn't have to be fancy – it can be on a pad of paper or a Google doc, but noting down your successes as well as your rough spots will help you to move forward efficiently.
Fine Tune Your Financial Plan
Having all your info and notes laid out will help you distinguish any patterns (good or bad) and then make any necessary adjustments to strengthen your financial plan. It's also a great opportunity to reflect and learn on any past flubs or spending leaks that you can seal up as you move forward. In addition, it's the perfect time to check if you have room to accelerate your plan.
There's no reason to wait until the next year to start putting more towards your debt repayment or into your savings account. In fact, checking in quarterly and incrementally increasing your repayment or savings plan will make an enormous difference over time.
Set-Up Financial Protections
With all the financial scams that seem to be released in a steady stream, this is a perfect opportunity to set up some protections to ensure that you don't fall prey to financial fraud. This includes setting up alerts for unusual spending behavior, choosing the credit option over the debit option when using your debit card, taking precautions when entering your personal information. It's one way to ensure that you won't be doing damage control the next time you check in with your finances.
Donate Old Items That You Can Claim On Your Tax Return
This one takes spring cleaning literally! Go through your old things and donate items to charity!
Donated items can be tax deductible so while you're at it, do a little spring cleaning of your wardrobe or garage while you're at it.
Just make sure to keep your receipts and track your donations if you're filing an itemized tax return! Might as well optimize as you go about cleaning different aspects of your life.
Take Care Of Obligations
Speaking of taxes, some of us may owe the IRS and have a hard time paying it. If that's the case, look around to find some resources that can help you pay off that tax debt as quickly as possible. This goes for all other forms of debt, too!
Take the seasonal opportunity to perk up your finances and clean up any of the financial clutter! And don't forget to eat lots of ice cream in the sunshine, of course. Spring cleaning has room for rewards too!