Money is one of the more taboo subjects in our society. Many of us are uncomfortable talking about it, and it is even more uncomfortable when there is a disparity between what we make and what our friends make.
It can be difficult to enjoy times with your friends when there is an income disparity — even if you are the one with more money.
Do You Have Less Money Than Your Friends?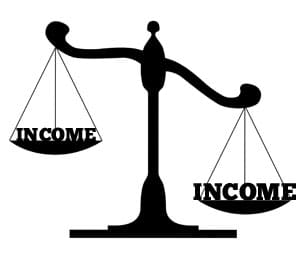 It's difficult when you're the one with less money. When you are in this position, it's hard because you want to be able to go out and have fun with your friends, but you feel like you can't really afford to.
In some cases, it can be tempting to use debt to "keep up" with your friends. You want to go to the same restaurants, wear the same clothes, and go on vacation to the same places. I remember when I was in college. I often used debt in order to go on road trips with various groups of friends. It wasn't the smartest way to do things, but I did it anyway, because I wanted to hang with my friends.
When you have less money than your friends, it's up to you to be smart about your money. Sometimes it means saying no to certain activities — even if you miss out. And it also might mean suggesting alternative activities that you can afford, rather than always just going along with what your more affluent friends come up with all the time.
In extreme cases, it might also mean that you find new friends — friends that are in the same income situation and who understand that you have limitations on your income and can plan activities accordingly.
What About When You Have More Money Than Your Friends?
As uncomfortable as it is to have less than your friends, sometimes it can be just as bad to have more money than your friends. I'm blessed enough to be in a position now where I am usually the one with more money. This means that I don't have to worry about what I'm spending. However, I feel bad when I just spend the money while those I'm with are carefully counting their pennies.
Sometimes, my husband and I treat our friends by inviting them to an activity and then paying for it all. This way, we can enjoy their company, and they don't have to worry about over-spending. However, you still have to be careful, since you don't want to offend your friends by always paying. As a result, we sometimes dial back our plans so that we don't make our friends uncomfortable.
So far, we haven't yet found a good balance of friends at our same income level. It's harder than I thought it would be to find people we are compatible with, but who are at the same income level. Part of that has to do with our location, but it also has to do with our values. We don't have a lot in common with the people in our income group in our city, so it makes it hard to form friendships.
For now, we're doing our best to find balance.
What about you? How do you handle disparities in income when you go out with friends?