Since taking Dave Ramsey's Financial Peace University I've been convicted of the fact that I need to have a life insurance policy.
During the class they share the story of one young father who after taking FPU bought a term life insurance policy. A few weeks later he was found to have terminal brain cancer. His family was lucky because he bought insurance before receiving the diagnosis, and they were now taken care of and would be able to stay in their home after he passed.
God forbid that I should ever die while still young and my wife be forced to try and move ahead without me, but now that we're expecting our first child, there is even more at stake. I know I now have even more to protect. It's time to start shopping around for life insurance quotes.
When Should I Get Life Insurance?
There is a debate surrounding the topic of when people should get life insurance. Some people say it isn't a huge necessity to get life insurance until you head down the road of having children. Others say that you should buy term life insurance when you're younger – even if you don't have children – because you'll be in better health, the rates will be lower, and who knows if and when you'll have a health issue that will preclude you from obtaining affordable life insurance.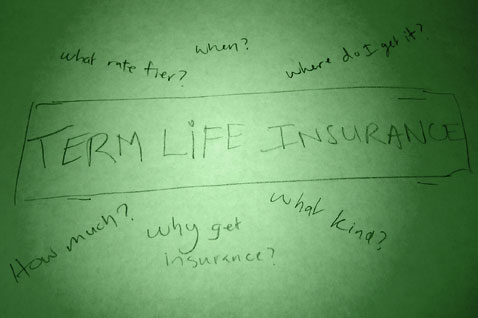 I used to come down in the camp that felt you didn't need life insurance until you have children. My reasoning was that my wife has a job, and she would be able to continue paying for her living expenses if I died, and since we have no children she wouldn't need to pay for child care, or anything associated with having children.
After hearing stories, however, of young healthy people who all of a sudden have major health crises and all of a sudden can't qualify for life insurance – even if they wanted to – it got me thinking. I realized that we're planning on having children someday – and you never know what will happen. Term life insurance is so cheap that there really isn't a good reason not to get it now – even without children.
Now that we're expecting our first child, however, I knew it was time to move ahead.
Should I Get Term Life, Whole Life, Universal Life Or VariableLife Insurance Policy?
Another debate you'll often hear when it comes to life insurance is whether term life or whole life insurance is the better deal. With term life you just pay your premiums, and if you die your family gets paid. Simple as that. Whole life and other cash value type policies have an investment or savings component to them as well – often meaning that you'll get your premiums back at the end, some investment gains or that you'll get an annuity.
I believe that in most cases term life insurance is the better deal. The reason? You can buy term life insurance much cheaper. That means that you can take the difference between what you paid for term life and whole life, and invest it – without added layers of fees from the insurance company. Of course, that is assuming that you're disciplined enough to actually take the difference and invest it. Your returns by investing on your own will almost always be better.
Where To Get A Term Life Insurance Quote
One of the keys to finding a good term life insurance policy is to shop around and get quotes from a variety of different places. That way you can make sure you're getting the best possible policy for the best possible price.
I got recommendations on good places to find a policy from my online friends – asking where they shopped for their policy. Because of their advice, and because of other things I've found while searching for information online, I've gotten quotes on 20 and 30 year term life insurance policies through a variety of different sites and services. Here are a few of the better places to check for a policy:
Check with your employer: Often you can get group discounted rates through your employer. They may even already offer you a small policy for free. Check with your HR department.
Zander Insurance: This is the insurance aggregator recommended by Dave Ramsey. I actually found some of the best rates here as well.
Those are just a few of the aggregators that I found. You can also go directly through an insurance agent, or the company itself to get a quote as well.
Tips For Having A Successful Life Insurance Medical Exam
After you've gotten your quotes, and have decided on a particular company, you're most likely going to have to undergo a medical exam before the policy is issued. The results of that examination will determine not only if you're insurable – but also what rate category you'll fit into.

This is one of the things I'm worried about because I'm currently a bit overweight. I don't want to wait however, to get into better shape to get a policy. Live and learn.
I was searching for tips on what to expect from the exam (because I haven't finalized which company and policy I'm going to go with), and I found a great article giving tips on how to ace your physical examination from Goodfinancialcents.com:
1. Limit salt and high cholesterol foods 24 hours prior to the exam
2. Refrain from drinking alcoholic beverages for at least 24 hours prior to the exam
3. Limit caffeine and nicotine 24 hours prior to the exam
4. Smokers: Do not smoke 30 minutes prior to the exam
5. Fast for 4-8 hours prior to the exam and try to schedule the exam for first thing in the morning
6. Drink a glass of water one hour prior to the exam
7. Get at least 8 hours of sleep the night before the exam
8. Limit strenuous physical activities 24 hours prior to the exam
9. Be prepared to provide names and dosages of current medications and a photo ID
10. Have names, addresses and phone numbers of any doctors or clinics visited in the last 5 years
Wow, that's a lot of stuff to remember. I'll have to remember all that when I get to the exam!
How Much Insurance Do I Need?
After you've decided on a policy and passed your medical exam with flying colors, you'll need to decide how much insurance you want to buy. So how do you determine how much insurance you need?
I've heard a wide range of numbers thrown about as to how much insurance you should buy. Dave Ramsey in his Financial Peace University class says you should have 8-10 times your annual salary:
As a general rule of thumb, you should have 8–10 times your income in guaranteed renewable term life insurance. Life insurance is designed to replace you, financially speaking, if something happens to you. Let's say that you earn $50,000/year, and you have $500,000 in term life. If you pass away, your spouse should take the money and invest it in a solid mutual fund. If your spouse simply pulled 10% interest out each year, he or she would receive $50,000, without ever touching the principle. Your income would be replaced.
Others suggest that you should have even more, close to 17-20 times your annual salary. I'm on the more conservative side of things, and want to make sure my wife is taken care of, so I'll probably be in the 10-15 times my annual salary range.
Pay For Your Policy Monthly, Quarterly Or Yearly
Once you purchased your policy you'll have the option of paying for it in monthly, quarterly or yearly. The prices will vary depending on which way you pay – with the yearly option saving you the most money. The only thing I've heard against paying yearly or quarterly – is that you shouldn't pay for insurance up front in case something does happen during the year. That way you're not paying more premiums than you need to. It really comes down to which you prefer. Paying a little less by paying yearly, or paying a little more and insuring against paying too much in case of your death.
Either way, you want to make sure that your life insurance policy never lapses, so you want to make sure that you set up the payment to be sent automatically. Nothing could be worse than having someone die, and finding out the policy has lapsed because the premiums haven't been paid.
Conclusion – Term Life And Invest The Rest
I'm not quite done with the process of finding term life insurance, but I soon will be entering the final phase. I plan on purchasing 20 year term policy with a value of 12-13 times my annual salary. How much I get will also depend on how my examination goes, and the resulting rate changes. We shall see – I'll post another update once I've found and purchased my policy.
Do you have a life insurance policy? What kind? How much insurance are you carrying? If you don't have insurance, why not? Do you plan on getting insurance in the future? Tell us your thoughts in the comments!