Do you know the story of Louie Zamperini?
In recent years, his story has gotten quite a bit of media attention, first from Laura Hillenbrand's best selling book, Unbroken: A World War II Story of Survival, Resilience, and Redemption. More recently, Angelina Jolie brought Louie's story to the big screen with the same title, Unbroken.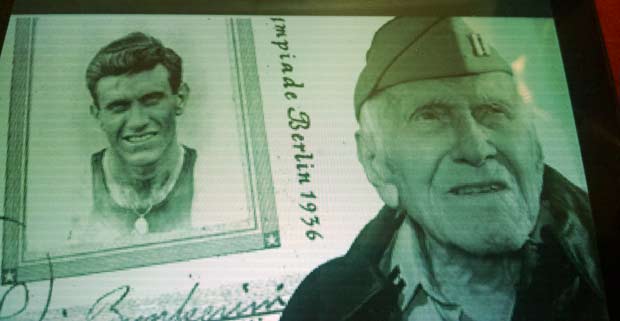 For those of you who don't know, Louie Zamperini was growing up a juvenile delinquent until his big brother got him into track and field. Louie excelled in running and even went to the 1936 Olympics in Germany where Hitler specifically asked to meet him because he was impressed by his running speed.
Louie had his sights set on the 1940 Olympics, but he instead enlisted in the military as World War II ramped up. When he was on a search and rescue mission, his plane crashed, and the most difficult journey of his life was just beginning.
More Lives Than A Cat
I devoured the book, Unbroken, and was every bit as enraptured with the movie, which did an amazing job of bringing Louie's story to action.
I, and I'm guessing most others, have no idea how Louie survived his experiences. There were so many times he should have died, but he didn't. In fact, he just died last year at the age of 97.
How Finding God Saved Him
Louie's childhood, running, Olympics, and war experiences are captivating. But the simple truth is, he was only in his late twenties by the time this exciting period in his life ended.
After the war, he had his whole life ahead of him, but he couldn't stop looking behind him. As a prisoner of war, he suffered brutal treatment at the hands of a Japanese soldier nicknamed The Bird. Louie had post-traumatic stress, but of course, back then, that was not a condition that was named or had a treatment. Louie self-medicated with alcohol.
He was only days away from a divorce when his wife convinced him to go hear Billy Graham. On the second day he went, Louie was saved.
The book Unbroken does an excellent job discussing how Louie found God and how it completely changed his life. Jolie's movie, however, could not go into as much depth due to time constraints. That is too bad for the millions who saw the movie but didn't read the book and only got a glimpse of how God saved him.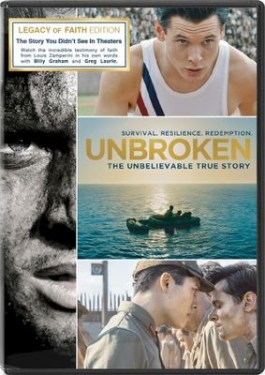 However, a Christian movie company, FishFlix.com, is remedying that. This company is selling a DVD of the movie Unbroken bundled with another DVD of bonus content, the "Legacy of Faith Edition". This bonus content includes four different interviews with Louie ranging from as short as 3.5 minutes to 52 minutes.
In the bonus DVD, Louie shares his story, but he also talks about his struggle after the war. Every night he dreamt about The Bird. In fact, one night he dreamt he was strangling The Bird, but he was instead strangling his wife in real life in his sleep.
He drank heavily.
And then, because he was so desperate to save his marriage, he went to see Billy Graham. He was saved, and life began anew for Louie. He lived a way he had never lived in his whole life.
Louie talks about Billy Graham and how he saved Louie. Louie wonders on one of the interviews if God didn't save his life all of those times during the war so that Louie would have the opportunity to find God and share his amazing story with others. Louie talks about the ripple effect of sharing his story with thousands of people.
Now, after his death, Louie is still inspiring millions more. If you want to see interviews with Louie in person as well as hear his story of redemption, you'll love the interviews in the bonus DVD.
Have you read or seen Unbroken? What do you think of Louie Zamperini and his amazing life?