A while back, Peter did a review of Mint.com, a free online solution for tracking your finances, and then just this year, he updated that Mint review. Mint lets you see all your accounts in one place, captures all of your transactions, and puts the data into a ton of great looking charts and graphs so you can see how you're spending your money. I use it as a way to check all my accounts at once and look at the historical trends in our finances so I can make adjustments as needed.
Recently, Mint released a new goal setting feature to help its users set up goals, link the goals to their accounts, and follow up with steps to achieve the goals on schedule. I have to admit I've not been using the feature since I do my own goal setting because I'm a financial planner. Peter asked me to take a look at Mint's goal setting feature and share my thoughts.
Sign Up For Mint.com And Test The Goals Feature For Yourself
The Good
What I like about Mint's new goal feature is that it makes incorporating your goals into your finances easy. Because you can link goals to specific accounts, your progress gets updated when the account balance gets updated. This makes for a quick way to look over your list of goals and find out where you stand.
Mint's goal feature excels at helping you set up short-term and mid-term goals like an emergency fund, buying a car, or taking a trip. It'll help you set an amount so you know how much your goal should be. For example, when you're setting up a "Buy a Car" goal Mint will provide you with Kelley Blue Book values on the car you'd like to buy. Then you just link up any account you'd like to use for the goal (or Mint can suggest a good option or you can wait until later). Mint's goal feature will then let you set a date and help you figure out how much you'll need to save each month to reach your goal on time.
Once you've got your goals set up, Mint provides you with a nice graphical picture of where you are in your progress and provides some additional steps you can take to reach your goal. You can also add your own tasks to the checklist to make sure you don't forget anything. Mint shines in this area and it shows.
The Bad
Despite the good aspects of Mint's goal setting feature, there were several problems that I found. Now, being a financial planner, I'm probably giving them a harder time than most people would but I have very good reasons.
I mentioned above that Mint's goal feature is helpful for setting up short-term and mid-term goals. I left out long-term goals because of problems with the way they calculate the goals. For example, the retirement goal assumes you'll get a constant rate of return every year. It also assumes the same return for your whole life as far as I can tell. So if you say your investment style is "Aggressive Growth" then Mint assumes you'll get a 9% return every year until you retire and every year after you retire – even when you're in your 90's! I don't know many people who want to still be in an aggressive growth portfolio just a few years before retirement. And I don't know anyone who can get a constant 9% rate of return every single year. The markets just don't work like that.
I ran into different problems with the college goal. It looks like they assume a 0% rate of return, even if your child was just born today. They also assume a tuition inflation rate of 4% but historically it's been more like 7%. You can change the inflation assumption manually, but there doesn't seem to be any way to incorporate a rate of return.
These may seem like minor quibbles, but I assure you they're not. These are major factors – especially in long term goals like college and retirement. I figured Mint would simplify the retirement calculator, but I'm quite disappointed with the college goal.
The Ugly
I couldn't check out Mint's "Get Out of Debt" goal because it wouldn't pull up my debt accounts. I have a student loan which should have been an option to use for the goal, but it didn't come up at all. I'd say that's a major problem!
I also kept getting an error when I was playing with the retirement goal. Every time I'd get to the third step I got a message that said something about having a goal date set past 2029. While retiring in 19 years doesn't sound too bad, I think it's a little out of range for most people. The goal calculator seemed to work fine after I dismissed the error message, but why should I be getting it in the first place? It just detracted from my overall opinion of the goal feature.
Finally, I was disappointed that the default option for the "Buy a Home" goal was "Aggressive". This means that Mint's calculator uses a debt-to-income ratio of 33% to figure out how expensive of a home you can afford to buy. The standard ratio would be 28%, and many people (including myself) recommend being more conservative than that (maybe 20-25%). Dave Ramsey would not approve. ;)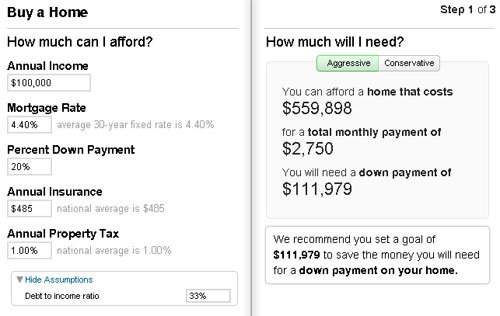 Conclusion
I think Mint's new goal feature is great if you have a short-term goal like building up your emergency fund or taking a trip. But I wouldn't use it as a retirement planning or college planning tool by any means. It's just not robust enough to handle these more complicated calculations, so please don't rely on it for these very important decisions!
Have any of you used Mint's goal feature? What did you think about it? (I'm especially interested in the "Get Out of Debt" goal since I wasn't able to use it.) Let us know what you think in the comments below!
Considering trying out Mint.com? It's a free product so you've got nothing to lose. Sign up here. then come back and tell us what you think!