I've been using Intuit's Mint.com as one of my main personal finance management (PFM) tools for several years now, and it's a software I recommend to most folks I talk to who are looking to get their finances back on track.
Mint.com offers a great set of tools to help you track where your money is going, set spending budgets and savings goals. You can also use it to find ways you can improve your finances whether it's signing up for a credit card with a lower rate or finding a refinance offer that will save you money.
Mint is a free tool to use, and they make a lot of their money by being a recommendation engine – giving recommendations on financial products that people can use – and taking a cut when one of their 12 million+ users sign up for products.
My bank offers some basic financial tools through their website as well, but I have never really used them or looked at them because they're so basic – and frankly useless. One report by Comscore found that in house PFM tools created by big banks Wells Fargo and Bank of America were only used by between 6-12% of customers in the first quarter of 2011, depending on which tool and bank you were talking about. That's not a huge number, people just aren't engaging with the tools.
This past month Mint.com announced that they were going to be creating a new suite of tools that can be integrated with banking partners' websites, to give customers of the partner banks a more comprehensive PFM tool, all while giving the banks a new opportunity to cross-sell other products from their bank.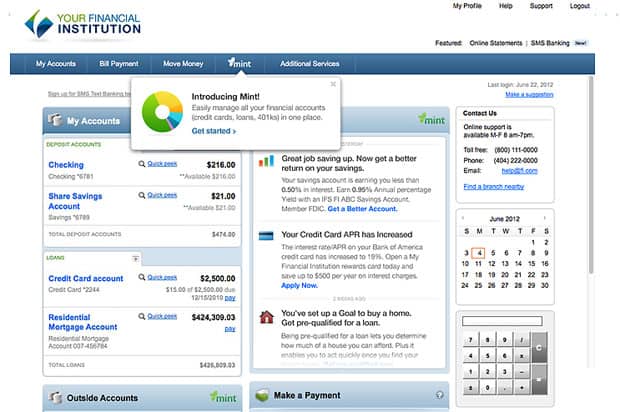 Mint.com Integration With Your Banking Website
Up until now a lot of the banks have tried coming up with their own PFM tools that would allow them to keep customers on their site, give them a reason to check out other financial products the company offers and stay engaged with their brand. The problem is a lot of their solutions just haven't been very successful, only being used by a small percentage of their customers.
Now Intuit has come up with a white-label solution for banks to use where they can put their branding on the product and integrate mint.com into their banking website. From AmericanBanker.com:
The initial Mint product line for banks will combine Intuit mobile banking apps and online banking software with aspects of Mint PFM featured front and center. On the online banking home page, Mint content, such as a newsfeed-like stream of account alerts and a collective view of linked external accounts, will appear in widgets to customers. To access more Mint features, such as a budget creation tool and a feature that displays category spending within a pie chart, consumers will click on a tab labeled Mint.

"We want to blur the lines between PFM tools and digital banking," says Greg Wright, vice president, product management at Intuit Financial Services, the company's unit that sells to banks.
So Mint will be integrated directly into these banking partners websites, becoming essentially part of the company's homepage when customers login, giving spending and savings alerts and more. They'll also have ways to engage even further with the Mint tools via an integrated tab on the website for Mint.com PFM tools.
Mint Will Be Slightly Different At Your Bank
If your bank does end up using Intuit's product for banks, and you end up finding Mint when you login to your bank, you will find some things a bit different on your bank's website.
Probably the biggest difference you'll see is that when you login to your banks version of Mint you won't see recommendations for credit cards, savings accounts and other products from competing banks. Instead the bank will be able to cross-sell other banking products at their own bank. So savings accounts, checking accounts, mortgage products and more from that bank will be recommended. If you're using that aspect of Mint to find possible banking products to use, you may want to stick with the recommendation engine on the Mint website itself.
Beyond that it will also maintain a slightly different look, depending on the bank's presence – but it will essentially be much the same.
Mint For Banks Rolling Out In 2013
Intuit has said that they'll be rolling this product out in the summer of 2013 with 5-6 banking partners, and then further beyond that in the fall.
While I probably won't be using the Mint tools if they show up at my bank – since I already use Mint's standalone site – I think it will do well for banks as far as engaging with their customers, providing them with usefull PFM tools and improving their bottom line by providing them with cross-selling opportunities. Plus, getting more people engaged and paying attention to their finances can't be a bad thing, right?
What are your thoughts? Would you use Mint.com within your bank account if they end up using the Intuit product?