My wife and I are currently in the process of preparing our current house for sale as we're planning on putting it on the market within the next few weeks. We're getting some drywall fixed tomorrow that has some peeling drywall tape, and then we'll be painting, patching and cleaning the house as we hope for a quick sale.
We're also in the process of building our new house. My in-laws are builders and they've already secured a beautiful tree lined lot on a cul-de-sac for us, and this past week we finalized the plans for our new home. Blueprints are being printed and they actually came out to stake out the house on the lot yesterday.
So we're in the middle of the home building process, and within a couple of months we'll be shopping around for a mortgage. We're looking for a good rate, decent closing costs and we want to work with a company with a good reputation. Today I want to look at one bank we're considering going with because of their solid reputation, long history and good rates. This is my review of Mutual of Omaha Bank Mortgage.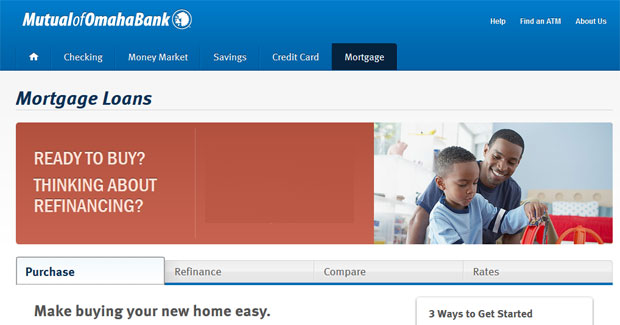 Mutual of Omaha History

Mutual of Omaha, the parent company of Mutual of Omaha Bank, has quite a storied history, having just celebrated their 100 year anniversary in 2009. Mutual of Omaha Bank has been around since about 2007. From Wikipedia:
Mutual of Omaha is a Fortune 500 mutual insurance and financial services company based in Omaha, Nebraska. The company was founded in 1909 as Mutual Benefit Health and Accident Association. In 1963, Mutual of Omaha introduced the wildlife television program, Mutual of Omaha's Wild Kingdom. The original show ran from 1963 to 1988. The show was revitalized in 2002 with a new series on the cable television network Animal Planet. Mutual of Omaha has recognized the importance of this program as many of the people who grew up with the original series still recognize the company as being associated with the program.


Omaha Financial Holdings, Inc. (OFHI) is a holding company for Mutual of Omaha's banking operations that was formed in January 2007.The company maintains those operations as the Mutual of Omaha Bank.
Mutual of Omaha has been around in one form or another since 1909, when it was founded mainly as an insurance company. The company is pretty widely known because of it's sponsorship of the Wild Kingdom TV series, going back to the 1960s. I know I remember watching that show growing up.
The financial and banking holding company was formed in 2007, so the banking and mortgage parts of the company are relatively new.
BBB Rankings for Mutual of Omaha Bank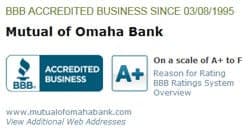 It's good to know that Mutual of Omaha Bank has a good solid company history, but when you're going to be working with a company you also want to know that they've got good customer service and a good reputation with consumers. To do my due diligence I went over to the Better Business Bureau's website and found that Mutual of Omaha Bank only had two complaints listed, and that they attempted to resolve both to the customer's satisfaction.
Based on BBB files, Mutual of Omaha Bank has a BBB Rating of A+ on a scale from A+ to F.
Mutual Of Omaha Bank – Loan Rates
I was interested in checking out the loan rates I could expect to see with Mutual of Omaha Bank, so I went to their site and checked out their mortgage page. Their rates as of this writing weren't the lowest that I could find, but they were definitely in the top 3 when compared to the other rates on my site's mortgage rates page. Not too shabby.
Checking a rate for yourself is as easy as heading over to their site and clicking on the rates tab to see updated daily rates. To figure out an exact rate you'll need to submit a quote using their "5-Minute Quick App", which as it sounds – only takes 5 minutes or so.
Click Here For Up To Date Mutual of Omaha Bank Mortgage Rates
Loan Options With Mutual of Omaha Bank Mortgage
So what are the different loan options with Mutual of Omaha? They've got a wide variety of loans available and work with several of the more popular loan programs.
Fixed Rate Mortgages (15 year and 30 year)
FHA Mortgages
VA Home Loans
First-Time Homebuyer Loans (with lower down payment requirements.)
Getting approved for a loan with Mutual of Omaha should be pretty easy, especially if your credit is good. Just fill out their 5-minute quick app and you'll get free same day pre-qualification.
Conclusion
If you are currently looking for a mortgage or refinance, Mutual of Omaha Bank Mortgage is definitely worth a second look. They have great rates, have solid BBB ratings, and have a solid reputation.
To find out more about Mutual of Omaha, you can go to their site through the link or banner below.