The entire premise of The Inner View of Your Interview is that job seekers should tailor their responses to an interviewer's needs. Everything surrounding your next job interview, from your resume to your cover letter to your interview preparation should be tailored for each and every position and organization.
Never lie, never exaggerate your answers, but make certain your answer to each question meets the specific need behind the question. Each question the interviewer asks has a need behind it and if you can train yourself to think about what that need may be, you'll perform much better in your interview than many of your peers. Think about why Question #9 (page 25 of the eBook) would be asked before reading the best and worst answers.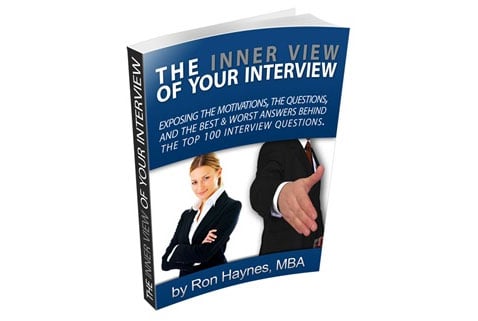 Question 9: Why have you been out of work so long? or Why WERE you out of work so long (before accepting a previous position)?
This question is designed to jar you. Surely no one would ask THAT question would they? Even though it might seem a bit rude, your interviewer might ask it! Of course, your answer should always be honest. If you were finishing a degree, getting more training on your own, or taking some time to care for a sick relative, assure the interviewer that these are finished events and that you're very serious about this open position. Again, be certain to tailor your responses to the interviewer's needs.
But be very careful how you respond. If you've had several interviews with no callbacks or offers, PLEASE don't bring this up. You don't want to seem like damaged goods that no one else wants. Even if you're a perfect match, there will be some lingering doubt in the interviewer's mind. He or she will wonder what's wrong with you and if other companies have uncovered something unsavory about you that wasn't uncovered in this company's research.
WORST ANSWER: "I've been hanging out (on the beach or at the ski resorts), searching for a job the last 12 months." Another bad answer is "I'm not sure … I've interviewed at twelve other companies this week alone" or resorting to whining about the unfairness of the economy, Congress, the President's policies, people in the industry, a previous boss, etc.
BEST ANSWER: You want to emphasize that the factors which have prolonged your job search were by your own choice. YOU were the one who decided to take some time, not others. You were the deliberate, thoughtful, and careful planner who sought out THIS company.
Example: "After my job was downsized, I made a conscious decision that I wouldn't jump at the first opportunities to come along, even though there were a few that DID pop up very quickly. I wanted to think through this process and make a more deliberate decision. In my life, I've found out that you can always turn a negative into a positive IF you try hard enough. This is what I determined to do. I decided to think through what I do best, what I most want to do, where I'd like to do it … and then identify those companies that could offer such an opportunity. That's why I'm here today."
Or try this approach:
"In all honesty, I believe we have to factor in the recession (consolidation, stabilization, etc.) in the (banking, financial services, manufacturing, advertising, etc.) industry and I've decided to be very selective in the company I choose to work for. I want a strong, well run company that I can be proud of and where I can make a real contribution over the long haul. So between my being selective and the companies in our industry downsizing, the process has taken some time. But in the end, I'm convinced that when I do find the right match, all that careful evaluation will have been well worth it for both the company that hires me."
Interviewers are keenly interested in making certain they don't make a bad hire. It taints their standing and makes them look incompetent. If you place the slightest doubt in the interviewer's mind about your fitness for a position by indirectly mentioning that "no one else wants me," your chances are slim; however, if you appear to be a candidate that is in control of his emotions and one that doesn't make hasty decisions, your total score will rise in the interviewer's mind.
If you'd like to read more about how to prepare for your next job interview, check out The Inner View of Your Interview today and read the motivations behind and the best answers to the other 99 questions!
This is an article from Ron Haynes, editor of The Wisdom Journal and author of a new eBook, The Inner View of Your Interview, exposing the motivations behind today's top 100 job interview questions. Ron has been interviewing people for various positions for over two decades and uses his new eBook to give job seekers an insider's peek into the mind of an interviewer.
More Reading: