My wife and I have been looking for our dream house off and on for a while. Ideally it would be a place with just a few more things than we have now, including a main level office, a 3 car garage and a big backyard. If we could find all those things we'd be pretty happy.
It's amazing the prices you can find nowadays on some pretty amazing homes, some even on local golf courses in our area. We found one home that was almost $700,000 a few years ago, now selling for only $375,000. It's tempting to jump in and buy one of those homes, but for now we're biding our time, as we're not completely sure the market has hit it's bottom yet.
Predicting a market bottom can be a tough business though, which is why we're already on the lookout for homes that we like – and would want to make our "forever home". If we find something we really do like, we want to be ready to jump in with both feet. Of course we'd have to buy on the contingency of selling our current home, which is a whole other matter.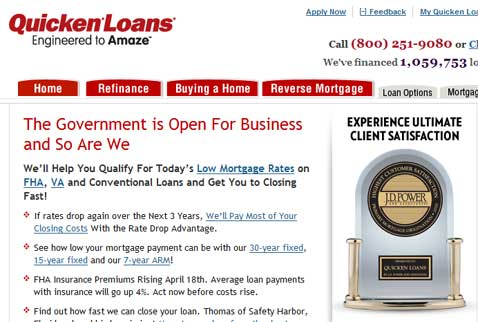 So for now we're looking at homes, and also doing our research on a variety of home mortgage lenders. We're trying to find somewhere where we can find not only a good rate, but a company that is known for excellent customer service. Today I want to look at one company that has been known for just that, Quicken Loans. This is my review of Quicken Loans.
Quicken Loans Background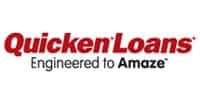 Quicken Loans has been around for quite some time, since back in the mid-eighties, although they haven't always been under that name. From Wikipedia:
Quicken Loans, originally Rock Financial Corporation, was founded in 1985 by Dan Gilbert along with his younger brother, film producer Gary Gilbert, their childhood friend Lindsay Gross, and Ron Berman. Rock Financial soon became one of the largest independent mortgage companies in the country. In May 1998, Gilbert took Rock Financial public, launching a successful IPO underwritten by Bear Stearns and Prudential Securities.In December 1999, Intuit Inc. (makers of QuickBooks, TurboTax, and Quicken) purchased Rock Financial for a sum of $532M. The company was renamed Quicken Loans. In June 2002, Gilbert led a small group of private investors in purchasing the Quicken Loans subsidiary back from Intuit for just $64M.
So Quicken has been around for 25+ years, and have a solid record as a good company to work with for their customers, which we'll get to next.
Good Customer Service
While it's good to see a bank that has a solid financial history, and is a good place to work, it's also important to find one that is known for good customer service.
J.D. Power and Associates ranks Quicken Loans "Highest in Customer Satisfaction for Primary Mortgage Origination". That speaks volumes about their customer focused ethic.
They received the highest score in three key factors, the mortgage application and approval process, the closing experience and keeping in contact and communication – all very important for a mortgage customer.
Quicken Loans Rates
I wanted to try and figure out what kind of a rate I could expect to see if I were to use Quicken Loans, so I ran my general situation through their rate calculator.
I ran it through as a $200,000 mortgage on a home purchase price of $250,000 for MN. Their rates came back right in line with other quotes that I ran today through my mortgage rates page, coming in at just over 5%.
The hypothetical rate I ran is up to date as of June 2011, but to get your own updated rate quote, please head on over to their site to get your own easy quote!
Click Here For Up To Date Quicken Loans Rates
More Than Just Mortgage Rates: Helpful Calculators And Tools
One great thing about Quicken Loans site is that it has more than just mortgage rates. They also have quite a breadth of mortgage related information for first time homebuyers and veteran buyers alike. Forbes listed Quicken Loans as a favorite of theirs, and talked about some of the extra information you'll find on their site:
This uncluttered site is deceptively deep with information useful for first-time homebuyers and those refinancing. Explanations are clear and calculators plentiful, including a tax-saving calculator and one that compares a 15-year with a 30-year loan.
The calculators and other tools are helpful, and it's nice to see a mortgage site that actually has some useful information – not just a rate quote form designed to get you into the process.
For even more helpful information the folks at Quicken Loans also bring us the awesome site called Quizzle.com. Basically the site allows you to get your free Experian credit score and report twice a year, as well as looking at ways to save and improve your financial situation. Stay tuned for a full review of Quizzle soon as well.
Conclusion
If you have good credit (find out if you do) and are planning on buying a home or refinancing, Quicken Loans is definitely worth a look-see. They have competitive rates, can originate loans in all 50 states,and have been recognized by JD Power for their great customer service, and by Forbes for their great website, calculators and tools. They're definitely a top tier mortgage originator, and should be in the running for your next home loan.
To find out more about Quicken Loans, you can go to their site through the link below.
Quicken Loans: Great Rates + Superior Customer Service
Bible Money Matters is a paid advertiser by Quicken Loans