I was reading my children a kids' book about Thanksgiving, Thanksgiving at the Tappletons'. The story is filled with misadventures–the mother drops the turkey and it slides outside and into the water, so she pretends it is cooking rather than tell her family what happened. She sends her husband to go buy pies, and he decides to come back to the bakery later because the line is so long. When he comes back, the pies are all gone, so he asks the store owner to give him two boxes so he can pretend he bought the pies rather than tell his wife. More fiascos follow with the salad and mashed potatoes.
Long story short, when they sit down to Thanksgiving, they discover they have no food, and it is only then that they realize they have one another, which is what they are truly thankful for.
Aren't we all like this to an extent? We get so wrapped up in our holiday "traditions" and making everything perfect that we forget the true meaning of the holiday.
Ways To Give Thanks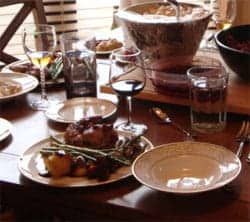 This Thanksgiving, rather than obsessing about the perfect turkey, and whether Aunt Sally will be bringing her broccoli casserole, why not consider additional ways to give thanks.
1. Attend a church service. If your church holds a Thanksgiving service, why not attend? Giving thanks at church is a good way to begin or end the holiday in a truly thankful manner.
2. Volunteer. Plenty of organizations are looking for volunteers, and the need grows around the holidays. My aunt and her family volunteer for a few hours at a food pantry on Thanksgiving day before coming to our house to celebrate. They feel good about helping, and they have a deeper understanding of all they are thankful for.
3. Share your thanks with one another. Before you eat your Thanksgiving meal, why not take time to share your thanks? Everyone can share one thing they are thankful for this year. Then they can share what they are thankful for about one another. Too often we don't take the time to tell those we love what we appreciate about them.
4. Give a gift to a charity. Charities need your time and your donation at the holidays. Consider ways that you can give. If your church is having a food drive, bring in canned goods or a turkey for another needy family. If you have extra, unopened toiletries, consider rounding them up and donating them to a women's shelter or a homeless shelter.
5. Visit a nursing home. While some nursing home patients are blessed to have family members who visit them frequently, others often get no visitors. Make some cookies or other treats and spend an hour or two visiting with the residents. They will appreciate your company more than you will know.
6. Spend time with one another. If your Thanksgiving celebration includes a large meal and then the entire family moving to the living room to watch some football, perhaps you could instead spend some time together playing touch football outside or playing games with the kids. We sometimes play card games after the meal, which is a good way to get everyone to interact with one another rather than just watching television.
If you have gotten into the habit of just going through the motions at Thanksgiving and making food the primary focus, reconsider how you can show those you love how thankful you are for their presence in your life. Thanksgiving is also a good time to give back to your community and express your gratitude for all you have by doing for others.
What is your favorite way to make Thanksgiving more meaningful?