One thing I've talked about over the years here on the site is the fact that even if you're trying to be frugal, you don't always have to deprive yourself of the things you enjoy. Often you can find ways to cut back on the costs of the things you like, in order to make those things fit into your budget.
For example, we love watching movies and TV at our house, but we didn't want to pay anywhere from $75-125 for cable TV. Instead we found ways to watch our favorite TV and movies for much less. We got creative. When we finally did end up getting cable TV a while later, instead of paying full price we waited until there was a deal for new subscribers that enabled us to save hundreds over the life of the contract, as well as signing up through a friend to get the referral.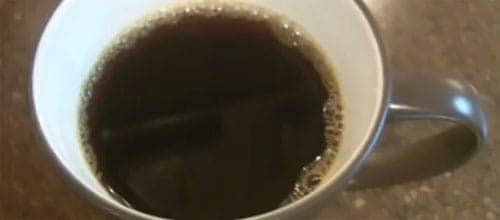 Saving On The Small Things Can Add Up
Sometimes we only think about saving on the larger bills like cable TV, insurance and so forth. We often forget some of our smaller expenses that add up to larger expenses at the end of the month. For me, one of those "smaller" expenses that has a tendency to get a bit too large is my coffee and snacks budget.
I love my coffee, and more often than not I tend to stop on my way to work and get a coffee and pastry at my local Starbucks. While it is usually less than $5, when you think about it that adds up very quickly if you're doing it several times a week.
For me my coffee habit ends up costing me probably anywhere from $50-75/month. While it may not seem like much for some, it's definitely money that could be better spent elsewhere.
Roasting And Brewing Your Own Coffee Can Be More Cost Effective
Over the past year I've learned quite a bit about roasting your own coffee when my brother Tom showed me how he does it with a popcorn popper. He buys the green coffee beans at a wholesale price, roasts the beans in the popcorn popper to his desired roast and then grinds his own beans to brew fresh the next day.
This works great, and the coffee is some of the best you'll ever have. By roasting and brewing your coffee this way your coffee is more fresh and you can save a ton of cash. Even if you don't roast your own, you can find some good local coffee at low cost if you look.
Brewing A Single Cup Can Be More Cost Effective
One thing I run into quite a bit, however, is that I don't always want to brew a whole pot of coffee, but I do anyway because it's just easier that way. I usually end up wasting half the pot. That's just not cost effective.
I had considered buying one of those expensive single cup coffee brewers like the Keurig Single Cup Brewer, but I quickly realized that not only is the machine expensive at around $150, but there are ongoing expenses, mainly in the single cup coffee pods that you have to buy for the machine. You can get 25 pods for $25 or so, or about a$1 per cup. So just to get started you'll have to spend somewhere around $175. That just isn't in the budget.
This Christmas my brother showed me a more frugal and low tech way to brew my coffee – one serving at a time. He gave me a Melitta Ready Set Joe Single Cup Coffee Brewer that basically allows you to brew your coffee one cup at a time, without the need for an expensive machine. In my opinion the coffee tastes as good or better brewing it this way as well! All you need is a the $5 Ready Set Joe Brewer, some #2 filters – along with the coffee grounds of your choice and a cup.
Here's a video showing how it works.
Frugal Coffee Brewer Kit
So once again, here's all you need in order to have your own frugal gourmet coffee brewer kit:
Hot water, just off the boil.
You just put your coffee brewer on top of the cup, insert your filter, and then slowly pour your hot (but not boiling) water over your grounds. Pour around the edges at first, then the center. Continue pouring slowly until the coffee cup is full. Now you have a great fresh brewed cup of coffee, at a fraction of the cost of Starbucks, and without the waste of brewing a whole pot! Plus it only takes a couple of minutes.
Have you tried brewing coffee this way before? Have other ways you save money on "small expenses" so that they add up to big savings at the end of the month? Tell us about it in the comments!