One of the common criticisms of saving money is that some folks think that saving for tomorrow completely defeats the purpose of money. These are the ones with a live for today philosophy. The live for today philosophy claims, you could save your money for tomorrow and then have a heart attack and die. What a waste! Use your money for whatever your heart desires. Proponents of this approach to personal finances claim money is to be spent, to be enjoyed today.
Nevertheless, the reality is that saving for tomorrow actually improves the quality of life today.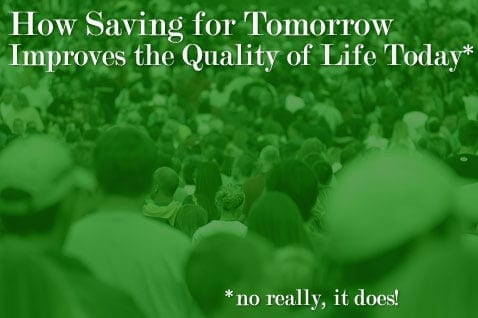 Financial Security Offers Peace of Mind, Today
Finances typically are subject to the laws of cause and effect. Your actions today will directly impact the results tomorrow. The problem with most of us is that we are so TODAY focused we are not even willing to consider tomorrow. Remember the story of Esau and Isaac (Genesis 25:19-34)? Esau had a wonderful right as the firstborn – the birthright. Unfortunately, he was unable to see the value in what he had. In a moment of temporary hunger he gave away his future assets.
I wonder how many of us are like Esau? Making decisions today that are crippling our future. We borrow without considering what it will cost tomorrow. Esau recognized his mistake. He sought to have his future returned. He desired to go back to yesterday. But, regardless of how many tears he shed he had set his fate.
See that no one is sexually immoral, or is godless like Esau, who for a single meal sold his inheritance rights as the oldest son. Afterward, as you know, when he wanted to inherit this blessing, he was rejected. He could bring about no change of mind, though he sought the blessing with tears. (Hebrews 12:16-17 NIV)
Not only does disregarding future implications of our actions cripple the future; it also makes life today much harder.
Five Ways Saving For the Future Improves the Quality of Life Today
When small emergencies arrive it is not a source of worry or frustration.If the transmission were to go out on the truck you could simply pay the bill and move on. If one of the kids had an accident and you were able to just pay the medical bill, how nice would that be today?
When the phone rings you don't need to cringe.
There is no fear that someone on the line is going to be calling about an unpaid debt. Your nights are spent sleeping instead of worrying. You and your spouse can actually talk to each other because the issue is no longer so tense.
You have money on hand for special activities.
When your children want to be involved in extra curricular activities you don't need to struggle with the question – where am I going to get the money to pay for that? You know that if Jack does want to play soccer there is money in the bank.
When you open the mail you don't need to hold your breath.
I enjoy checking the mail. Perhaps there will be a card from a friend. Many people who live for today dread checking the mail because all it has is bills, bills, bills. What if mail call could be a highlight of your day instead of a nightmare?
When you feel like you're splurging you can actually enjoy it.
How often do you 'live it up' today and, just like Esau, wake up and regret the whole thing. When you have money saved, your special night out with your wife doesn't add extra financial worry. When you go on vacation there is not the depression period waiting for all the bills. Fun is fun.