In the past I've advocated planning ahead for regular expenses that come up every year by setting up specific goal based savings accounts at places like Ally Bank or Capital One 360. I believe it's a good idea to plan ahead for things you know are going to happen, so that when the time arrives you don't find yourself scrambling and putting everything on a credit card. Why go into debt for something that you knew was going to happen?
Only 13% of consumers actually save money throughout the year in anticipation of the holiday season? (source)
Save up for it throughout the year, and when the time comes, it'll be so much easier to pay for things! At Christmas, giving those gifts will be even more wonderful because you won't have to worry about paying for them – They're already paid for!
Well this year, there's an even better way to ensure that you have a no debt holiday, by spending your money that you saved throughout the year with Perkstreet Financial!
Have A No Debt Holiday With Rewards
At our house we've got an ING Direct savings account that we use specifically for building up for specific savings goals. One of those goals is for Christmas spending.
Normally we end up spending about $500 on Christmas gifts every year on everyone in our family from parents and siblings to friends and co-workers. Obviously we spend more on some people than on others, but in any event, we end up spending in that neighborhood every year. So to make sure we have the cash on hand every year, we budget for that amount, and save up that money in a high yield savings account.
Using Rewards Checking To Get Free Christmas Gifts!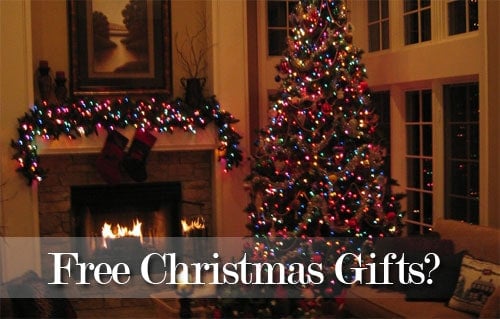 In the past we would just transfer our Christmas savings over to our regular old checking account sometime in November in order to start purchasing the gifts for everyone. No credit cards needed, and no Christmas debt! Unfortunately, however, far too many people put those holiday gifts on credit cards, and then aren't able to pay them off right away – or even within a couple of months.
According to eCommerce payments company eBillme, 5% of U.S. consumers are still paying for 2009's seasonal spending.
Consumer Reports' Holiday Shopping Poll found that 13.6 million Americans are still juggling debt from last season after being a bit too jolly about their holiday spending.
So as you can see, overspending on credit cards for Christmas spending and not planning ahead can be a big problem. So what's the solution? Here's my three-point solution.
3 Point Debt Free Christmas Spending Plan
Set a Christmas spending budget and save that money throughout the year in a high yield savings account, like the one from Ally Bank.
When it comes time to spend, move the money to your rewards checking account, and purchase your gifts using your Rewards account to save an extra 5% (see below for details).
Do all your regular spending throughout the year from your account to get up to $600 cash back. Use that money next year for your holiday spending – and essentially get your Christmas gifts for free!
Extra 5% Cash Back On Holiday Spending With Perkstreet
Above I mention doing all your Christmas spending using your rewards account to get an additional 5% cash back. That's because Perkstreet is currently running a great promotion where you can get an extra 5% cash back at select popular retailers, as long as you sign up for an account with them by December 1st. How did they choose which retailers to have the extra cash back at? CEO Dan O'Malley explains.
We picked the holiday retailers involved in the 5% deal based on data we have about where our customers shop the most. These are the places PerkStreet customers want to shop for the holidays.
There are certainly several stores I shop at a lot on that list including Best Buy and Sears. So here's where you can get an extra 5% back:
Best Buy
Gap
Toys R Us
Babies R Us
Kohls
Starbucks
Macys
JC Penney
Sears
Victoria's Secret
Ann Taylor
Ann Taylor Loft
Dick's Sporting Goods
JCrew
Remember, this holiday bonus offer is ON TOP OF the standard PerkStreet product, which allows you to earn 2% cash back on every non-PIN purchase when your balance is $5,000 or more or earn 1% cash back for balances below $5,000. Either way, it's about the best deal you'll find right now as far as rewards on a debit card!
Check out my full Perkstreet Financial rewards checking review.
So what do you think about my 3 point plan in order to have a debt free Christmas? Are you already using a plan similar to this? Tell me your thoughts in the comments!