If most people are honest, they probably don't know how much they're paying in fees in their investment accounts.
The problem is that if you're not careful about what fees your investments have, you may be losing out on thousands of dollars in gains by the time you retire.
One company that was launched with the express purpose of helping people find more transparency in their investment accounts is FeeX.
FeeX History
FeeX calls themselves the "Robin Hood of Fees", and their goal is to help people avoid the "tyranny of unfair fees" in their investment accounts.
How do they do that? By allowing people to link up their IRA accounts, and showing them what fees they're paying in those accounts. You can then view crowd-sourced and anonymous data from other users to see what investments other people are buying that have lower fees, and that are projecting better returns, while keeping about the same level of risk.
FeeX was co-founded by Uri Levine, co-founder of Waze, a community based traffic and navigation app that was recently acquired by Google for $1.1 billion. Levine, along with his partners, have banded together to create another site that takes a community based approach to help users get to the best outcome – in this case, limiting fees.
FeeX was founded in Israel in 2013, but relocated to the U.S. as of January 2014. The reason? That's where their largest market is. There are billions in hidden and obscure financial fees paid every year by American investors.
The site launched in March of 2014.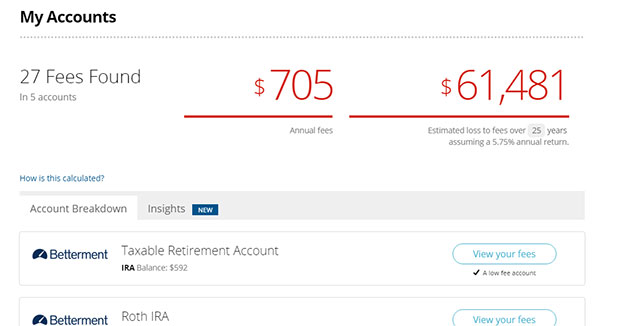 Fees Can Kill Your Investment Returns
There are a million and one fees that can kill your investment returns. If you're not paying attention they can quickly add up to thousands of dollars that you'll be losing in retirement.
According to Robert Hiltonsmith, an economist who specializes in retirement policies at Demos, hidden costs can reduce a person's retirement savings by as much as 30 percent.
According to FeeX, 40% of American households own an IRA, with over 5.4 trillion in assets. In those IRAs there are an estimated $43 billion in hidden expense ratio fees annually!
Morningstar reports that the average expense ratio for actively-managed equity mutual funds is 1.2% and investment grade bond funds have an expense ratio of 0.9%. That may not sound like much, but when you compound those fees over time, and add in other various advisor fees, fund loads, etc, it adds up to a lot of money!
Let's take a look at an example situation provided by FeeX: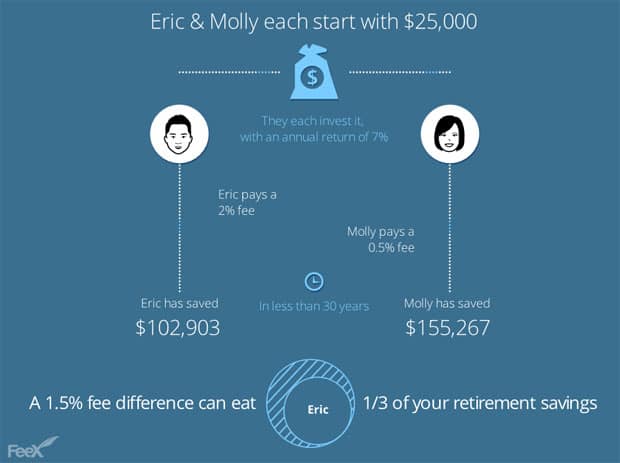 Two people start investing in the stock market with $25,000 and get an annual return of 7%. One person pays 2% in various fees, while the other only pays 0.5%. Over thirty years the one with fewer fees will end up with $155,267, while the one with higher fees ends up with $102,903. That 1.5% difference in fees ends up killing 1/3 of your retirement savings!
So what can you do to fix that? Make sure you're not paying unnecessary fees of course!
FeeX Can Make Your Fees more Transparent
FeeX will help you to dump expensive investments, and give suggestions as to what others are doing to find lower costs and higher projected returns.
To do that all you'll have to do is sign up for an account (which only requires an email address and password), and then link your accounts.
Link Your IRA, 401(k) Or Taxable Investment Account

At the current time IRA, 401(k) and taxable brokerage accounts are eligible for the service. To link your account FeeX is partnered with Yodlee, a secure platform used by over 700 top financial institutions to transfer financial data.
To link your account just search for the provider in the search box, and click on your company once it shows up. Once you enter your login credentials for that site it will pull your investment information from that service and start the process of analyzing it.
View Your Potential Returns Minus Fees
Once you link up your iinvestment account FeeX will take a look at what the fees are for the investments that you have in your portfolio. They will then give you an assessment as to how much of your investments are being eaten up by fees. If your fees are eating up a lot of your returns, you'll see a lot of fees in the red.
Here' s brief look at how it rates one of my investment accounts.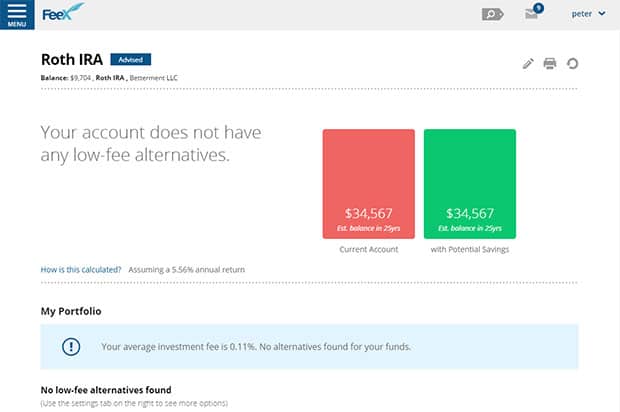 It shows that my fees in this account are minimal, and that my average investment fee is 0.11%.
If you want to take a closer look it will break down your investments individually and show how much each one is eating up in fees.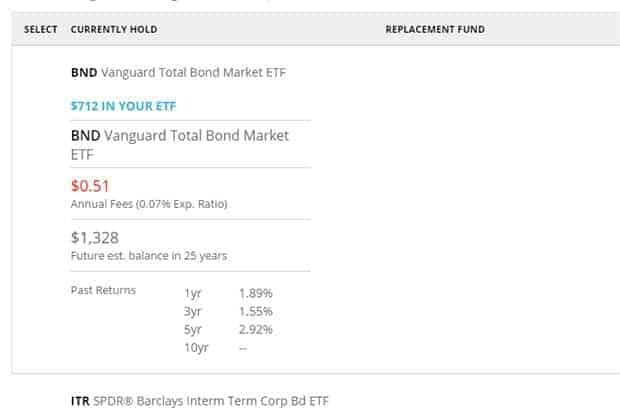 View Lower Fee Investments

If your fees are less than optimal the site will give you some good similar type investments that you can invest in to save fees.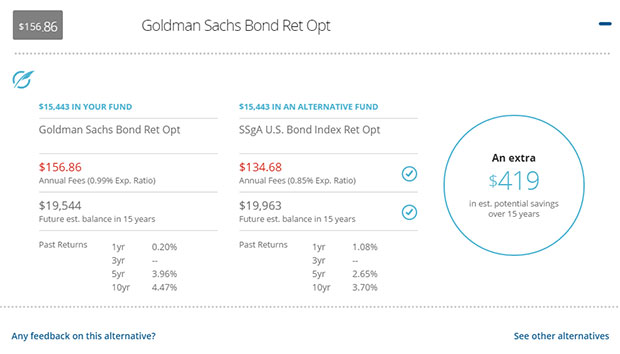 It will also give you the chance to view portfolios of other users that have similar risk profiles, but less fees and higher projected returns. You just click on the example anonymous portfolios and see what their investments are, including fees, average returns and potential balance changes you'll see by switching.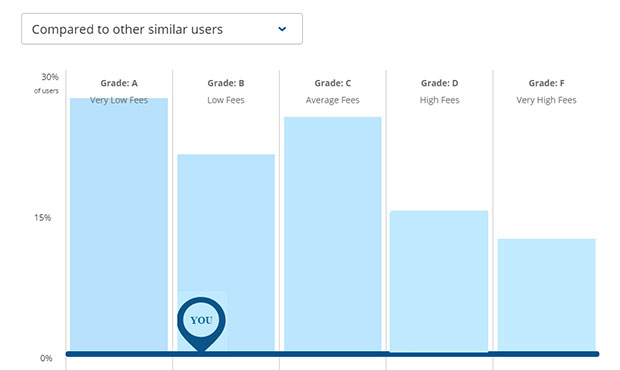 Rollover An Old 401(k)
If you still have an old 401(k) from a previous employer, when you sign up FeeX will give you the option to view some alternative places to roll over the money that will end up saving you money.
If you like one of the alternatives that they give, you can begin the process of rolling over your funds right from their site.
If you're still holding onto an old 401(k), my guess is that it would be a good idea to move your funds over as in most cases the fees associated with employer plans aren't always optimal.
FeeX Is Free To Use, Worth Checking Out
FeeX is currently a free service, and it doesn't sound like the company plans on changing that anytime in the near future. They have hinted at plans for premium fee based services down the road, but for now the site is completely free to use, and they have stated that the core service will continue to be free.
I've tried FeeX out, and it is seems to work as advertised. It's encouraging to see that my accounts are currently doing pretty well as far as fees.
The FeeX service is not completely unique I don't think. Personal Capital already has a 401(k) fee analyzer you can use, as well as a few other companies having similar fee analyzing products.
FeeX works well, however, and has the added component of being able to crowdsource better, show lower fee investments and give you help in rolling over your old 401(k).
Since FeeX is a free service, and it works as advertised, I'd recommend checking it out.
Sign Up For a FREE FeeX Account