My wife and I have been looking for ways to cut back our expenses when it comes to our regular monthly bills, and by and large we've been pretty successful in doing that. We've been able to reduce our homeowners and auto insurance by almost $850 a year, dropped our netflix subscription since we also had Amazon Prime as well as getting a discount on our satellite TV package.
We also saved money on our internet and landline phone costs this past month. We ended up canceling our landline phone that we've had for 10+ years, and starting to use VOIP service using Ooma as our provider, porting our current number to their service. All you have to do to get started with Ooma is buy their Ooma Telo device, plug it into your internet connection and then plug your regular phones into the Ooma.
Since we recently decided against paying for our home security system's monitoring via landline phone line, we didn't have a reason not to give it a try anymore. So we signed up for Ooma. While we were at it we decided to look into cutting our internet costs as well.
Our Big Phone and Internet Bill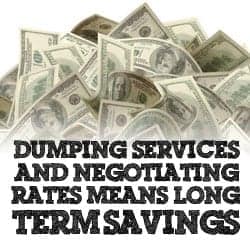 So just how much were we paying every month for our home phone service and DSL Internet?
After our introductory offers expired and rates increased, we were paying $80.37/month for the landline and low tier DSL internet.
If you break it down the landline was a majority of the cost at $43, and the internet came out to about $37/month or so. I knew we could do better.
Finding Alternatives
I had heard about Ooma online on another blog a while back but we had never really given it a second thought because our home security system required that we have a landline for monitoring -and for some reason VOIP services didn't work correctly with it.
When we recently canceled our monitoring via landline we jumped on board and bought the Ooma Telo device. It only took us between 15-20 minutes to setup, including firmward update downloads, and we were up and making phone calls in no time.
Switching Phone Service
While we were up and running in short order and making phone calls, we did have some hiccups in the process. After trying Ooma out and deciding that it would work well for our needs we decided to port our current home phone number over to Ooma.
The number was ported and finalized in short order – it only took about a week for us – and people were now able to reach us on our same phone number using the Ooma service.
A couple of days later our home phone service cancellation completed with the phone company and our DSL internet went down. Before making the switch I had confirmed that our service wouldn't be interrupted, but here we were with no internet and phone for the better part of a day.
When I called into the tech support line for the Centurylink to find out why our internet had gone down, they asked me to make sure that any existing phones were disconnected from the phone line. After I disconnected the security system phone line and fax phone line the DSL internet magically started working again!
Apparently the bare DSL service without phone doesn't work correctly when phones or other devices are still connected to the line.
Negotiating A Reduction In Internet Costs
When we dropped our landline and went to Ooma, we also considered switching our internet provider to save some money as well. We looked around at the other internet providers in our area, but couldn't find anything substantially cheaper. Several of them had better introductory deals, but in most cases it would mean we'd have to buy a new cable modem (or lease one) and that would cost $80-100 that we didn't want to spend.
So instead of switching I went about finding a way to get our costs reduced on our current internet.
When we dropped our phone service the DSL cost went up by $10 since we had bundle savings. I asked if there were any deals available currently that would mean savings for us so that we could pay the same as with the bundle, or even less.
I did my research and found out what new customers could pay for internet, and asked to receive those rates. After looking around our rep was able to give us two different discounts. First, there was a customer loyalty discount of $10/month for 12 months. Then they gave us another $10/month discount for signing up for 1 year. We did that as well.
So we went from paying $36.99+tax/month with the bundle, to paying $46.99 without the bundle. After we called and got discounts added to our account we'll end up paying about $24.99/month for the same internet service we've been using.
We just got our first bill in the mail today, and the total monthly cost this month for internet was $13.65! (lower this month because of pro-rated service cost refunds).
Conclusion
At the end of it all, simply by changing our phone service and negotiating a rate reduction, we'll be saving $55.38/month, every month. That's $664.56/year! I think most people would be happy to receive a reduction like that in their set monthly expenditures.
How about you? Have your recently found a cheaper service alternative, or negotiated a rate reduction to save money?