One of the concerns you should have as you invest in your retirement is whether or not the options offered by your employer are in accordance with what you want to out of retirement later.
Unfortunately, just putting money in your 401(k) doesn't automatically ensure a successful retirement. In fact, the options that you have for your 401(k) might not be what you need to improve your situation and help you reach your retirement goals. Many employers have default options that are heavy on company stock, or on high-cost funds.
Take a look at your options; if what your employer offers is inadequate, consider opening a self-directed retirement account.
What is a Self-Directed Retirement Account?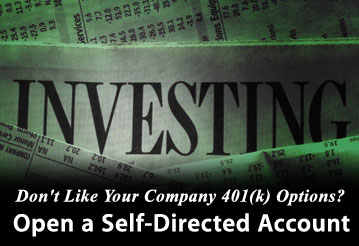 A self-directed account is usually an IRA that is handled by a custodian. (It's also possible, if you qualify, to open a self-directed Solo 401(k)). Even though you direct your asset allocation within the plan, you still need to have a qualified custodian run the plan for you.
With a self-directed account, you can choose what you invest in. As long as the IRS approves of the investments you include, and your custodian is willing to handle it, it can go in your self-directed retirement account.
Benefits of a Self-Directed Retirement Account
Daniel Sentell is with Broad Financial, and he offers some insights into how a self-directed retirement account can help you. First of all, a self-directed retirement account provides you with full asset choice. "No need to ride the stock market roller coaster," he says. "Popular investments include local real estate and niche businesses." If you want to take an alternative direction and reap the benefits of a tax-advantaged account, you can use use a self-directed account to your advantage.
On top of that, Sentell says that many self-directed accounts come with lower fee than brokerage-based retirement plans. Fees represent a huge drain on your wealth. Higher investment fees erode your real returns. If you can set up a self-directed retirement account with lower fees, more of your money is put to work on your behalf. You will always have to pay fees, but you can reduce their impact.
Finally, Sentell points out that there is a great deal of personal involvement with self-directed plans. This can "insure profitability and asset attention." With a self-directed plan, you have to pay better attention to what's going on with your investments. Additionally, these plans allow you to focus on assets that you are familiar with, and that make sense to you. If you have a familiarity with certain assets, you can include them in your retirement plan, enjoy a tax advantage, and potentially enjoy better returns.
Remember, though, that there are risks involved with self-directed plans. If you add assets that come with higher risks, you will end up with a greater risk of loss. Many investors who choose self-directed accounts do so in order to break outside the equity and bond funds seen in most employer plans and conventional plans. If you go this route, you need to be prepared for the consequences.