A few years ago I heard about a new product that Amazon.com had just released called the Amazon Echo.
The Amazon Echo is a Bluetooth speaker and voice assistant, similar to the ones provided by Google (Google Now, now included in Google Home device) or Apple (Siri).
I ended up buying the Echo speaker when it was first introduced for a Prime members only introductory price. It has since gone up in price, but for me I have found the device to be well worth the cost.
Recently a newer, smaller and cheaper version of the Echo, the Echo Dot, was released. I found one on sale on Black Friday and purchased it so that I could do a full review.
Amazon Echo Dot Introduced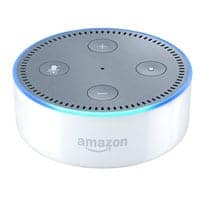 The Amazon Echo Dot was announced in March of 2016, and quickly enjoyed much of the same success as the Echo had.
On October 20th, 2016 the 2nd generation Echo Dot was released – with Amazon now making it available in both black and white finishes. I bought the white Echo Dot for our kitchen at the end of November 2016 ($30 for a Cyber Monday deal!), to complement the Echo in my office.
The Echo Dot is similar to the Amazon Echo in that it has a built in speaker, and that it allows you to use Alexa, the built in virtual assistant. It even tells the same bad dad jokes that the Echo does.
The larger Amazon Echo has a good sized speaker and puts out some pretty full and resonant sound. The Echo Dot on the other hand has a speaker that lacks any real depth or fullness to it's sound. If you want it to have a more full sound you're recommended to connect it to a Bluetooth speaker, or to a sound system using an auxiliary audio cable (since it has an audio output, which the original speaker does not).
Here is a video and a few pictures of the Amazon Echo Dot as I unboxed it last week. (See the full photo set here)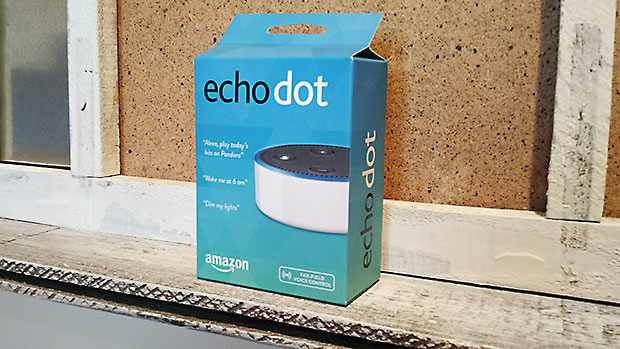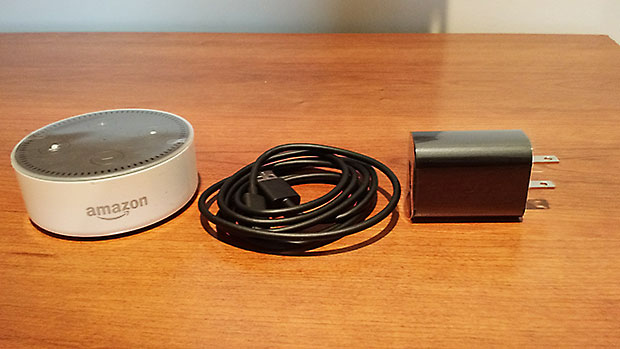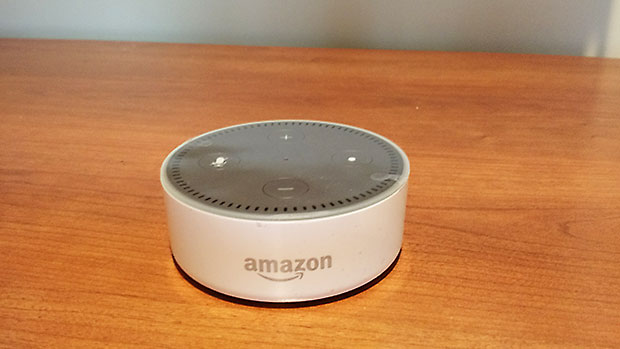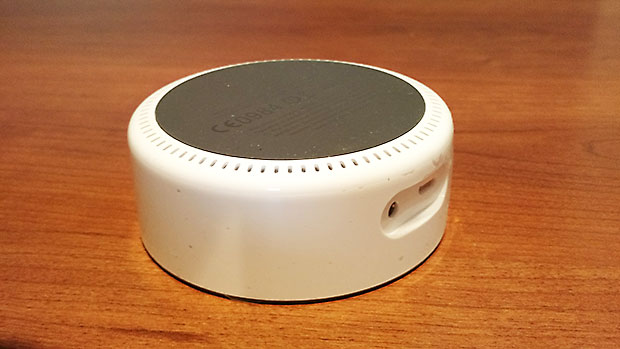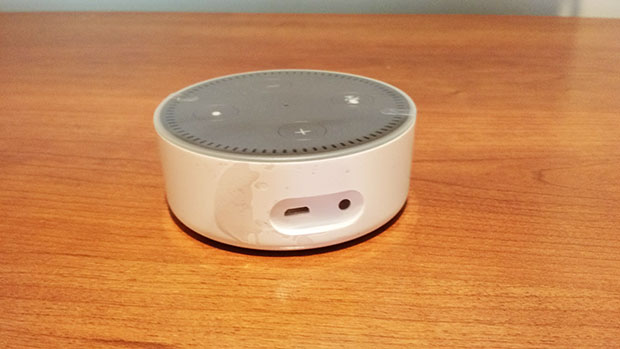 Alexa? What Does The Echo Dot Do?
The Dot is noted first and foremost for it's ability to be controlled by voice. If you ask the Dot what it does, it will reply, "I can answer a variety of questions about people, geography, dates, music, sports, and more".
So if you want to ask a question of the Dot, just say the wake word, "Alexa", and then query the device.
Alexa, what's the weather today?
Alexa, Wikipedia John Wayne.
Alexa, play The Black Keys. Alexa, pause. Alexa, skip.
Alexa, turn the volume up.
Alexa, set a timer for 10 minutes.
Alexa, Who starred in the The Walking Dead?
Alexa, what are the hours for Target?
Alexa, what does my commute look like?
Alexa, what was the score in the Minnesota Vikings game?
Alexa, ask Capital One, What's my bank balance?
When the speaker hears the name Alexa (you can change the wake word to "Amazon" or "Echo" if you have an Alexa in your house already), the light ring on top will light up in bright blue, and then it will spin as it retrieves an answer to your question. While it answers your question the light pulses in rhythm to the speaking of Alexa. It's very cool to watch.
Our family has had the original Amazon Echo in our house for a long time now, and we use it almost every day. I use it in my office to listen to Pandora, Tunein or IHeartRadio while I work, and my 6 year old son likes to tell Alexa to play his favorite song over, and over and over. It has become a very useful tool at our house.
The Dot which now sits on our kitchen counter is becoming a daily appliance as well. I ask it for a news briefing while I sit at the counter and eat breakfast, we have it play a Prime music Christmas playlist while we decorate for the Holidays and we use it to set a timer for things on the stove top and in the oven. We even use it to turn on and off the Christmas lights that are on a smart switch outside. In short it gets a lot of use.
Echo Dot Specs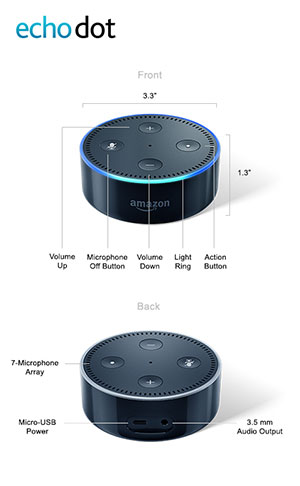 The Echo Dot comes with the following components, according to a teardown by site iFixIt:
Texas Instrument DM3725 Digital Media Processor
256 MB LPDDR SDRAM
4GB of storage space
Dual-band Wi-Fi supports 802.11 a/b/g/n (2.4 and 5 GHz) networks
5.7 oz. (163 grams)
Bluetooth 4.0
90-day limited warranty and service included. (To keep costs down I think the warranty is shorter than the larger Echo speaker's 1 year warranty)
The device doesn't have a super fast processor or lots of on board storage because most of it's work is done in the Amazon Web Services cloud. As such, it should be noted that the device only works when it's connected to the internet, so having WiFi is a must.
Getting WiFi connected was no problem when I setup the device via the Alexa app on my Android phone. Setting up a Bluetooth connection between the Dot and an external speaker was simple as well. To setup a connection you just say "Alexa, pair" and you can then find and connect to the Echo via your device's Bluetooth settings. To sever the connection to your device, you just say, "Alexa, disconnect".
The sound on the Echo Dot is decent, but not necessarily high-fidelity. Due to that at times I'll connect the Dot to a more powerful external Bluetooth speaker. That's nice because I can put the speaker wherever I want in the room while the Dot sits plugged in on our kitchen counter. If you have a nice stereo system you can also use the auxiliary out on the Dot to play the sound through your system.
How Well Does The Echo Dot Work?
So how well does the Echo Dot perform?
Voice Recognition & Natural Speech
Voice recognition on the Amazon Echo Dot works extremely well, just like the original. It almost always understands whatever I'm saying, and the only times I've seen it have trouble is when my son is saying something and not annunciating his words very well.
When Alexa speaks back to you, the device sounds very natural. It's among the most natural sounding computer speech I think I've ever heard.
Virtual Assistant
When the Amazon Echo was first released back in November 2014 it was limited in the number of things that it could do. There were quite a few limitations on the types of information it could provide you with. For example, it couldn't give you sports scores, local restaurant information, movie times, or integrate with your Google calendar. In the past couple of years that has changed drastically and it can now do all of those things. It adds new "skills" or apps every day that allow the Dot to do even more things.
There are still times where it can't give you an answer if you ask more obscure question, but it gets better all the time, it's constantly learning.
Echo App
The Dot comes with an app for iOS and Android. You can find it here for Android. and here for iOS.
The app will allow you to do all sorts of things including change the settings for your device, setting up new Echo devices, listening to and setting playlists for your Echo Dot, connecting smart home devices (like Nest Thermostat, WeMo light switches, and more), looking at to do and shopping lists you've setup via the Echo, finding new "skills" or apps you can use with your Echo.
For example, one skill (or app) that I've added to my Echo is the ability to listen to my Ooma Home phone's voicemails. Once I enabled the new skill and connected it to my Ooma account, I am now able to say, "Alexa, use Ooma to play voicemail" and the Echo Dot will now play my voicemail through it's speaker. Awesome!
Audio Quality
The audio quality of the Echo Dot is better than I thought it would be to be honest, but I wasn't expecting much. The device does get pretty loud, but the device is small and it has small sound.
The audio quality is decent enough to listen to your queries if you're asking questions of Alexa, listening to talk radio or listening to a podcast. But if you want to listen to music you may want to connect it to an external speaker of some sort.
Questions You Can Ask The Echo Dot
You can ask Alexa any number of questions. According to the Amazon help site you'll probably do best if you ask questions in the following categories:
Triva: Asking questions about people, dates, movies, music and other triva will tend to give you a good answer.
Education related queries: Spelling, definitions, calculations, geography and other education related questions should yield an answer.
General information: Things like local time, nutrition information for certain foods and asking Alexa to tell a joke all yield an answer. You can also now ask for local sports scores and schedules.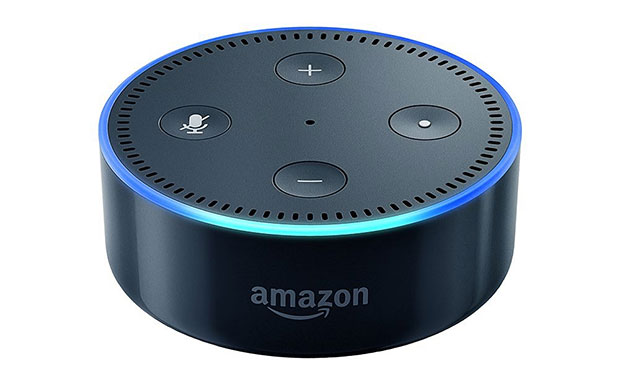 So what are some other interesting questions that I asked and was able to get answers to?
Alexa, how are you? (I'm good, thank you)
Alexa, when were you born? (I was released November 16th, 2014)
Alexa, what is the meaning of life? (42 is a good approximation)
Alexa, tell me a joke (see above for examples)
Alexa, open the pod bay doors (I'm sorry Dave, I'm afraid I can't do that. I'm not HAL, and we're not in space.)
Alexa, what is the airspeed velocity of an unladen swallow? (That depends on if it's an African or European swallow.)
Alexa, how any inches it is to the moon? (15,134,000,000 inches away.)
Alexa, where are my keys? (I recommend retracing your steps)
Alexa, count to ten. (Counts to ten..)
Alexa, how much wood could a woodchuck chuck? (A Woodchuck could chuck about 700 lbs of wood on a good day with the wind at his back)
Alexa, Simon says _____________ (Alexa will repeat whatever you say)
Alexa, what events are on my calendar this month?
Alexa, what's the score in the Minnesota Timberwolves game?
Alexa, re-order coffee.
Alexa, read Memorial Day. (Begins playback of Memorial Day by Vince Flynn Audible audiobook)
As you can see you can get pretty silly in your questions, and often you'll get an answer that's equally as silly. Here's a quick look at the Echo Dot as I ask it questions:
Depending on what skills you've added to your Dot you can ask Alexa to do even more things. The more skills you add, the more it can do. It can order you a pizza, order you an Uber ride, control your thermostat, or even check your voicemails. The possibilities are endless.
Echo Dot Is Small, Convenient And Priced Right
We've been users of the original Amazon Echo at our house for the past couple years. We've loved it and when a smaller more compact version in the Echo Dot was released, we were ready to add another Alexa assistant to our home. At only $49.99 ($130 less than the larger Echo speaker) for the new Echo Dot, the price was definitely right.
We put our new white Echo Dot on our kitchen counter where it gives us the daily news, sets timers for while we're cooking and can even walk us through recipes with the AllRecipes skill. In addition we can play music from any number of sources, play games and more. It's a great tool to have, both for fun little games and for practical uses, and we'd highly recommend checking it out.
Buy The Amazon Echo Dot at Amazon.com