If you break down personal finance issues such as not having enough savings or having a lot of debt, you can probably find in a lot of cases the root cause to be related to spending. Spending, whether buying on impulse, because you think you deserve to spend, or just because it's foolish, tends to knock people off course each month. Several months into the year, it's hard to find the path back to achieving important goals.
Having a plan or monthly budget is a commonly mentioned tool to help you curtail spending where needed and to make sure you're living within your means. While I love budgets because I truly believe they are necessary to keep money from controlling us, I think there are things that can be done outside of budgeting to help with smart spending.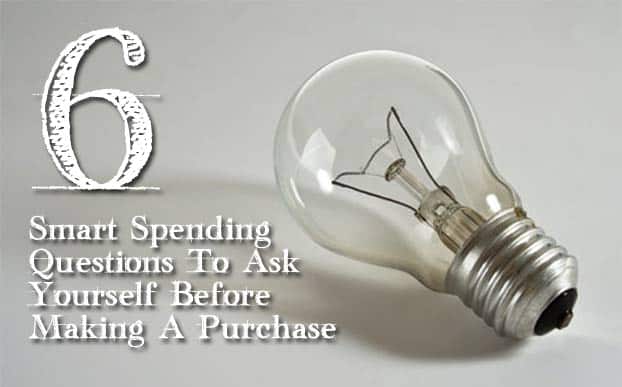 Sometimes a budget doesn't stop the emotions from running high. Shopping for clothes might be a good example to think about. Before you know it you've brought home that new shirt from the store. You reasoned you needed it while you were at the store, but felt foolish about the purchase when you got home. Either the shirt hung in your closet never to be worn, or you took it back to the store feeling a sense of personal conviction for making the purchase.
This year, I want to help you make smart spending decisions! Smart spending leads to paying off debt and saving more! So, before you get too excited about making that purchase, whatever it is, run through these six smart spending questions in your mind before adding the item to your shopping cart.
6 Smart Spending Questions To Ask Yourself
Do I need it? Do you have an item at home that needs to be replaced because it is broken or no longer works? This is a problem in the area of electronics. Electronics can be expensive, especially when it's the latest and greatest gadget. Don't purchase a new TV or computer if you don't actually need one.
Have I looked for used options? Often forgotten, but a great option is to purchase used items. Do you really need the new patio table and chairs this spring? I once found a large patio table and chairs at a garage sale for $25. The new price of the same set would have cost me well in advance of $100 to buy new. With a little bit of cleaning and spray paint we had a new set on the back porch.
Am I planning to use savings for this purchase? If you reason you need to dip into your emergency savings account for a purchase make sure it's an emergency. Too often the emergency account becomes and over flow account at the end of the month. You can avoid this problem by creating a barrier to saving such as keeping your savings separate from your checking account.
Will this purchase result in an overrun budget category? Oh, I'll just cover that next month, or the next month. It's okay to run it over now and then, you might reason. But the problem with this thinking is that there will always be something next month. Remember, you created a budget for a reason, so stick to it!
Does the decision conform to God's word? I think this is the most important question you can ask yourself! There is immoral spending that takes place in our society, so make sure you don't get caught up in these acts. But if it's not immoral spending, how could I be going against God's word with a purchase from Target? Remember to follow Biblical financial principles. God provides sound guidance on peace and contentment, debt, savings and more. Ultimately, learn to find contentment in what has been entrusted to your care.
Do I feel a personal conviction about the decision? Ah, a great test is to check your gut! How do you really feel about this decision? Does it make you anxious? You know deep down inside whether it's a smart spending decision. There isn't a need to ask your friend, loved one or neighbor. What's inside? If it's anything other than complete confidence that this is the right purchase, hit the brake pedal.
What do you think about these six questions to help insure smart spending?