Have you made a New Year's resolution?
I have to be honest and confess that I don't put much stock in New Year's resolutions because they seem to be made to be broken. Most people make resolutions that are wildly unrealistic, and then they feel bad when they don't reach their goal. Sound familiar?
Let's just say that it took me about five years of setting resolutions before I gave up. Now, I like to set goals, ones that I can accomplish.
If you read several blogs, you'll likely see tips for setting goals you can accomplish as well as what other people are setting for their own goals.
One goal that many people don't set is to invest in themselves. In the hubbub of the goals to exercise more, lose weight, and manage money, investing in yourself is often just not thought of. This is a shame because this is one goal that can help propel you further. Investing in yourself doesn't have to cost a lot, either.
1. Read books.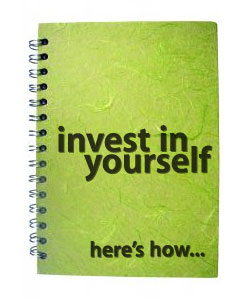 If you have access to a public library, there's no need to spend your money on books. Simply check them out or order them interlibrary loan. Almost any book that you read can help you grow and learn, but, of course, non-fiction books like how to invest or manage your money or how to do something yourself will have the most immediate impact on your financial bottom line.
Dave Ramsey finds reading so important, "he challenges his team to read whenever they can because he believes that information affects behavior. Reading develops leadership qualities and is a great way to educate yourself" (DaveRamsey.com).
If you're like the average American, you read 17 books a year. However, a study by the Pew Research Center, which interviewed nearly 3,000 people, discovered that "19% of respondents said they hadn't read a single book, in any format, over the last 12 months"! (Huffington Post).
Since you can read books free online these days, there's no excuse!
2. Take online classes.
Thanks to the internet, you can now take classes for free. If you're interested in investing, just Google free investing classes. You'll discover that many online brokerage firms offer free online classes on investing. Why? Once you know how to invest, they're hoping you'll sign up with them for your online investment needs.
Did you always secretly dream of going to Harvard? Well, now you can for free. Simply visit Harvard Extension School, and you'll have access to free online classes from Harvard professors. Of course, you won't get credit, but you will be learning from some of the greatest minds. Another option is Open Culture, though there are many others to consider.
3. Take classes at the local university.
Taking classes can be expensive, but getting further education can help your career. Before you sign up and pay out of pocket, consult your Human Resources department. Many employers will pay a part or all of your educational costs as long as you get a certain GPA. As an added bonus, you may get a raise after you've taken a certain number of classes.
4. Learn a new skill.
Learning to do something new is so easy with the Internet. You can consult You Tube and watch how to videos. Learn how to crochet a blanket, fix your broken washing machine, change your own oil, cook frugal meals, the list goes on and on. Really, you can learn how to do almost anything online. The more you learn to do independently, the more money you can save (and earn if you learn how to do something for others).
If you're interested in making a resolution that will help you for years and years to come, take the time to invest in yourself. You'll be glad that you did.