The $5 bill has been around since 1861, over 150 years. The bill has gone through a variety of different designs, and there have been multiple presidents and even a civil war general, on it's face.
Among those who have appeared on the bill:
Abraham Lincoln
Ulysses S. Grant
Alexander Hamilton
Andrew Jackson
Civil War General Philip Sheridan
In 2008 the Federal Reserve released their newest iteration of the 5 dollar bill into circulation, and it will be a bit more colorful than the old one: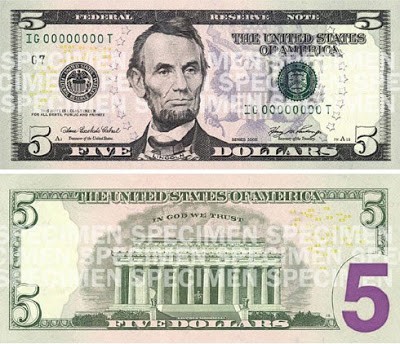 Not only is it more colorful, but it is going to have a ton of new security features. Among the security features announced by the Federal Reserve are:
Watermarking
Security threads that glow in ultraviolet light
Micro-printing in the borders.
Try and counterfeit this one – I dare you!
The $5 bill isn't the only one that will be undergoing a refresh, a new design and an upgrade in security. The $100 bill is expected to be released into circulation in late 2013.
Find out more about the new $5 bill here