I was reading the blogs in my reader this morning when I came upon two similar posts. The original one by My Two Dollars talked about how some readers had asked to see what David's home office looks like. He complied by posting pictures showing his very neat desk, big beautiful monitor and beautiful mountain view out of his window. I'm jealous of that view since my home office is in our basement.
Jim at WalletHacks read the post and decided to share some pictures of his office setup as well. His desk was slightly messier, and a more "lived-in" look. He also had several monitors on his desk. I'm jealous, I want a multi-monitor setup!
Here are the links to their posts:
Pictures of My Home Office
I thought it was kind of a fun exercise, so I decided to participate.
My office space isn't nearly as exciting as the ones linked above, it's just an available corner in our basement.
In any event, here it is. My basement home office in all it's glory!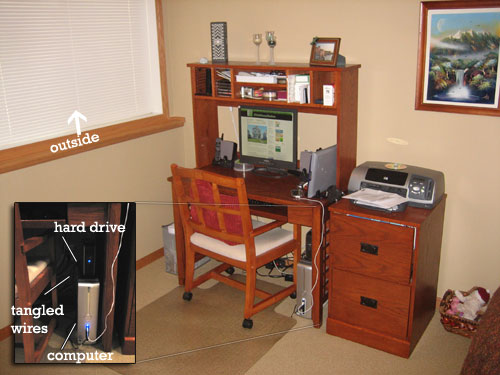 As you can see I've got a nice hardwood desk, with filing cabinet, with the computer and other accessories all around. The desktop computer sits underneath the desk with about a million tangled power and USB wires snaking everywhere, a USB hard drive on top of the computer and a printer on the filing cabinet.
I've got a nice big window right next to the desk that looks out into our recessed window well. For a basement it actually gets quite a bit of natural light down there since these windows and wells are so big. From time to time frogs like to jump into the well so I'll be typing at night and hear a tapping on the window – the frogs trying to get back out of the well (unsuccessfully).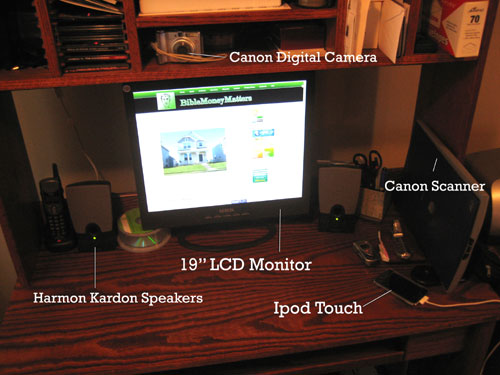 On the desk top itself we've got the 19″ LCD monitor, some nice Harmon Kardon speakers, a Canon scanner as well as my always in my pocket Ipod Touch.
Of course there is also the trusty digital camera, cubby holes for envelopes, bills, CDs and other accessories.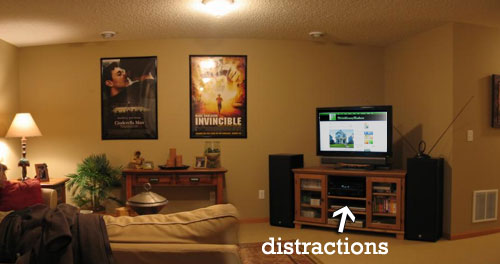 Since my home office also happens to be in our home theater/entertainment room I have plenty of distractions available to me.
If I'm set on not being productive there is a home theater, and an Xbox 360 that i can spend hours doing nothing on.
The couch is also way too comfortable (thanks Ikea!) so I have been known to lay down for a quick nap every once in a while. It's a little dangerous.
What does your home office look like? Take a couple of pictures, post about it and leave us a link!