My wife and I are the proud owners of a little nine pound Shih-Tzu named Nala (as in Disney's "The Lion King". The female lion is Nala). She is a precious little pooch, who loves running around the house, barking and rolling around on the floor. She'll even sit in her favorite easy chair and watch some TV (see photo). We've had her for 3 or 4 years now, and for the most part she's been a healthy little canine.
Over the past couple of weeks Nala has been having some issues with her right eye that has caused us to go to the vet 3 times, racking up vet bills of several hundred dollars. It turns out that she probably got fecal matter in her eye that ended up causing a painful infection. Apparently this is pretty common for dogs, and if left unchecked the infection can be bad enough for the dog to lose her eye.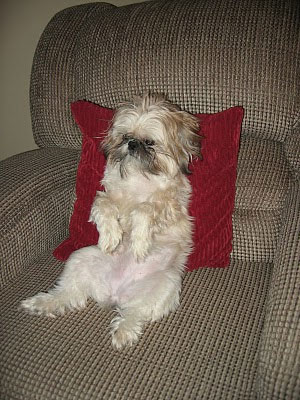 We've been applying eye drops to this little pup for almost two weeks now, 4-5 times a day. While she resisted this vehemently at first, she has gotten used to it. Luckily the infection has cleared up and we don't think there should be too much permanent damage to her eye.
Despite the fact that Nala is getting better, the situation has really got me thinking. How much is too much to spend on a dog in order to make them healthy, and what factors should I to take into account? How much would I spend on our little dog if she had a truly serious problem? What if it wasn't just $300? Would I spend $2000 to get her well? $5000? $10,000? At what point is the expense just too much that I can't justify putting us into debt to save a family pet?
How Much Would I Spend? Criteria For Spending On A Pet
For me, Nala feels like a member of the family, but not like a child would be. We still consider ourselves just her owner, and not her guardians. Nonetheless we would probably do just about anything within reason to save her, but only if:
She is ensured of a full recovery

. We wouldn't want her to suffer with a disability or serious pain. I think people often won't put a pet down that is in serious pain for selfish reasons.

She won't have expensive re-occurring bills to pay

. I have heard of people that had pets that required multiple surgeries, medications and constant checkups, and even after all that the dog was in serious pain and often dies anyway.

The cost isn't prohibitively expensive.

If I have to decide between an expensive and painful surgery for my dog, and putting our financial health in jeapordy, I think I'd have to ensure that our finances stay in the black. It wouldn't be an easy choice by any means.
I know that our choice to not opt for treatments for our dog no matter what won't be popular with some people, and that's ok. I do, however, want to make sure that I'm clear. I believe that we are called to be good stewards of God's earth, and of the animal companions he has given us. I would never want to see my little doggy hurt or in pain. If we believed treatment for her would be successful, that she would have good quality of life and it wouldn't bankrupt us, we'd probably approve expenses to cure her. If, however, we weren't sure that she would have a good quality of life, there may be re-occurring expenses and the up-front costs were unmanageable, we may have to let her go. I still believe that she is just an animal, and that her life can't be equated with a human life. She is important, yes, but not to the point where I would put my family's future at risk.
I think we can agree that reasonable people can come to different conclusions on this topic, and my intention wasn't to offend anyone or try to solve this issue once and for all. I just want people to think about this important topic, before it actually happens to them.
What would you do if your pet fell seriously ill? Would you be able to afford paying for their care?If not I think it is important to set up some sort of a contingency plan in case your pet does become ill.
Set aside a small amount money every month in a savings account so that you can afford your veterinary bills if and when these health issues arise. Once you have a sufficient amount saved (you'll have to decide what that number is), you'll have less to worry about when your pet does get sick. At least you'll know that the money is there, and if the pet can be cured, you'll be able to pay for it.
So what are your feelings on the subject? Would you go to any length to save a pet? At what point is it too much? Do you have a pet veterinary expense savings account?
Related Reading