Most Americans carry their cell phones everywhere, so there is great reason to be excited by technological advances such as a mobile wallet. Simply use your phone to pay everywhere you go and leave the credit cards and cash behind.
Benefits Of The Mobile Wallet
Even better, the mobile wallet offers many benefits that credit cards don't come close to offering. For instance, buy a Groupon using your phone and don't worry about printing it off or forgetting it; simply pull it up on your phone at the restaurant.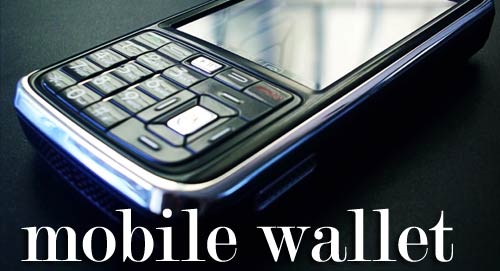 According to Time Magazine, "Mobile wallets can also be your shop-bot, sniffing out exclusive offers—say, $2 off oatmeal at Jamba Juice as you walk by. Not hungry? Save the coupon to the wallet, which will automatically activate it when you buy your next oatmeal."
Amazon is also using the mobile phone to their benefit, much to the chagrin of brick-and-mortar stores. This past holiday season, "Amazon even offered $5 off to customers who scanned a bar code in a store—so Amazon could offer a lower price on the same item."
If you are at a busy restaurant and don't want to wait for the waiter to process your payment, you can use an app on your mobile phone. "To solve the lunch hour crunch at Pizza Express restaurants in London, for instance, PayPal created an app that allows customers to enter the number from their bill into their phone and then pay without waiting for a server to run a credit card."
Most people will love the mobile wallet because of the convenience. Even vending machines are being fitted to accept mobile wallet payments. We could finally move to a truly cash free society. The frugalistas among us will rejoice in the ability to use coupons more easily and find exclusive discounts.
The age of the mobile wallet sounds like a win-win for nearly everyone involved, but is it?
Financial Dangers Of The Mobile Wallet
While it is true your mobile wallet can help you find additional bargains, there is a real financial danger there.
In the above example, having a coupon for $2 off oatmeal at Jamba Juice was perceived as a benefit. Yet, is it? What if you had no intention of ever buying oatmeal at Jamba Juice, but now that you have the coupon, you feel like you should buy it because it is such a good savings. How many people do you know who buy things they don't need or didn't even previously want because they could get such a great deal?
Likewise, convenience often translates to spending more freely. Experts agree that people generally spend more money when buying with credit card rather than cash, though the exact percentage that they spend more than if using cash is up for debate. If a mobile wallet is even more convenient than credit cards, it seems to reason that people will spend even more.
Even the little expenses can add up. If you would like a pop from the vending machine but don't have the change, you may just skip it. If even that is available via mobile wallet, you may not skip it. Over time, those little conveniences can add up.
A mobile wallet offers convenience unparalleled to anything we have experienced before. In addition, it can be a powerful tool to save on the majority of your purchases. Yet, just like credit cards that offer generous rewards, the benefits of the mobile wallet will be best utilized by those who are already good at managing their money and controlling their impulse to buy when they find a good deal. If you are like many Americans who find themselves mired in credit card debt, the mobile wallet may just offer one more way to spend money irresponsibly in the name of convenience and a good buy.
What are you thoughts on the mobile wallet idea? Would you use one? Why or why not?