A while ago I wrote about how getting a college education, and specifically advanced degrees, can have a negative impact on your net worth.
Thomas J. Stanley found in his book, The Millionaire Next Door, that as a group millionaires valued education, to the point where they wanted their children to have even better educations than they received.
The problem he found was that while getting advanced degrees, many of those children of millionaires developed an affinity for high-spending consumer behavior as well.
They valued the high ticket status symbols that go along with their advanced degrees. So in the end, Stanley found that for many getting an advanced degree led many to a point where they were starting in a large hole because of the spending patterns they learned while in school.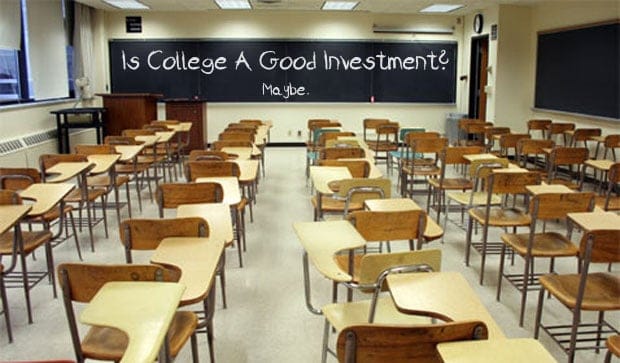 This week I found another interesting article about college education that could run counter to the conventional wisdom that getting a college degree is always going to be a good investment. The post, written by Dr. Al Lee, PhD (also known as Dr. Salary), takes a look at whether or not the return on investment (ROI) for a college degree is as big as it once was, or is as big as people assume. The answer might surprise you.
College: A Good Return On Investment?
For a while, there has been conventional wisdom that college graduates are going to earn quite a bit more than people who only graduated high school. Research over the past decade has estimated that a college degree could mean that over a lifetime you should earn between $900,000-1,600,000 more than someone without a degree. The problem is that now some studies are showing the monetary impact of a degree isn't as big as some have thought.
From BusinessWeek:
Over the course of a working life, college graduates earn more than high school graduates. Over the past decade, research estimates have pegged that figure at $900,000, $1.2 million, and $1.6 million.

But new research suggests that the monetary value of a college degree may be vastly overblown. According to a study conducted by PayScale for Bloomberg Businessweek, the value of a college degree may be a lot closer to $400,000 over 30 years and varies wildly from school to school. According to the PayScale study, the number of schools that actually make good on the estimates of the earlier research is vanishingly small. There are only 17 schools in the study whose graduates can expect to recoup the cost of their education and out-earn a high school graduate by $1.2 million, including four where they can do so to the tune of $1.6 million. At more than 500 other schools, the return on investment, or ROI, is less—sometimes far less. College, says Al Lee, director of quantitative analysis at PayScale, "is not the million-dollar slam dunk people talk about."
So conventional wisdom used to say that getting a college degree would mean that you would out-earn high school graduates to the tune of seven figures. The reality is that only a few select schools can trumpet an ROI that means earning $1.2 million more than high school graduates over a lifetime. What's the reason for the big disparity in past studies, and this one? The methodology of how those numbers were arrived at.
The new research is based on self-reported compensation data collected through PayScale's online pay comparison tools. PayScale examined pay reports from 1.4 million graduates of U.S. colleges and universities with no advanced degrees to calculate the ROI of each school. One reason the PayScale study resulted in a far lower estimate of the ROI on a college education is the way it calculated college costs. Instead of assuming everyone graduates in four years, as some do, PayScale used the actual number of years it takes students to graduate from each institution—4, 5, or 6 years. Another reason for PayScale's far lower ROI estimate is that it accounts for the fact that many students never graduate—and go on to earn little more than a high school graduate. For them, the ROI on their college education is effectively zero.

Of the two, graduation rates had a far bigger impact on ROI. Of the 554 schools in the study, the net ROI—for graduates only—was $627,239. But once adjusted for the average six-year graduation rate of 58 percent, the average overall net ROI shrank by 37 percent, to $393,574. Schools with the worst graduation rates—at some schools, fewer than 20 percent of students graduated in six years— fared even worse in the PayScale analysis.
So when you look at the data, depending on who you include, the overall net ROI for a college degree was anywhere from just under 400k to just over 600k. That is much less than the estimated $900k-1.6 million.
An Undergraduate Degree: Not What It Used To Be?
One thing that researchers noted was that a college degree isn't what it once was.
One big conclusion that can be drawn from the PayScale data is that college—and college alone—may not be the great investment it was once thought to be. Richard Vedder, director of the Center for College Affordability & Productivity in Washington, D.C., notes that with the college-educated accounting for a larger percentage of Americans, the bachelor's degree has been devalued, and its ROI has taken a hit. "We have credential inflation in America. A college degree has become mundane and ordinary," Vedder said. "We used to send kids to college to become lawyers and doctors. Now we send them to college to work at Walmart."
Everyone nowadays seems to have a degree, and unless your degree also carries a brand name along with it (Harvard, Yale, etc), it may not have as much value as you might think. In fact, for many Lee suggests that they expect to have – if not riches, at least a comfortable life.
According to PayScale's Lee, if they're enrolled at many of the schools on the list, they will be bitterly disappointed. Over the past 30 years, the S&P 500 Index averaged about 11 percent a year. Only 88 schools out of the 554 in the study had a better return than the S&P. Everywhere else, students would have been better off—financially, at least—if they invested the money they spent on their college educations and never set foot in a classroom.

"For almost every school on the list," writes Lee in an e-mail, "prospective students paying full price would probably have been better off investing in the stock market 30 years ago rather than spending their money on a college education."
Not only does an undergraduate degree not show an amazing ROI, but the Department of Education found that undergraduates are graduating with less than stellar understanding of the basics. The Department of Education:
"found "disturbing signs" that degree earners "have not actually mastered the reading, writing and thinking skills we expect of college graduates." Literacy levels among college graduates, the commission noted, fell sharply over the 12 years ending in 2003.
Advanced Degrees Do Carry Better Returns, But Higher Consumption Behavior
One thing that others have proposed, however, is that advanced and professional degrees do carry a higher return on investment than undergraduate degrees do.
Advanced and professional degrees, however, may be a bigger differentiator in the labor market, with bigger payoffs. According to a June 15 study by the Georgetown University Center on Education & the Workforce, the gross lifetime earnings for someone with a professional degree is nearly $4.7 million, about $3.5 million more than a high school dropout earns. "The increased earning power conferred by postsecondary education and training is both tangible and lucrative over a worker's lifetime," says Nicole Smith, senior economist with the center.
But as we discussed in a previous post – not only do those with advanced degrees earn more, but they tend to pick up higher consumption and spending patterns to go along with their degrees – so it is a double-edged sword. The key i suppose is to be careful to be conscious about your spending patterns, the reasons why you're getting an advanced degree, and make sure that you're going to make good use of it, otherwise your degree may as well be an expensive decoration on your wall.
If you're getting an undergraduate degree it's important to get a degree in a major that pays well, and at a school that shows a good return on investment.
What are your thoughts about getting an undergraduate degree. Do you think that the return on investment is as low as this study suggests? Have you found that undergraduate degrees aren't as highly valued as they once were? Tell us your thoughts on college education, ROI and earning power in the comments!