This is an article from Brad over at EnemyOfDebt.com. Read some more of his great posts at his site, or subscribe to his RSS feed.
It is God who is at work in you, both to will and to work for His good pleasure.-Philippians 2:13
I once was an angry atheist—who surrounded myself with negative people that believed the same sort of things I did—pro-evolution, no god, no purpose, you just live and die, end of story. I would like to add that I wasn't quite as angry towards Christians themselves, just what they believed. To be honest, I was lost and was missing something huge but I just didn't know what that something was. Little did I know.
In 2002, I met my wife and we became really good friends. She was a Christian, and even though our views were so different, she saw something in me that I did not. I started working with her dad remodeling houses and it wasn't long before we started talking about religion. I had accumulated a vast list of misconceptions about Christianity over the years that fed into my broken worldview. He probed as delicately and as patiently as he could until I finally started to open up, and we talked about them. His role was much more difficult than mine, as he had to set aside personal issues—after all I was by this time dating his daughter. One of my favorite parts to this story is that he accepted me anyway—a misconception that I had developed about Christians was immediately debunked at that moment, which left me confused.
So I was no longer antagonistic towards Christians, although I still didn't buy into the whole Christian faith. Our conversations, while polite and positive in nature, led me to want to look into this a little closer. The only thing was that I decided to look into it with my sole purpose being to prove Christianity wrong. I started with the evolution and creation debate and I started to slowly realize I could be wrong. At the time that was a very life shattering realization, but it seemed as though it required more faith to believe in evolution and no god than it did to believe in Jesus Christ and Christianity. I pressed on.
I then became interested in philosophy to a point where I would read books by C.S. Lewis (Mere Christianity, The Seeing Eye) and Ravi Zacharias (Among Other Gods, Cries of the Heart). These two people turned my world upside down, at least enough to encourage me to want to learn more. It was then that I found a book by Lee Strobel called The Case For Christ, that hit me like a ton of bricks. First of all this guy seemed a lot like me. He didn't believe, was convinced evolution was fact, and had the same negative reactions to Christianity that I did. He actually decided to use his background in journalism to disprove Christianity. I must mention that it was his wife becoming a Christian in secret that led him down this path to prove to her—she was following a fairy tale.
I started to read that book and I was pulled right in. I read the book faster than any other book ever in my life. That book led me to The Case For A Creator, and The Case For Faith, and it was then at that point that I realized—I believed in God. This was a very emotional experience unlike anything I had ever experienced before. It was as if God reached down and touched my heart like no one else could. The change was instantaneous, but you could say that I had been a work in progress. It was at that powerful moment that I believed that Jesus Christ had died for my sins. I called my father-in-law immediately.
In 2004 I joined my church and finally considered myself to be a Christian. What a huge shift in beliefs I had experienced. WOW! I could have never predicted it in a million years but am glad to this day that I decided to look into it for myself. I was baptized on December 10th of 2006 with my son, which was an emotional day for me as well. Just like Lee Strobel, my desire to disprove God led me to Him. How ironic.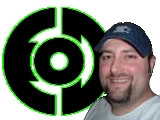 Today I am very blessed with a beautiful wife, 2 kids, with another on the way. I have recently become debt free, by paying off 26,076.75 in 20 months. God has changed my life and given me purpose, which is to help others also become debt free. After all a debt free kingdom is a more charitable and giving kingdom. I am so passionate about this, and the truth be told, this passion really came out of nowhere. It was non-existent, and then all of a sudden it was bigger than words. My desire to help others manage their finances led me to introducing and leading Financial Peace University at my church, as well as starting my blog, Enemy of Debt. I am currently working to become a certified financial counselor as my vocation. Before I believed in God, it seemed as though I was always more concerned with myself. Now my life's purpose is to serve Him by serving others. I have recently become a part of a new website called The Self Reliance Exchange where I hope to expand upon my ability to help others live debt free by helping them take responsibility for their finances, as well as their lives.