I haven't written much about fitness on this site as I have another site called Quick To Fit where I write about topics surrounding exercise and getting fit. I'll be honest though, the writing on that site has been somewhat sporadic – as has been my motivation for exercising and getting fit. It's something I've struggled with for some time now, and something I always seem to be working on.
With that said, over the past year or so I've been making an effort to exercise more and lose some of the excess weight that I've put on over the last few years. I had some success last year as I lost 30 pounds doing a combination of Weight Watchers and working out with our Xbox Kinect for cardio and some free weights. The problem? I slacked off the last few months of the year and gained 10 pounds back. At least I'm still down 20 pounds from my high weight.
This year I've been making another effort at getting fit and losing weight. My goal is to lose 50 pounds this year, and to put on some muscle mass. My ultimate goal is just to be healthier so that I can live longer and so that I can play with my son without getting tired after 5 minutes. I know I can do it.
Working Out At Home Versus At The Gym
One question that often comes up when talking about working out is where you should exercise. Should you work out at home, or will you be more successful if you do it at the gym? It's hard to say, and the answer may vary depending on the individual. One thing to note though is that quite often people will overestimate how often they will go to the gym, and end up overpaying because of it.
One study by researchers at Berkeley found that people often choose monthly memberships at the gym, but end up only going on average 4.8 times a month, much less than many might expect. Because of that their average cost per visit is higher than if they had just opted for what they thought was a pricier per visit pass.
members who choose a contract with a flat monthly fee of over $70 attend on average 4.8 times per month. They pay a price per expected visit of more than $17, even though they could pay $10 per visit using a 10—visit pass. On average, these users forgo savings of $700 during their membership. Second, consumers who choose a monthly contract are 18 percent more likely to stay enrolled beyond one year than users committing for a year. This is surprising because monthly members pay higher fees for the option to cancel each month.
The point is, most people sign up for the gym expecting to go 3-4 times a week, when the reality is they go only 4-5 times a month. Because of that they're wasting a ton of money – around $700 on average during their membership over cheaper per visit passes. Forgo the membership altogether and you'll be even further ahead.
For me I found that to be the case as well. I paid for an expensive membership but only went a few times a month – wasting a ton of money. Instead of continuing down that road I decided to cancel all together and just buy some weights and workout equipment for our home.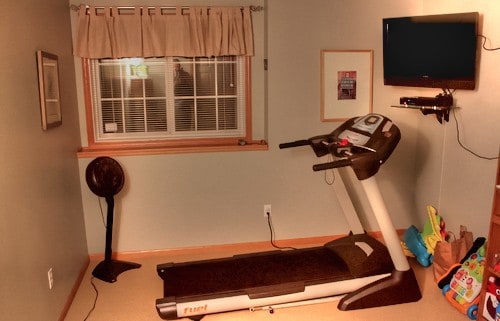 How I Equipped Our Home Gym
Instead of spending $70 a month or so on a gym membership I bought all the things I figured we would need (although they were purchased over time, not all at once). Yes, there was a higher initial cost for some of the items, but in the long run we'll still be saving money.
Exercise Equipment
So here is the exercise equipment that we bought.

Exercise Programs
Beyond the exercise equipment we've also purchased several exercise programs over the last few years.
All in all we've probably spent anywhere from $1000-1100 on fitness equipment, programs and gear over the past few years. If we were paying for a gym it would have taken probably about 16 months or so to equal that dollar amount on a $70/month membership. Since we've been using most of the gear for years now I think we've come out ahead.
Of course there will still be those who prefer working out at the gym for the classes, better equipment or personal trainers – but for us going the home route has been effective.
Keeping Track
One important thing to do when you're working out and eating healthy is to keep track of where you are over time. You can do that using a body fat scale, taking measurements and even tracking all your stats in iOS or Android apps.
For us we've got a nice body fat scale that helps us to track weight, body fat, muscle mass, total body water and some other stats.