One thing that I used to hate was going to the movie rental place to rent a movie.
Not only was it a hassle to drive there and walk through the store trying to find a movie for a half-hour, but it was also expensive! To rent two new release movies could cost upwards of $10 or more depending on where you went.
One option that a lot of people have been using in the last few years is renting movies through Netflix.com. I've used Netflix and in general, I think its a great idea. Even more so now that I can stream movies directly from Netflix to my Xbox 360 from the Internet.
But what if you don't think spending $8.99 a month is going to be worth it because you don't watch that many movies?
Cheap Movie Rentals At Redbox
My wife and I have found a great option for renting movies, and it doesn't cost us a thing! That's right – its free!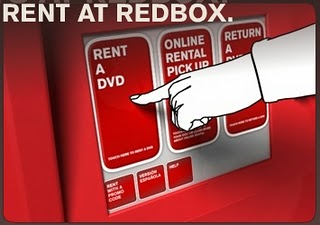 Mcdonald's restaurants and several grocery stores in our area installed big movie rental vending machines from a company called Redbox.com. The machines carry new release movies and it costs a paltry $1-$1.99 per night to rent a movie. So right off the bat, as long as you return the movie the next day, it's a great deal. You can even rent movies right from your computer at home, and the machine will hold the movie for you.
Free Movie Rentals At Redbox
To make the deal even better we've discovered that the machines will accept coupon codes for free movie rentals, and since Mcdonald's is giving these coupon codes out all the time, it seems like we haven't paid a dime to rent a movie in the last year.
To make things even easier we discovered a website called Insideredbox.com that allows users to send in their coupon codes for free movie rentals, and they are cached in a database that other users can access. Just do a search for coupons in your area that have been used recently, and you can get a code for a free rental. You can use each code once with each credit/debit card. Coupon codes can't be used to rent movies on their website, only in person at the machine.
Right now if you sign up with Redbox to receive SMS alerts, they'll send you a coupon code for a free movie rental every Monday. I've used this, and it works great, 1 free movie every week. Sign up here.
Redbox locations in our area are at Mcdonald's restaurants, grocery stores gas stations and other locations. Search your zip code on their website for a location near you.
Have you used Redbox? What did you think of the experience? Let us know in the comments.