Starting today, and going through the weekend (February 14th) H&R Block is giving a big Valentine's weekend discount to users of their software H&R Block At Home (formerly TaxCut).
H&R Block At Home will have discounts of up to 70% off the regular prices for the company's online do-it-yourself tax filing software. Here's how it breaks down: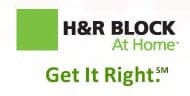 H&R Block At Home Basic: $14 (Was $14.95)
H&R Block At Home Deluxe: $14 (Was $29.95)
H&R Block At Home Premium: $14 (Was $49.95)
The $14 price applies to filing the federal income tax only. If you want to do your state income tax return as well, there will be an additional charge of $29.95 for each state. There is no charge for starting your return.
Valentine's Day Promo – Up To 70% Off. Click Here!
Remember – this discount is good this weekend only – from February 12th-14th!
Details From H&R Block
Make a date with H&R Block this Valentine's and pay only $14 for any H&R Block At Home™ online product if you register Feb. 12-14. You will receive the full menu of advanced features that H&R Block At Home Basic, Deluxe and Premium offer, such as:

Audit support from a live tax professional (we'll always be there for you)
Import last year's tax data from TurboTax® (we make ex's easy to forget) or TaxCut®
Automatic import of data from your employer and financial provider (yes, we will ask you how much you make on our first date
Tailored guidance for your personal situation or occupation (we're great listeners)
Easy-to-use tax calculator (we're good with numbers)
Click on the banner to start your return this weekend and save!

Thinking you may want to use TurboTax still? Head on over to my TurboTax post for details.