Time To Refinance – For Real This Time
For the past few months we've been looking into refinancing our mortgage. Our interest rate on our current mortgage is at 6.5%. Since mortgage rates have been hovering around the low to mid 5 percent range since the beginning of the year we knew we wanted to refinance – before the rates disappeared again.
We were about to refinance our loan through the Making Home Affordable Refinance Program in February or March, but my wife ended up in the hospital for surgery. We had to put it off. Unfortunately because we delayed our refinance I think we missed our chance at a 5% (or lower) interest rate.
We've now paid off all of our hospital bills from earlier this year, and last week we restarted the process of refinancing our home. Thankfully we're still reducing our interest rate through this refinance by over a full point. The costs of the refinance will be repaid in just over a year, and after that it's all gain!
Now that we've applied for a loan, and locked in our rate, we've received a good faith estimate (GFE). A GFE must be provided by a mortgage lender or broker in the United States to a customer, as required by the Real Estate Settlement Procedures Act (RESPA). The estimate must include an itemized list of fees and costs associated with your loan and must be provided within three business days of applying for a loan. (Hold on to this GFE because you'll be using it later to compare the actual final fees before your closing)
One of the most important documents that we'll be looking at before finalizing everything at the closing is the HUD-1 Settlement Statement. Today I thought I'd take a look at this document in depth.
The HUD-1 Settlement Statement – What Is It?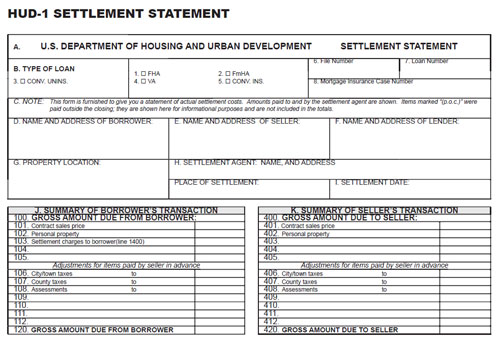 The HUD-1 Settlement Statement is the form that the settlement agent will use at your closing to itemize all charges that you as a buyer can expect to pay when buying or refinancing your house. It will give everyone involved in the transaction (buyers, sellers, agents, brokers) a complete listing of their incoming and outgoing funds.
You should get a copy of your HUD-1 at least one day prior to the settlement as required by the Real Estate Settlement Procedures Act (RESPA). The fees and charges that the HUD-1 shows should match, or at least come close to the charges that were shown on the Good Faith Estimate (GFE) that you received when first investigating the loan or refinance. If they don't, something might not be right.
When you get that HUD-1 statement, make sure that you look it over closely, compare it to your GFE, and find any errors that may be present. Easier to fix them now rather than later.
The HUD-1 has several sections that you'll need to look over.
Sections A through I (General Information)
The HUD-1 starts with sections A through I which have basic information about your loan, the buyer, the seller, borrower and the home that you're buying. Basic stuff.
Section J (Summary of Borrower's Transaction)
Section J will have the gross totals of your costs, credits and the net amount that you will owe for the purchase of your home. The totals are broken down by category:
100. Gross Amount Due From Borrower: This is the amount you'll owe for the house and will include the house's purchase prices, fees and settlement charges, and any other miscellaneous extras you may have bought from the seller – or any taxes that they have pre-paid. (Line 120 is total.)
200. Amounts Paid By Or In Behalf of Borrower: This section will detail amounts you have paid such as your deposit, or financed, like your new mortgage. It will also include any money that the seller owes to you such as unpaid taxes, utility costs or any repair allowances that have been made during negotiation. (Line 220 is total.)
300. Cash at Settlement From/To Borrower: This section will show the actual amount of money that you must bring to the settlement. It will be the gross amount from line 120 minus the credits from line 220. (Line 303 is total.)
Section K (Summary of Seller's Transaction)
This section will have a listing of the gross amount due to the seller, along with any necessary adjustments for items talked about above – like if the seller has unpaid or prepaid taxes.
Section L (Settlement Charges)
Section L, on the second page of the form, shows all the specific costs for financing and processing of the transaction. It includes:
700. Total Sales/Broker's Commission based on price: The commission paid to the real estate broker.
800. Items Payable In Connection With Loan: Things included in this section will include things like the loan origination fee, any discount points you have paid to reduce the mortgage rate, the appraisal fee and credit report fee, the application fee for mortgage insurance (thankfully we don't have PMI!), and the assumption fee, if you've assumed an existing mortgage. Fees you've paid up front are marked P.O.C. (paid outside of closing) and will not be included in the total on Line 1400.
900. Items Required By Lender To Be Paid In Advance: This section will include items that need to be paid in advance including the interest on the loan for the first monthly payment, mortgage insurance, hazard and homeowner's insurance. These amounts will often be enough to cover the first year.
1000. Reserves Deposited With Lender: These escrow items will be held by the lender, and in some cases required to be held. Items included here would be things like property taxes and other annual assessments. In some cases you'll be asked to pay a monthly escrow amount for insurance or homeowner's association fees here as well. There is a maximum that can be charged.
1100. Title Charges: The costs of changing ownership of the property, such as the settlement or closing fee, title examination fee and attorney's fee. If the fee is payable to a third party, such as the notary or attorney, it is indicated. If one agent performs more than one service, the fees may be lumped together on one line.
1200. Government Recording and Transfer Charges: Items like city, county and state taxes or stamps needed to transfer ownership are listed here. The buyer often pays the deed and mortgage recording fees to change the owner of record with the county/state.
1300. Additional Settlement Charges: Other items such as surveys, inspections for such things as pests and lead-based paint, and home warranties. These are not always included, depending on where you're buying, and the circumstances.
1400. Total Settlement Charges: The sum total of all of the fees listed in the HUD-1. The amount listed in the buyer's (or borrower's) column should be identical to the amount listed as "settlement charges to borrower" on page one, line 103, while the amount in the seller's column should be the same as the "settlement charges to seller" on page one, line 502.
It's important to read through the HUD-1 form carefully and determine that it's complete and accurate. You and the settlement agent will then both sign it to authorize payment of the funds. Once that's done, the home is yours (or your refinance is complete).
Have you ever been in a situation where you discovered an error in your HUD-1? Do you have other questions or things you're confused about with the HUD-1 Settlement Statement? Let us know about it in the comments!