We closed on our new home just over a week ago, and the process was an expensive one. While we expected the process to cost a lot of money, I don't think you're always completely prepared for just how much money you're going to need when going into the process.
Not only did we put down 20% of the purchase price of the home when we closed on the house, but we also paid for a variety of things before and after the home was closed on that were much more expensive than I had anticipated.
While I was reasonably sure I knew how much the home building and buying process would cost us, it's still a bit surprising when you see bids for certain things come in, and the cost is thousands of dollars more than you expected.
So what types of things did we see higher costs for than we expected?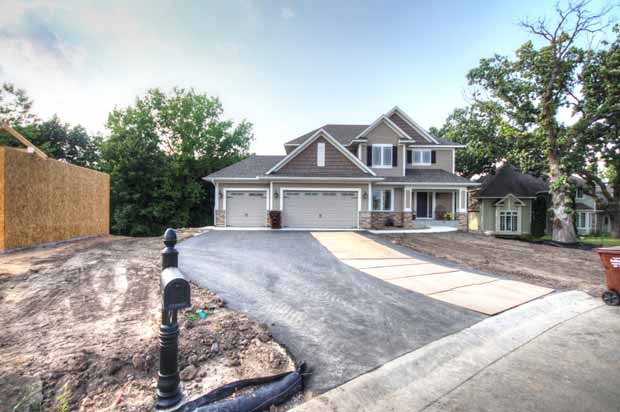 Expect To Spend A Lot When Building A New Home
When buying our home we expected to be paying quite a bit of money in certain areas. Areas we expected to spend a lot of money include:
Down payment: We knew we wanted to put down 20% on our new home to avoid paying mortgage insurance, and to get us the best rates. We were able to put down the full 20%, and thankfully the house construction costs came right in on budget so the full 20% was what we expected it to be.
Home construction costs: We spent quite a bit of money on the house itself, and thankfully it came in right on budget, with a couple of asterisks.
Closing costs and pre-paids: We knew we'd be paying a decent amount in prepaid insurance and property taxes, closing costs, etc. Thankfully we found a great mortgage rate and ended up having to pay no closing costs because we shopped around and found a great deal.
Certain extras: We added some extras onto our home build that we knew would cost extra, but we thought would be worth it. For example, we decided that we wanted to have a deck built onto the back of the home, even though it would cost several thousand dollars extra. We've been eating on that deck quite a bit since we moved in and we're glad that we splurged for it. Other extras like upgraded carpeting, floors and other things – you'll have to check back with us and see how glad we are.
Areas That Were More Costly Than Expected
When building our home there were a few areas where we ended up spending more than we anticipated that ended up adding thousands of dollars to the final cost of the home. Among the areas we spent more than we thought:
Yard and landscaping: We originally thought that the grass, edging, irrigation, fencing and other landscaping materials and labor were included in the final purchase price of the home. Apparently we hadn't been paying close enough attention at some of our home building meetings because those things were NOT included. What that meant is that we ended up having to pay almost $10,000 out of pocket for all of those things after the closing. We had expected closer to $4,000-$5,000. Thankfully we had saved up enough money to have a decent cushion after we bought the house, as well as getting a decent sized check from the closing on our old house. We had the money to pay for the costs, but we should have paid closer attention as this was a pricey detail that we missed. Also, who knew that grass, rocks, mulch and edging cost so much?
Finishing the basement: Another area that was more costly than we originally thought was the cost to have the basement finished. We had gone in with intent of having the basement finished if there was enough wiggle room left in the budget, and if other areas came in under budget. Unfortunately the cost to have the basement finished came in about $5,000 more than originally thought, and other areas of the budget came in on budget or slightly over. So we had to nix getting the basement finished.
Home furnishings: Certain areas of the build budget came in under budget, while others – like home furnishings – came in higher than expected. My wife and her mother wanted to make sure the new house was perfect, and while they didn't go crazy, small upgrades here and there lead to increases in the budget of a couple of thousand dollars. This was a good lesson in how lots of small charges can add up to one big one. Even after the closing we're spending a bit more than I'd like on things like drapes, blinds and other home decorating touches.
Yard care and watering: At our old house we paid an association that mowed our lawn, shoveled snow, watered the grass and maintained our yard. At the new house, while we won't have to pay monthly dues, we will have to pay for the bill to water our grass, pay for yard waste removal, buy all of the lawn care tools (mower, edger, blower, snowblower, etc) and take the time to actually maintain our yard. It adds up to more money than I had anticipated. Those association dues aren't looking like as bad of a deal anymore!
Home storage: We were going to have the carpenters build us some custom storage shelves in our basement utility and storage room. When the bid came in at almost $1,000 we decided that we would just purchase our own out of the box storage shelves. Even when going that route, however, we ended up spending almost $500 for about 6-7 low end shelving units. It's amazing how much they charge for simple shelves!
Internet and TV: At our old house we had several options when it came to internet and TV service so we could shop around. At the new house we only had 2 options, and they were both pretty pricey. We'll end up spending quite a bit more for our internet and TV at the new house. At least the internet service is quite a bit faster.
Those are just a few areas that we saw higher costs than expected, and I'm sure there were others as well. Because of the unexpected extra expense that we're incurring it will dig a little bit deeper into our emergency fund than we'd like (at least we have that luxury!), but we'll still have a decent buffer that we can rebuild over the coming months.
Considering buying or building your own home? Just know that things almost never go 100% how you expect them to, and the process will almost always be more expensive than you expect. We were even expecting it to be pricey, and it still came in more expensive than we thought!
Have you ever built your own home or bought a home and saw expenses that were higher than expected? Tell us about it in the comments!