A while back I wrote a review of Betterment.com, an investing website that aims to make investing easier and more accessible to everyone. The site has a ton of great features for beginning investors including that they allow for automatic investments in great low cost funds, and allocations are automatically adjusted on a regular basis. Betterment takes a complex topic and makes it accessible to everyone via their easy to use interface.
When I wrote the review I had almost all good things to say about the website. In short, I loved just about everything about it, except for one thing. Their fees.
Betterment Fees
At the time I wrote the review Betterment had a fee structure that was a little bit more expensive than I was comfortable with. Their fees, for most beginning investors with $0-$25,000 in the account, it was going to mean paying a 0.9% annual management fee. Even if you had more in the account than that – it would mean anywhere from 0.3%-0.7% in annual fees. Here's a look at their fee structure.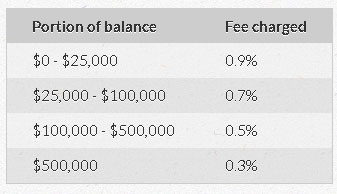 While those fees may make sense for some, it wasn't something that made sense for a lot of people.
Betterment Fees Are Now MUCH Lower
The fees, while they weren't outrageous, certainly put it in a position where I didn't feel I would be using it for too much of my own investing. I only had a small amount in my Betterment account. You could probably do better by finding some low cost index funds from a company like Vanguard or another low cost mutual fund company. At the same time, I still liked what they were doing with their site, and how easy they make investing for the beginner.
This week, however, Betterment is announcing some big changes for their service. First, and most importantly in my eyes, they're announcing that they'll be lowering their fees across the board to make Betterment an even more attractive option, with fees extremely competitive in the industry. Here's a look at their newer better fee structure:
So we go from a service that was charging .90% for most low balance investors, to one where the costs are much more affordable. They now have 3 plans, the "Builder", "Better" and "Best" plans.
Builder Plan: Minimum balance of $0 and $100/month minimum deposit with a .35% annual fee.
Better Plan: Minimum balance of $10,000. Includes next day transfers. .25% annual fee.
Best Plan: Minimum balance of $100,000. Includes next day transfers and custom portfolio options. .15% annual fee.
If you just max your Roth IRA out for 2 years ($10,000), you'll be paying the lower .25% fee. For balances lower than $10,000 you'll still only be paying .35% – that's a lot lower than the .90% we were paying before.
If someone is an existing customer and doesn't want to deposit $100 per month, they can opt to stay in the old fee structure (if that makes sense for them). Alternatively, both existing and new customers with balances under $10K who do not want to deposit $100 per month can upgrade to the "Better" plan for a fee of $3 per month in lieu of the 0.25% annual fee. With that, auto-deposit would be optional and they would get next-day transfers.
Finally, all new customers get to use the site for free for the first 30 days! So if you're not sure about this Betterment thing, you can give it a shot without having to worry about fees at all.
UPDATE: 2/1/2017 Betterment has changed their fee schedule once again. The fee is now a flat 0.25% annual fee for all users on the main "Digital Plan", regardless of account size. The fee is capped at 2 million dollars. Other plan types, Plus and Premium have the ability for you to talk to CFP professionals, and have more hands on account management. They cost slightly more. There are now three main plans.
Digital Plan: The plan that most people will end up using, the Digital Plan, charges a flat pro-rated yearly fee that is 0.25% for all users regardless of your account balance.
Plus Plan: If you opt for the Plus Plan, where you get access to a team of CFP® professionals which includes an annual phone consultation. The cost is 0.40% annual fee (with a $100k account minimum).
Premium Plan: The Premium Plan gives you unlimited phone consultations with the Betterment CFP® professionals and costs 0.50% annual fee per year. It carries a $100k account minimum.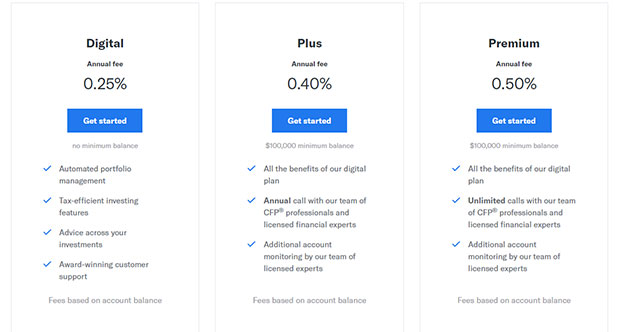 Custom Portfolio Option
It probably won't apply to most of my readers, but I was wondering what Betterment meant when they referred to a "custom portfolio" option for people in their "Best Plan". I reached out to a contact that I have at Betterment and this was their reply.
The custom portfolio option, which comes with the "Best" plan, is the option to actually get a customized portfolio to meet your specific needs. For example, if international exposure just doesn't make sense for your particular situation (maybe you own an international business and do not need additional exposure here), you will have a consultation with our CEO, Jon Stein, and he will help you develop a custom portfolio with less international exposure. You will still be investing in this portfolio through the Betterment platform.
New IRA Options For All Users
Another thing that Betterment is announcing is that all users will now be able to invest in IRAs via their platform. That option was already available to users who have a regular Betterment investing account, but now all users can invest in IRAs, both Roth IRA and Traditional IRA.
In addition users now have the ability to rollover an old 401(k) or IRA to Betterment. That should make it even more attractive to a lot of folks who are looking for an option that is easier, and that has better investing options.
Conclusion
Before Betterment made changes to their fees I was already a big fan of the service. They take a complicated thing – investing – and make it so much easier for the layman. You just choose your allocation, how much to invest, and sit back and reap the rewards.
Now that Betterment has lowered their fees substantially I'm sure I'll be using the service even more than I was before. It really is now becoming a legitimate option for millions of investors out there who don't want to have a lot of day to day involvement in their investments, but who still want to get some good returns for their retirement nest egg. Throw in the fact that the site now allows for tax advantaged IRA accounts, and you've got a true winner.
Open A Betterment account and get a signup bonus.
The links on this page to Betterment.com are affiliate links. While I will make a small amount money if someone signs up for an account through my link, I only recommend others use sites or services that I would use, or have personally used myself.