One of the difficulties involved with changing jobs is the possibility of moving to advance your career. If you lose your job, and you are forced to get a new job in a new location, it can be stressful to move. This is especially true if you have a strong attachment to your current location. Moving can be disappointing and expensive.
In response to the recent economic difficulties, many people are seeking jobs that are location-independent. Why not have a career that allows you to live where you want? If you are considering changing things up, here are 5 location-independent jobs to consider:
1. Freelancer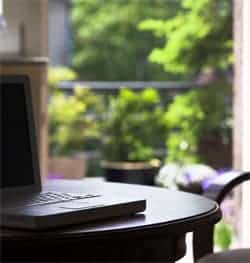 I always put freelancing at the top of any list, because it's what I do. No matter where I live, I can earn money — as long as I have access to the Internet. I can make money as a freelancer whether I live in my small Utah town, or whether I move across the country.
Freelance writing, graphic design, web development, coding, and other activities can provide you with the means to make a living anywhere you go.
2. Virtual Assistant
If you have the skills to manage others' schedules, and perform a number of other administrative tasks, you might be cut out to be a virtual assistant. More and more virtual assistants are hired to help out with tasks that don't strictly require you to be present. From fielding phone calls to drafting memos to scheduling appointments, you can work as a virtual assistant no matter where you are. As long as you can work reliable hours (if needed) and you have a reliable Internet connection, it's possible to be a virtual assistant.
3. Teacher/Tutor
Even though my husband mainly teaches classes on the local university campus, he also teaches one or two online classes each semester. I have a friend who teaches for an online charter school. It doesn't matter where you live if you are teaching online. In my husband's case, he can move anywhere, and the university will still ask him to teach the online class. If you teach for an online K-12 school, you still likely need to be properly licensed in your state, but you could live anywhere, as long as you meet the appropriate requirements (at the very least, you could live anywhere in the state).
4. Financial Planner
These days, you don't actually have to sit down with someone to be a financial planner. You can do it over the phone or via email. In fact, it's possible to do so with the help of video tools like Skype and Google Hangout. The ability to screenshare and interact over video provides you with an edge. As long as you have the right certifications, you can offer your planning services to anywhere, no matter where you are currently located.
5. Consultant
Consult on an area of your expertise. Whether you are an image consultant, communications specialist, or social media maven, you can turn your expertise into a business that doesn't rely on location. Once again, tools like the Internet, web video, and phone can help you provide valuable services remotely.
Can you think of other location-independent jobs? Would consider doing one of these jobs?