My wife and I were married over a decade ago on a hot, muggy day in June. It's a day I'll never forget.
The day started out with a downpour and strange green skies, and then thankfully morphed into a beautiful day with blue skies and sunshine by the time we were married in the afternoon. I remember feeling nervous as I stood at the front of the sanctuary, waiting for my beautiful bride to walk down the aisle, and the feeling of elation when she finally appeared. We had a great time at the reception, the food was exceptional and the music was perfect for dancing. What a day!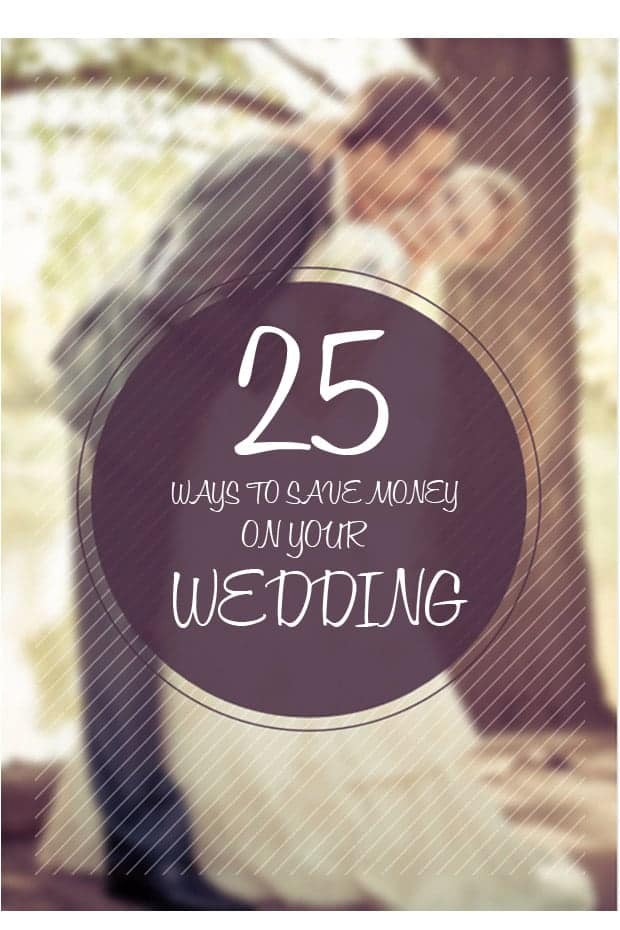 The day was amazing, and I wouldn't trade it for the world, but there are times that I wish we hadn't spent nearly as much as we did on the wedding. Granted, my in-laws were the ones paying for almost everything, but what could we have done with all of that money? In the end the wedding ended up coming in at over $30,000.
The Knot reports that the average wedding now costs more than $31,213. Do you really have to spend that much on your wedding (like we did)? Or can you do it for less?
How Much Does The Average Wedding Cost?
A wedding has a lot of costs that you need to consider. Here are a few wedding stats from The Knot:
Average Wedding Cost: $31,213 (excludes honeymoon)
Most Expensive Place to Get Married: Manhattan, $76,328 average spend
Least Expensive Place to Get Married: Utah, $15,257 average spend
Average Spent on a Wedding Dress: $1,357
Average Marrying Age: Bride, 29; Groom, 31
Average Number of Guests: 136
Average Number of Bridesmaids: 4 to 5
Average Number of Groomsmen: 4 to 5
Most Popular Month to Get Engaged: December (16%)
Average Length of Engagement: 14 months
Most Popular Month to Get Married: June (15%) followed by October (14%)
Popular Wedding Colors: Ivory/White (44%), Blue (37%), Pink (28%), Metallics (26%), Purple (23%)
Dark blue specifically has continued to grow every year, from 10% in 2008 to 24% in 2014
Percentage of Destination Weddings: 24%
And don't forget the honeymoon..
The average honeymoon tab is almost $4,500 (Kiplinger)
Wedding Budgets (Or Lack Thereof) All of the above costs go to show that you'll likely spend more than you think on a wedding. So you should have a wedding budget, right? Well, not everyone does, and even when they do they don't always stay on budget.
In 2014, 45% of couples went over budget.
About 1 in 4 (26%) of couples stayed within their budget.
Only 6% of couples came out under budget.
23% didn't even have a wedding budget, up from 17% in 2009.
Almost half of couples went over their wedding budget in 2014, and almost a quarter didn't even bother with a budget! No wonder so many are spending so much!
Things I Learned From Having A Big Expensive Wedding
My wife and I had a wedding 13 years ago that cost around the current average of $30,000+. Here are some things that I learned in the process of helping to plan our wedding.
The small things add up: Flowers, decorations, party favors, DJ, appetizers, liquid refreshments and other smaller expenses may not seem like much, but when you add them all together, it's pretty darn expensive.
Where you have your wedding matters: One of our larger expenses for our wedding was because we had the reception at a local country club, where the catering and venue costs were much higher than if we had been at a less high-end location. We have had friends who had wedding receptions at local VFWs, and it was still a lot of fun. You have to figure out, is having it at a nice country club worth thousands of dollars?
Remembering the occasion is expensive: We spent a ton on a great photographer, and we paid for a large photo package with a custom embossed leather album. We also spent a lot on a videographer. We spent way too much.
You have to pay for everyone you invite: If you're planning on having a big wedding with hundreds of people , the costs add up quick. The average cost for a hors d'oeuvres reception or buffet with no cocktail hour and a limited bar can run in excess of $30-70 per person. A cocktail hour and sit-down dinner at a fancy hotel, country club or resort with an in-house caterer can cost $125 to $350 or more per person. The Knot says the average number of guests is 136, so the catering alone can cost you anywhere from $4,080-47,600. So consider carefully how many people you want to invite!
DIY or purchase: Some things you can make yourself and show off your DIY skills, or you can purchase at a premium. Purchasing is less work, but more expensive. Examples – making your own invitations vs. buying. Making your own cake vs. buying.
Some things you spend a lot of money on, you won't even be able to fully enjoy: We spent a lot on the appetizers, cake, dinner and refreshments, but we were so busy taking photos during the appetizers that we didn't even get any (I wish we had asked someone to save us some!), and the dinner options we spent so much on could have been pared down. Save money on things you don't care about that much.
Remember to enjoy the small moments that don't cost anything: While the wedding can cost a fortune, in the end it's the small moments that you'll remember. Standing at the altar, the first alone time with your spouse after you said, "I do", your first dance, etc. Don't forget to enjoy those moments because they're the most important. Everything else is just a bonus.
25 Ways To Save On Wedding Costs
Be flexible on venue. If you are looking to get married or have a reception at a certain venue, it may mean you'll have to pay for the privilege. In many cases the places you had in mind may be too expensive, or could already be booked months in advance. Being flexible on where you hold your big day could mean big savings.
Look for all inclusive venues: Some venues will nickel and dime you to death, requiring you use their in house caterers, pay extra fees for room setup, tables, chairs, etc. Find somewhere that includes everything without a lot of small add-on fees that can add up.
Be flexible on location: The traditional wedding is at a church – with a separate reception at an event center or country club, but why not have it at a non-traditional location? One couple I know of had their wedding at an apple orchard. It was a beautiful setting, and they were able to hold their reception there as well – for much less money.
Look for off days or off seasons. Choose any day other than Saturday. Having your wedding on an off day, or off season, can mean thousands in savings. For example, my wife and I saved hundreds by having our wedding and reception on a Friday, instead of on the more expensive Saturday. My brother and his wife chose to have their wedding in December, saving by having their wedding during a less popular month (June and October are the most popular).
Rent a beautiful vacation home as a wedding and reception venue, it can double as guest quarters for some. I've heard of people renting a beautiful home for the wedding and reception, and then allowing out of town guests to stay at the home as well. Avoid separate costs for hotels, wedding and reception venues!
Shorten the timeline: By shortening the timeline to less than the normal 11 month runway, you'll be forced to simplify your wedding planning, forgo some more expensive and complex options – and look for more simple venues/etc.
Simplify. A wedding can be tastefully done, even if it is simple. Find a simple (and more frugal!) venue, like someone's backyard, and save on floral decorations (since you're surrounded by nature!) Offer less catered food options, and forgo the tabletop decorations at the reception.
Wait for sales. Buy wedding supplies, clothes and accessories on sale. For example, the couple could buy their wedding bands during a sale, the guys could rent tuxedos during a sale – and even look for options where if several groomsmen rent a tuxedo – the groom gets his free.
Rent formal attire: Average Spent on a Wedding Dress is $1,357. Why not rent your dress – and your bridesmaid dresses from a place like RentTheRunway.com or LendingLuxury.com, or buy it pre-owned from a place like preownedweddingdresses.com.
Avoid the traditional sit-down dinner or buffet meal altogether: Instead have appetizers and cake, or even just an afternoon cocktail reception. Another option is to have a potluck dinner. This works especially well if you're having your wedding and reception at your church!
Limit alcohol options.. and costs: The bar tab can add up quickly, especially if you have a lot of options. Venues will often charge for every opened bottle of booze. If there are more options, there will be more open but unfinished bottles at the end. Keep options limited to a couple of your favorites, and have less cost and waste for whatever isn't used.
Try using more non-floral decorations: Flowers can get expensive. Try less expensive non-floral alternatives. Try things like paper lanterns, candles, thrift store finds or DIY crafts you make on your own.
If you do flowers, do your own: Buy flowers cheap from a place like fiftyflowers.com and create your own floral arrangements using cheap vases you pick up from Michael's or Hobby Lobby. Or you can even buy silk flowers and save that way as well.
Save on photographer/videographer: Buy a less expensive package with less photos, or make sure to take care of photos earlier in the night to avoid per-hour charges. Hire a friend, or a photography or film student to take photos or video.
Crowdsource your photos: Instead of hiring an expensive photographer for your reception, crowdsource your photos. Ask people to take their own photos at the reception and setup a Flickr group where they can share the photos with you. With cell phone cameras being so prevalent these days, you'll be sure to get plenty of photos.
Use a cash back card for wedding expenses: Most people are going to be having quite a few expenses on their wedding. Why not get some cash back while you're at it? Find a good cash back credit card and charge everything (as long as you have the cash to pay it off).
Negotiate costs: When hiring a DJ, a live band or other service provider, don't be afraid to ask for a better price. If a better price can't be had, ask for extras at no cost.
Use preferred providers for your venue: Often a venue will have certain providers that they work with and refer wedding parties to and it can save you money to go with that provider if they're offering a referral discount. One bride I know used a venue's preferred hair and makeup team, and ended up saving a couple hundred dollars because of the referral.
Downsize the cake: Get a smaller fancy one, and then less expensive sheet cake for the pieces handed out to guests.
Research and shop around: Shop around and do your research. The more sites you search and providers you call for estimates, the better idea you'll have of what is a good price, and what price is too high. Make sure to do the legwork in order to save money.
Ask for a pricematch: If you're in love with one florist, but their price is higher than another provider, don't be afraid to ask them to match the price from the other provider.
Read the fine print on wedding contracts: When you're planning a wedding you'll likely be signing a lot of contracts with service providers. Resist the urge to just skim these contracts. Actually know what you're signing up for. For example, one bride found out that the contract with a printer she had signed for wedding invitations stipulated extra charges for small changes, extra colors on the invitations, etc. Since she had already signed the contract, she was stuck and didn't end up getting what she wanted.
Have a smaller wedding: While you could invite a couple hundred people each for the groom and bride if you invited everyone you know, it could also mean costs could get out of control. Consider having a smaller wedding with close family and friends, and not every acquaintance you've ever had.
Make the day about people and community, not things: Save money by keeping the day's focus where it should be. Not on the dress, the flowers or the centerpieces, but on people. Focus on your shared commitment, on family, community and connection. That way you won't be tempted to spend so much money where you shouldn't.
Elope: Forgo the fancy wedding and elope!
When it all comes down to it the wedding day is an important day, but that doesn't mean it has to be an expensive one. If you come up with a wedding budget, and be creative about ways to cut costs, it can actually be quite affordable.
Did you have a frugal wedding? I'd love to hear about it, and how you saved money on your big day. Tell us in the comments!