Do you know your currency of love?
When I say currency of love, I mean the way that you feel best expressing love for your family. Two common currencies of love are money and time, and often those who fall into each camp can oppose one another.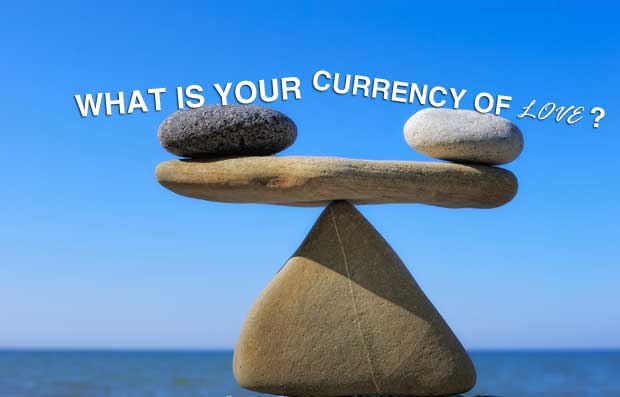 Money As The Currency of Love
Peg and Duane are my mom's neighbors. We've known them for over 30 years. They're both now in their 60s and still working.
Peg and Duane have three kids that they love to no end. Duane has worked at a job he has disliked for the past 40 years because the money is good and he can provide comfortably for his family. Peg has also worked all those years.
The highlights of their lives involve fun things that they do with their kids. When their kids were little, they took them to Disney every year for vacation and stayed for 10 to 14 days each time. Peg and Duane are planning on traveling the world when they retire, and they plan to bring along their grown children and their spouses, all expenses paid.
Pitfalls Of Money As The Currency Of Love
In the last few years, Duane has begun to experience health problems. First, he had high blood pressure that he needed to remedy with medication. Two years ago, he had a massive heart attack, but he survived and was back to work in a few months.
My mom and I have talked among ourselves about the situation. We would love to see Duane retire and finally have time to enjoy his life. Life is short; no one has a guarantee of a long life. Duane has already had serious health problems.
Still, for Duane and Peg, being financially sound and providing for their children, even when those children are adults, is paramount. Duane plans to work for 4 to 5 more years.
Their currency of love is money, and there's nothing my mom or I could say to change their view.
Time As A Currency of Love
My husband and I both have time as our currency of love. We feel there is nothing more important you can do for children than to simply be with them and be available. In part, that's why we homeschool and why I quit my full-time job four years ago.
I freelance from home, mostly on the weekends and in the evenings after the kids are asleep. We will likely never be able to afford a trip to Disney. Instead, we take advantage of free and discounted activities to do together on the weekends.
Because we operate on a time currency of love, we are basically living on one income, and in this season of life, our finances are tight.
Pitfalls Of Time As A Currency Of Love
Recently we had some unexpected dental expenses, both immediate (in the range of $1,000 out of pocket for three of us with pressing dental issues) and long-term (in the range of $3,300 for our oldest to have his jaw widened and then get braces). We can handle these expenses, but they make a tight budget even tighter.
When Peg found out, she wasted no time shooting me an e-mail arguing that I should quit homeschooling, put the kids back in school, and go get a full-time job. At first, her e-mail really bothered me. However, the longer I stewed about it, the more I realized she was approaching me from her currency of love—money.
She is worried about me and our family because we're not as financially comfortable as she would like to see us. The only difference is that she voiced her concern to me, unlike my mom and me who just discussed Peg and Duane's situation without saying anything to her.
Still, despite Peg's multiple, passionate e-mails trying to persuade me to change my life, my husband and I won't change. We're doing what we think is best for our family, just as Peg and Duane are doing what they think is best for their family. Ironically, now that she's tried to persuade me to change my life, I have a deeper understanding of why Peg and Duane continue to work, despite Duane's health issues.
What is your currency of love? Have you ever found yourself at odds with someone you respect who has a different currency of love?