Last summer my wife and I decided that we wanted to move after some careful thought and prayer.
The place we were living was nice, but there was some development going on in the area we weren't happy with (a new road going through behind our house), and we wanted to get out before it happened.
It was time to sell our house and move on.
We put our townhouse on the market, and began dreaming about moving into a new place. We eventually settled on building a new home about 2 miles away since we liked the area, and we put some money down on purchasing the home.
Our closing on the new house was dependent on us selling our townhouse, and even though they had done a contingent start on our house, we weren't 100% sure if we were going to be able to sell our townhouse. If we were unable to sell the townhouse we wouldn't be able to move.
Unable To Sell Our House
One month passed, then two.
Our new house was quickly going up and we knew we would have to sell our townhouse soon, or we'd have to nix the deal. We only received a couple of lowball offers on our townhouse, and things were starting to get desperate.
Finally with the closing a couple of weeks away on our newly built home, we had to walk away from the deal. We hadn't been able to sell the townhouse.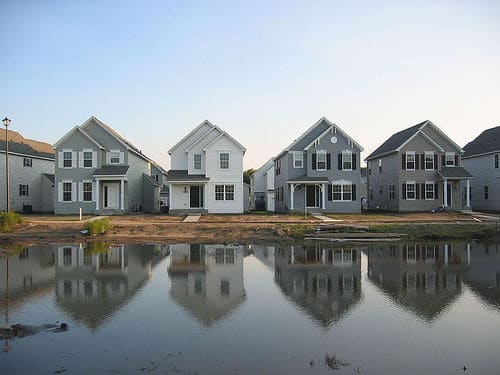 Reasons Why Houses Don't Sell
In the current environment it isn't uncommon for people to have trouble selling their homes. Not only do people have unrealistic expectations of what their home is worth, but they also don't realize that their home is making a poor impression, or that the schools in their area may not be the best. In a post over on Money Blue Book, they talk about some of those reasons why we might not have been able to sell. Some of them that probably applied to our situation:
Your home asking price is too high: We think this may have been our main problem, we were asking too much for our house, and the area and market that we were in couldn't support the price we were asking. Little did we know that the market would be dropping even further in the next couple of years.
The real estate market is slow, not a sellers market: I think there was a bit of a slowdown at the time, and there was a glut of homes on the market. It definitely didn't help.
Your home isn't in a good location: I don't think the location of the home was necessarily all that bad, however, some people were a bit leery of the new road that was going through. Obviously we were too because we were moving.
Among other reasons that your home might not be selling (that maybe didn't apply to our situation):
Your curb appeal and interior decorating stink: Your house has overgrown bushes, unmowed grass and a bad paint job. The inside looks like something out of a bad 70s movie.
Your real estate agent stinks: Sometimes people do a poor job of picking an agent, or just choose someone who is convenient like a relative. Instead do your agent homework and find someone who knows how to market your house using all means available to them.
Your house has problems that need fixing: If your house has structural, cosmetic or other issues that are readily apparent to buyers, you may want to consider fixing them because they may be chasing off potential buyers. Ugly paint in the dining room? Repaint!
Things Happen For A Reason
So after the deal fell through, we were disappointed, and wondered why we had felt lead to move, when we weren't going to be able to. A verse that comes to mind as a reassurance was Jeremiah 29:11:
For I know the plans I have for you," declares the Lord, "plans to prosper you and not to harm you, plans to give you hope and a future."
We knew that although we were disappointed, God would work things for the good. We don't always understand God's timing, or why he allows storms in our life, but we had faith that things would work out.
Finally Able To Sell
We waited until the following spring to try selling our townhouse again.
We did the same thing as the previous year – we put our house on the market at a slightly lower price, and waited for it to sell. In the meantime we began building another new house with the same builder as we had last year.
To our surprise, when we signed a contract on the exact same model of house, the price had dropped by $5000 dollars, and because of that we were able to add some options we hadn't been able to the previous year. After all that we still came out with a lower price.
Within a month or so of closing our townhouse finally sold! To our surprise we got the price we were asking! Making a few changes in pricing and waiting for the market to improve a bit helped us sell!
God provides – it may not always be in our timing, but he has our best interests at heart. He knew that he could save us thousands of dollars by having us buy a new home one year later, and he made it happen. He even allowed us to sell before the housing bubble burst soon thereafter.
Today looking back my wife and I feel very blessed, and we know that God's timing is perfect (unlike our own) and that he provides.
Have your own reasons of why you think people have a hard time selling? Tell us in the comments!