Over the past few months I've started to experience some minor back pain that comes and goes, nothing that has been too bad, but enough to get my attention. When my family was moving over the past few weeks I was doing a lot of heavy lifting, standing, walking around and other physical activity, and my back was starting to have some issues. The pain in my lower back was starting to get a little bit worse.
I've never been to a chiropractor in my life, but my wife regularly goes to one and talks about how much it has helped her. I was still a bit skeptical about needing to go to a chiropractor, but I was starting to become more open to the idea.
A couple of weeks ago we were at a local smoothie shop after my son's swimming lesson, and there was a Chiropractor there giving free massages, and selling a coupon for a reduced rate $20 initial visit with x-rays, examination and adjustment. I decided that the cost was minimal, and that I may as well give it a shot. I bought the reduced rate initial visit and setup an appointment.
Going To The Chiropractor
On the day of my appointment, I got my first red flag. I showed up for my 8am appointment, but then was asked to wait in a waiting room for about 40 minutes by myself. Finally, the doctor came in and I got an examination, as well as x-rays.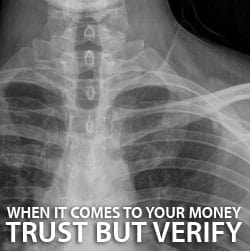 When the x-rays came back they explained to me what they were seeing. Despite the fact that I'd never had major back issues, and the fact that I didn't have extreme pain, apparently my back and neck were in pretty rough shape. My lower back had some serious degeneration and was out of whack, and my neck was out of place and needed major adjusting as well.
The doctor explained that my situation was pretty serious and that I really needed to start on a treatment plan right away. What would that involve? It would mean coming in 3 days a week for the next 6 months, and then 2 times a week for another 2-3 months, followed by maintenance visits. The doctor told me that with my insurance deductible, and their reduced rate for those paying cash, that I'd be better off paying cash because I'd pay less. All in all, with the cost all tallied up it would mean close to $3000 in cost out of pocket over the 9 month time frame, followed by additional cost for weekly or monthly maintenance visits. It was going to mean adding between $300-400 to our budget every month!
When I was hearing all of this while sitting there my head was swimming. They had just told me that I have major back issues, and that I needed to start intensive treatment that day, but at the same time I felt like the guy was giving me a pitch like a used car salesman – like he was leading me on a bit. I agreed that I probably did need treatment and walked out of the office a bit stunned.
Before I had a chance to think about and digest everything I had been told they were asking me at the front desk to pay up front for the first month of treatment. Not sure what to do I just went ahead and paid and resigned myself to the fact I would have this extra expense to fix my back.
Talking It Over
After talking to my wife and explaining what I was going to need to do to fix my back and neck, she said that something didn't feel quite right. She had gone through some major back issues, but had never had intense treatment like they were suggesting. She wanted me to get a second opinion from her doctor.
Before jumping in with both feet on an expensive treatment regimen, I agreed it was probably best to have her chiropractor look at my x-rays and give his opinion. $3000+ is a lot of money to be spending on care, especially if you don't need as much as they're saying.
Getting A Second Opinion
Doveryai, no proveryai. Trust but verify. – Russian Proverb
I called the office where I had gotten my x-rays done and asked them to give me a copy, which they did. I dropped off the x-rays and the next morning heard from my wife's chiropractor.
He told me that while my x-rays did show that I had some degeneration in my back, and that I was out of place, there wasn't anything there that would necessitate 9 months of intensive treatment. Much of it was normal for someone of my age. He said he thought they would be able to put me on a treatment plan that would have my back in place and back to normal within a few weeks – not months.
He then proceeded to ask me questions about the Chiropractor's office where I had been. He gave me a knowing look and explained that there have been a lot of clinics like this one popping up in the last few years with a new way of treating people that isn't necessarily in the patients best interest. While they were technically helping me when they set out their treatment plan, in the long run they really are setting things up to maximize their profit, and doing treatments that may or may not be necessary. He also looked at our insurance and explained that he didn't think it would be a better deal to pay cash.
He set out what he thought I should do, and after running the costs, I knew it would be much cheaper to just go with him for treatment. It would be a fraction of the cost – thousands less, and the treatment wouldn't be unnecessarily long. I also wasn't getting that slick salesman's pitch from him, like I had at the other place, and it just felt like he had a better idea of what he was doing. He had a lot more experience than the doctors at the other clinic, all of which were relatively young, graduating within the past 5-10 years.
Trust But Verify
When I went into the chiropractor's office, I wasn't sure what to expect. What I heard was that my back was in poor shape, and that I was going to have to spend thousands of dollars to correct it. While I trusted what the doctor was telling me, I realized after talking it over with my wife that we needed to get a second opinion.
Trust but verify.
What I found was that while the first doctors weren't necessarily telling me anything that was a lie, or incorrect, they were setting the situation up and proscribing a treatment plan in a way that would maximize their profit, and empty my wallet.
After I had gotten the second opinion, I went with the second doctor and canceled my appointments at the other doctor's office – and got a full refund.
Remember, it's your money, and you need to make sure that you're getting your money's worth, and that you're not getting taken to the cleaners, like I almost did. Listen to what you're being told, and if something doesn't feel right, or if the cost doesn't seem quite right – get a second opinion. It's your life and your money.
Have you ever been in a situation where you felt cornered into making a poor financial decision – like I did? Did you end up getting a second opinion, or did you just end up paying?