Have you ever noticed how much advice the Bible gives for money matters? It doesn't take much time at all to find scriptures that give insight about how we earn, spend, view, and give money.
Not only can we learn what we should do from these verses, we can find verses that instruct us on what we should not do with money.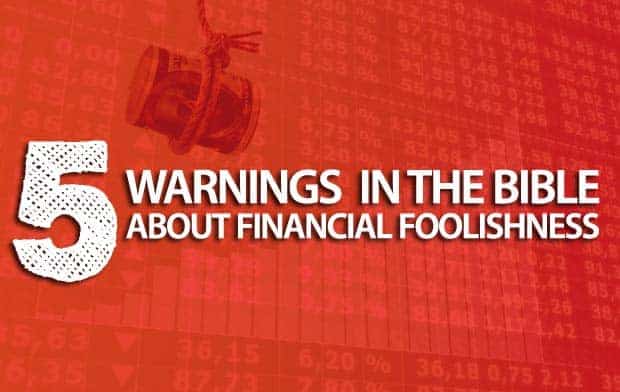 5 Warnings The Bible Gives About Financial Foolishness
Improper Planning Leads to Poverty
Proverbs 21:5 – The plans of the diligent lead to profit as surely as haste leads to poverty.
Before you can succeed in other areas of finance, you need to make a plan. This includes everything from making goals to building a budget and having a plan to stay accountable to someone. Diving head first into all areas of personal finance without a plan is like trying to build a house without a blueprint – you'll more than likely end up with a mess.
Ignoring Instructions Leads to Shame
Proverbs 13:18 – He who ignores discipline comes to poverty and shame, but whoever heeds correction is honored.
If you're reading this, you're one step ahead! Seeking out financial wisdom is the first step in becoming a better manager of your money. The second step is to put the words into practice. Ignoring the advice you hear is a surefire way to repeat financial mistakes of others.

Debt Can Really Weigh You Down
Proverbs 22:7 The rich rule over the poor and the borrower is servant to the lender.
We've heard this verse over and over, but it still rings true. If you're getting out of debt, there's a good chance you probably don't ever want to get back into debt again! Take the wisdom from this verse and be careful whenever you approach the opportunity to borrow.
Spending Can Lead To Trouble
Proverbs 15:27 A greedy man brings trouble to his family, but he who hates bribes will live.
When we talk about greed, it's usually referring to excessive desire for wealth or material possessions. How do we get more material possessions….by spending more and more. Obviously, uncontrollable spending can lead to debt and can really impact your family negatively. Don't worry, this verse isn't saying that you should stop spending your money altogether. It simply warns against the trouble that greed can bring to your life.
The Wise Will Save – The Fool Spends It All
Proverbs 21:20 – In the House of the wise are stores of choice food and oil, but a foolish man devours all he has.
The simplicity behind the idea to 'spend less than you earn' is shared clearly in this verse. You don't need to make six figures to have a healthy savings account. In fact, I know plenty of people who make close to six figures or more, but don't have a good financial outlook because they've given into a higher lifestyle, spending almost all they make. It's just foolish not to save – no matter how much you're making.
What are some ways that you've avoided financial foolishness? Can you think of any other warnings the Bible gives about a fool and his money?