Do you find yourself thinking about the future a lot? Maybe overthinking it? I sure do and believe there are reasons for that.
The future is so unknown. It's vast and unpredictable. It portends great possibilities for both joy and happiness but also despair and turmoil. For those reasons, we spend a tremendous amount of energy trying to navigate the future so that it turns out to our benefit.
As a personal finance blogger it's my objective to help people grow into a prosperous future.
There are strategies like getting out of debt and spending less than you earn that can help that goal become a reality. It won't happen overnight though. It requires constant effort, discipline and attention to detail to make sure the future meets your expectations.
But I've found in my years of writing and from my own personal experience, there is great danger in thinking only about the future. In fact, I've found myself often ignoring one of the simplest messages Jesus ever gave about where my focus should be.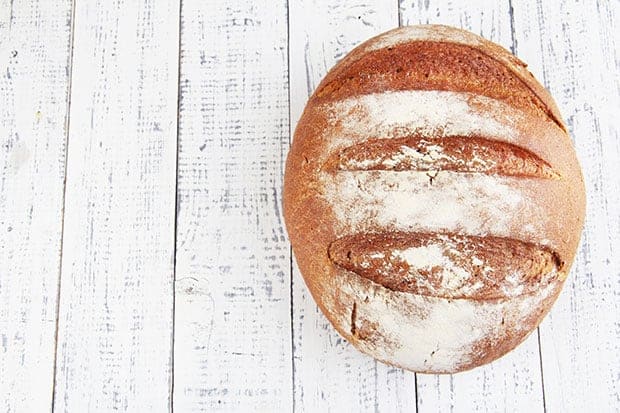 Our Daily Bread
One of Jesus' most famous teachings to His disciples was on the topic of prayer. They asked him one day to teach them how to pray and Jesus obliged by giving them a model prayer to follow. One major theme from that prayer comes from Matthew 6:11.
In the midst of the "Our Fathers" and "Deliver us from evils," Jesus offered this request of His Father as part of his example prayer:
"Give us this day our daily bread."
What a simple thing to pray for yet so profound. And it still rings true for us today.
It's pretty obvious what Jesus is instructing His disciples to do here as they pray. Their main focus should be on today's needs.
That was a pretty basic assumption in Jesus' day. A common laborer would get up in the morning, go to or look for work, get paid at the end of the day and then go buy food for his family. Little consideration was given to the future. Their attention was focused on each day and how they would meet their needs.
You can't take this verse alone and say the future isn't important. In many other places the Bible says there is wisdom in counting the costs and planning ahead so one can be successful.
The danger though that I find myself lapsing into time and time again is getting caught up in a future I can't control. I don't know what will happen tomorrow let alone 20 years from now. Yet I obsess about it, especially when it comes to my finances. In doing so, I miss out on some potential benefits that a focus on the present has to offer.
Some Benefits of Focusing on Today
When Jesus said to his disciples "Give us this day our daily bread," He was communicating a here-and-now mentality. When I bring my attention into the moment instead of dwelling on the future, several things happen. When I focus on today's needs:
I communicate my trust in God – "Blessed is the man who trusts in the Lord, and whose hope is the Lord. For he shall be like a tree planted by the waters, which spreads out its roots by the river, and will not fear when heat comes; but its leaf will be green, and will not be anxious in the year of drought, nor will cease from yielding fruit (Jeremiah 17:7-8).
I stifle worry – "Therefore do not worry about tomorrow, for tomorrow will worry about its own things. Sufficient for the day is its own trouble." (Matthew 6:34)
I demonstrate contentment – "Now godliness with contentment is great gain. For we brought nothing into this world, and it is certain we can carry nothing out." (I Timothy 6:6-7)
I live more at peace – "Be anxious for nothing, but in everything by prayer and supplication, with thanksgiving, let your requests be made known to God; and the peace of God, which surpasses all understanding, will guard your hearts and minds through Christ Jesus." (Philippians 4:6-7)
The verses above highlight a particular mindset we fight each day – the fear of trying times, general worry, the disposition of our possessions and anxiety. Interestingly, all have their roots in the future. They cause us to project and speculate over so many things we can't control or that don't matter.
That's why I believe Jesus was trying to draw our attention back into the moment by asking us to pray for our daily needs. He's trying to teach us balance between present thinking and future thinking. He knew that when we get too wrapped up in the "what-might-happens" of the future, we'd miss out on the "what-is-happenings" of the present. And those present happenings are usually the times where we can have the most impact on those around us…the most impact for the kingdom of God.
I'm all for planning ahead. The Bible says it's a wise move. But we can't get too caught up in how our lives will play out, financially or otherwise. I hope you'll join me in refocusing some on the present and how God will supply your daily needs. He promised He would if we'd pray that way.
Questions: Is your outlook more on the future or the present? Why so?