Believe it or not, there are Christians who play the lottery and some who have even won large jackpots, in the millions of dollars. The question I have is this: should Christians tithe on lottery winnings?
Even more specifically, should churches accept tithe from lottery winnings?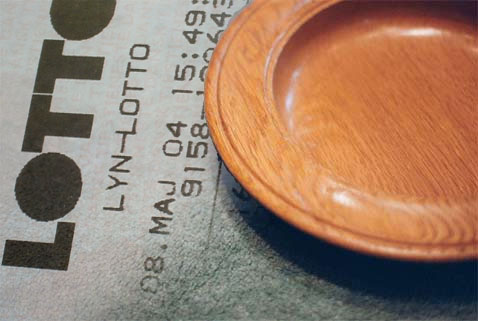 First…What Does The Bible Say About Gambling?
While the Bible doesn't go into specifics about gambling or playing lotteries, it does teach us a great deal about how we should manage our money.
Calling gambling a sin may not be the best definition of the term – but gambling certainly can lead people to sinful thoughts and actions.
The Bible does, however, provide several verses that we can use to help us determine if gambling is a wise financial decision.
Love of Money – 1 Timothy 6:10 – "For the love of money is the root of all kinds of evil. And some people, craving money, have wandered from the true faith and pierced themselves with many sorrows."
Unsatisfying Master – Ecclesiastes 5:10 "Those who love money will never have enough. How meaningless to think that wealth brings true happiness!"

Get Rich Quick –Proverbs 13:11 "Wealth from get rich quick schemes quickly disappears; wealth from hard work grows over time."
I can't think of a better example for a get rich quick attempt than to play the lottery. If we want to be wise with our money, why not follow the teachings we find in the Proverbs? It's no wonder that a high percentage of lottery winners go bankrupt within the first few years of winning millions.
Proverbs 28:22 "Greedy people try to get rich quick but don't realize they're headed for poverty."
Is It OK To Tithe From Lottery Winnings?
If you happen to win the lottery and want to tithe or give from your winnings, I personally don't see anything wrong with it. There are a lot of organizations, including non-profits, churches, and private charities that could use the support.
Having said that, I don't think that playing the lottery is wise, nor do I feel that it is an activity that reflects good stewardship. If you actively play the lottery in hopes to win, my advice is to review the verses above and to be aware of the dangers this addicting, financially irresponsible activity can bring on you and your family.
How to Give From Lottery Winnings
Giving to a Church
The best practice for giving to a church is to let the pastor or church board know what you're doing. If they don't have an issue with it, work with them to see how the giving would be best suited (one time gift or over time, etc).
Giving to Organizations
Some charitable organizations may have reservations about accepting lottery money and a respectful approach would be to ask their stance on lottery winnings as gifts.
Outright Giving
Giving directly to those in financial need can be a rewarding way to use lottery winnings. This approach should be taken with caution because you might have a few uninvited requests for funds if people know you've won the lottery.
So what do you think? Should You Tithe From Lottery Winnings? And…Should Churches Accept Tithes and Offerings From These Winnings?