About a decade ago I was working at a busy advertising agency, making about $40,000 a year.
I was working extremely hard, but it was tough to save much money after paying for all of life's necessities – and maybe a vacation here and there.
Don't get me wrong. It wasn't a bad job, and I enjoyed the people and the work I was doing, but I knew I wasn't going to get rich working there.
I decided to start my own business on the side, during the evenings and weekends. I launched this website in January of 2008.
That small side hustle that I started has grown over the years and has turned into a full fledged business, making a full time income.
This year alone I'm on track to make over $300,000 from all of my income producing activities.
How have I done it? Through a lot of trial and error.
Over the years I've learned through practice how to produce well written articles that do well with search engines like Google. I've figured out how to do keyword research, craft articles that are more likely to show up in search engines, and deduced why some sites do better than others.
Quick Summary
In depth SEO course specifically for writers.
What to write and how to choose good topics.
How to do keyword research.
Tips and tricks to get your article to rank.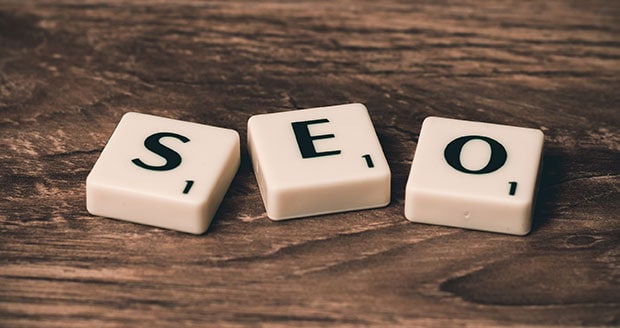 All that knowledge has lead to over 25 million pageviews for this site since we added analytics. All of those views lead directly to income for the site through advertising, affiliate income, sponsored content and other revenue sources.
Learning everything that I have about publishing a site and SEO over the years hasn't been easy. I've had to learn some hard lessons.
Writing content for SEO is an art form, one that's taken me the better part of a decade to understand.
Thankfully these days there are a lot better resources for people who are just starting out.
The "SEO For Writers" Online Course
When it comes to website publishing and writing content for SEO, Larry Ludwig is an expert. I've known Larry for quite a few years now through the personal finance world. He is the founder of one of the most popular personal finance and investing websites online, Investor Junkie.
He has made millions from his site over the years, and he recently sold the site for over 6 million dollars.
Why was he able to command such a premium for his site? Because he is a master of writing for SEO and optimizing a site to show up in the search engines. His site monopolized the #1 search ranking for a myriad of financial terms and keywords. (I know because I was trying, unsuccessfully, to out-rank him for many of those keywords!)
After selling his site this past year he decided to create an online course, spilling some of the secrets that he's learned over the years when it comes to SEO.
The course is called "SEO for Writers: Learn to Write Google-Ranking Content"
What Will You Learn In SEO For Writers?
So what are some of the things that you will learn in the course?
You'll learn the ins and outs of how SEO works, and how you can maximize your chances of search engine success as a writer or blogger.
You'll get helpful hints on:
What to write and how to choose good topics.
How to do keyword research and recommended tools.
Tips and tricks to get your article to rank.
Writing a good SEO headline for your article.
Creating a good SEO URL.
and more…
Knowing how SEO works is critical as a blogger if you want search engine traffic to arrive on your site.
This course will give you the background you need to understand how to make it happen.
Interview With Larry Ludwig, Creator of "SEO for Writers"
If you're a blogger who wants to make more money from your site and move up the google rankings, I'd recommend taking this course. Get an SEO education from someone who has proven that they know what they're doing.
But if you aren't convinced, why not hear from the man himself, Larry Ludwig. He was kind enough to answer some questions for me and explain why writers, bloggers and publishers should consider his course.
#1 Why Is Learning About SEO So Important For Writers?
A recent survey by the website GrowthBadger determined up to 87% of all website traffic comes from organic search. While all of the rage is about social media platforms like Instagram or Pinterest, search is still the primary method people find content. If you aren't found on Google, you are missing out on a large audience.
It's akin to the philosophical statement about a tree falling in the woods and if it makes a sound. If you write great content and no one finds it, does it help anyone? It's critical you understand how Google discovers content and make sure you can be found by Google.
For most writers, SEO is this "black box" in which it's difficult to understand how it works. My SEO for Writers course demystifies SEO and breaks it down in an easy to understand format.
#2 What Is Your Blogging Background? What Impact Did Learning SEO Have On Your Business?
I started developing websites back in 1994. Meaning I have over 25 years of experience developing, marketing and hosting websites.
I helped create some of the very first websites for Fortune 500 companies such as: IBM, JP Morgan Chase, Minolta, ING Bank, and T. Rowe Price. Then, in 1999, I ventured off with my own web design and hosting business. From that built and hosted websites for companies like: GM, Comedy Central, Nielsen, and Thought Catalog.
In December 2009, I was burnt out frustrated with building websites for others. I decided to start my own blog about investing called Investor Junkie. While I understood the basics of SEO then, I relied on "experts" to tell me how SEO works. The problem is some of their information was completely wrong or just outdated. So I methodically tested what worked with SEO and more importantly, what didn't. I grew Investor Junkie from nothing to over 300,000 unique visitors per month. In 2018, I sold Investor Junkie for $6 million.
Over 80% of Investor Junkie traffic came from search. My results are similar to what GrowthBadger discovered in their survey.
#3 What Will Writers Who Take Your Course Learn? What Is The Format Of The Course?
The format of the course is specially geared towards writers and editors. Either for their own site, or a writer who creates content for others. It covers what's called on-page SEO only.
It doesn't get into building off site links, technical SEO, installing plugins, graphic design, themes, or configuring WordPress. SEO for Writers goes into how to research and create content that is optimized for search. I cover what types of content works well with search and what types do not. It's a step-by-step process where I only assume you know how to write and have access to a WordPress blog.
#4 Does The Course Offer Anything Beyond Course Materials?
I currently offer FREE access to my private Facebook group. This is where I answer questions, perform live webinars discussing topics around SEO and hot seats to discuss how to improve your content so it's SEO friendly.
If you signup now, you will automatically be grandfathered into the membership at no charge to you. This is over a $600 value that I'm offering for free for a limited time.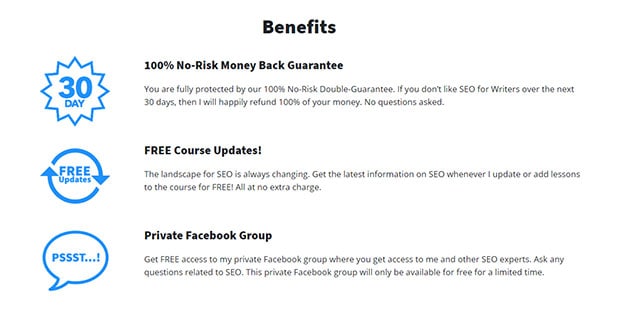 #5 Why Should People Buy Your Course? Is There A Guarantee?
I offer a 30-day no questions asked guarantee. If you aren't happy after taking my course, you get 100% back your money. There's no risk in taking my course other than your time.
SEO is such a critical skill for writing anything online. For me I had a similar experience when I first learned how to type. I struggled with typing and started out like everyone with the "hunt and peck" method of typing. Of course it's very inefficient and prone to errors.
I took a typing class class in high school and till this day it's one of the best skills I ever learned. I use it every single day! I type much faster, which over the course of my lifetime has helped me indirectly make more money. I was able to write my thoughts down faster and was able to program faster.
With learning SEO it's the same thing. If you are writing content online, you are always wanting that content to be found via search. Don't pass up learning SEO because it is also a skill you'll use every time you write online content. Learning SEO not only helps you make more by writing, but also makes you more valuable to others.
Understanding SEO (just like typing) is a skill every website owner and editor wants in a qualified writer.
Learning SEO Is Hard, This Course Makes It Easier
Thanks to Larry for taking the time to answer a few questions, I know he'll be doing the same over on his Facebook group for the class. So if you ever have issues while taking the course, head on over there and he'll be able to give you some useful insights.
Learning SEO is tough, it's taken me a long time to become even proficient in it. Why not take a shortcut to learning some of what's important by taking Larry's course? I've taken it now myself, and it was so good I went through the whole thing in just a couple of days. I'll be referring back to it later on as well as it's got a lot of great stuff in there.
If you're a freelance writer, a publisher or blogger, this course will help you take your SEO game to the next level, and your SEO skills will make you more money and give you valuable and sought after skills. It's definitely worth the money.