One mistake that I see a lot of people make, myself included, is to assume that the price they've got on their product, service or insurance policy is the best rate that they can get, mainly because it was the best rate when they signed up for it.
The thing is – over time prices and rates can change, and if you assume that you've got the best rate without actually checking you can end up costing yourself hundreds if not thousands of dollars.
I've assumed this a couple of times in the past, specifically with my auto insurance, and the result was that I wasted hundreds of dollars over several years.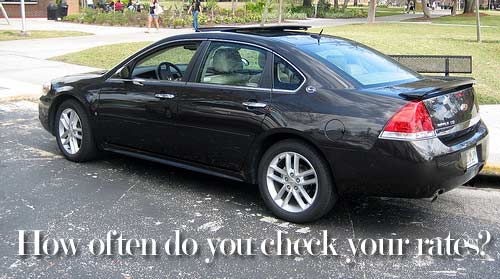 Never Assume That You've Got A "Good Rate"
I think a lot of people assume that the rate that they've got will usually stay pretty consistent year to year and remain the lowest or best coverage at the best price available. The problem is, it isn't always true. If you don't check you'll never know.
A while back I hadn't checked my insurance rates in a few years and I just assumed that my rate was good because I had gotten a "deal" through my father's teachers union, and his personal agent. When I checked to see what competitive rates were for similar coverage, however, I was horrified to find that my rate was high to the tune of $1000+ per year.
How could I have not seen that I was paying WAY too much for so many years? Laziness and a passive attitude towards my finances I suppose.
Since then I've gotten a lot better about checking the rates that I've got year to year. I try to take a personal finance day once every year or so and check rates on my auto insurance, health, life and homeowner's insurance.
Why Do Insurance Rates Change?
Auto insurance rates can change from year to year for a variety of reasons.
Change in credit situation: Auto insurance companies will often check your credit rating to see if you're a good risk. You can also check your TransUnion Auto Insurance Risk Score via a site like Credit Karma to see what the insurance companies are seeing as far as your insurability. Improving your credit rating could mean an improved rate.
Taking a defensive driving course: Sometimes a state will expunge black marks on your driving record if you agree to take a driver's safety course. By completing the course you'll often be able to reduce your rates.
You've gone a long time without additional violations: If you haven't had a moving violation for a long time your rates may include a good driver discount.
Dropping certain coverages: We found that we could save$20-30/year by not paying for towing coverage that we already had through another membership. Drop coverages you don't need and save.
Larger emergency fund means higher deductibles: If you've saved up a nice emergency fund you can self insure against things going wrong, and increase your deductible – meaning savings on your premium.
Set Aside A Time To Compare Rates
Instead of taking it for granted that you've got a great rate and just letting it go from year to year, take proactive action and look for ways to reduce your rates. See if you've had a change in your situation or credit score, compare different companies, drop coverages you don't need and figure out if you can afford a higher deductible. The point is to take action and look for ways to improve your insurance situation. In the end I'm confident that you can find a way to save hundreds or even thousands of dollars like I did.
Set aside one day, preferably a weekday if you can swing it and send in a variety of quotes to different companies. You may be surprised at what you find. Here are a couple of places to get quotes to get you started:
Have you ever been in a similar situation where you found that you could save massive amounts of money just by switching companies or reducing coverages that you didn't need?